'The Wiz Live' Cast Celebrates Thanksgiving Right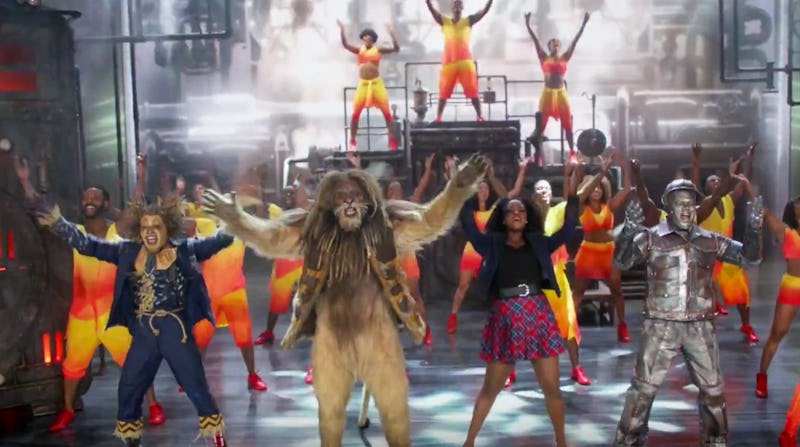 The cast of NBC's The Wiz Live! performed in Herald Square as part of the 89th Macy's Thanksgiving Day Parade, teasing audiences with a short glimpse at the highly anticipated show. Elijah Kelley, Shanice Williams, David Alan Grier and Ne-Yo were all on hand to perform "Everybody Rejoice/A Brand New Day" for the crowds in New York City. Any skeptics who loathed the idea of yet another live musical event should be satisfied after seeing the cast of The Wiz Live perform in the Macy's Thanksgiving Day Parade.
For their Thanksgiving Day Parade performance, the cast of The Wiz Live! showed off impressive dance moves and pitch-perfect singing with "Everybody Rejoice/A Brand New Day." All eyes were on newcomer Shanice Williams, who scored the role of Dorothy Gale at just 18-years-old. Williams braved the 50-degree New York City weather in her Dorothy costume, which features a plaid miniskirt. If that's not the mark of a true professional, then I don't know what is. Kelley, Grier and Ne-Yo had wardrobe challenges of their own, playing Scarecrow, The Cowardly Lion, and Tin-Man, respectively — all roles that require intense makeup. Wardrobe concerns aside, the cast of The Wiz Live! gave an energetic performance bound to convince viewers to tune in when it airs Thursday, Dec. 3 — I know I will.
Full video of the performance has not yet been released online, but the cast has been eagerly updating fans on the show via social media as the premiere date approaches. David Alan Grier gave his Instagram followers a sped-up look at his full transformation into the Cowardly Lion — a process he had to go through early on this Thanksgiving morning.
Elijah Kelley and Ne-Yo have also both shared similar videos of themselves in the makeup chair.
If you missed The Wiz Live!'s Macy's Thanksgiving Day Parade performance, here's another sneak peek of the show, also starring Queen Latifah, Uzo Aduba, Common, and Mary J. Blige.
Images: NBC; davidalangrier/Instagram; oneelijahkelley/Instagram; neyo/Instagram