I Used Holiday Scented Beauty Products For A Week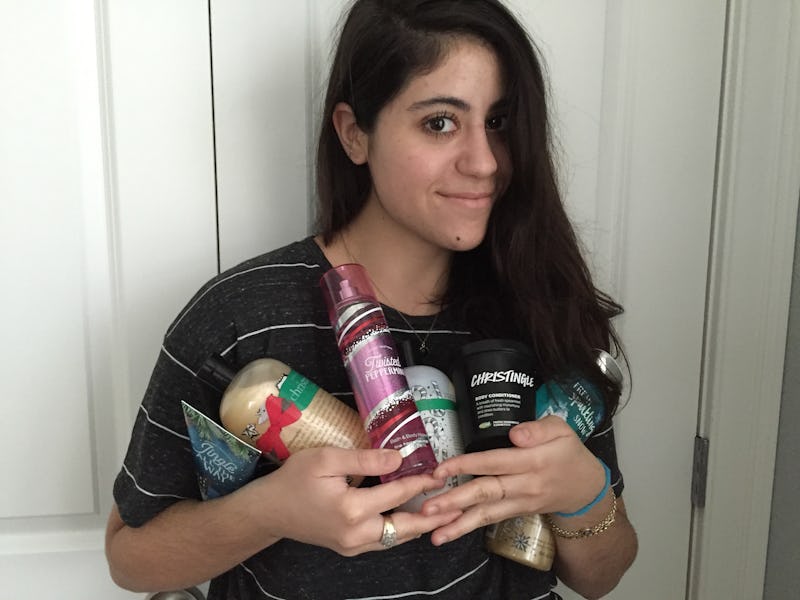 If there's one thing I love more than the holidays themselves, it is the many delicious fragrances that surface throughout December. Naturally, the thought of using holiday scented beauty products exclusively for a whole week intrigued me. Not only was such an experiment an excuse to douse myself in my favorite holiday scents, but also to gauge both how festive and cheery I felt while sporting them in addition to how festive and cheery those around me might feel as well.
When you consider what the holidays do to our five senses, it's clear that things can get pretty intense. And as the most powerful sense, olfaction is easily the one that experiences the most stimulation this time of year. From sugar cookies to fresh pine trees, our sense of smell will inevitably be overwhelmed by everything that's floating around. And those wonderfully yummy, holiday-scented beauty products? They're yet another magical thing for our noses to process.
With the help of some intense holiday-scented beauty goodness, I found out some interesting things when strictly using such beauty products for a whole week. Not only about my own relationship to my sense of smell, but also that of the people around me. Here's how my week played out.
Day 1
I wasn't expecting to get such a positive reaction from anyone straight off the get-go, but that's exactly what happened. I smothered myself in Bath & Body Work's Jingle All The Way Ulta Shea Body Cream, and the minute I walked up to my parents, they both commented on how great I smelled. My mom even asked me what I was wearing, and if she could borrow some. If mom approves, you know it has to be good.
The nourishing cream smelled like sweet peppermint bark, and I was all about it. I used it throughout the day, and before going to bed when cozying up with a magazine. I must say, I felt pretty calm, cool, and collected.
Day 2
Today, I took a shower. But not just any shower: A candy cane shower. The Philosophy shampoo, body wash, and bubble bath potion in Candy Cane was a refreshing pepperminty experience. I was basically dousing myself in this product because it smelled that amazing.
Once I got out, I applied more of the B&BW cream and even threw on some B&BW Twisted Peppermint Fine Fragrance Mist. I definitely noticed myself feeling a little cheerier than usual throughout the day, with visions of holiday treats floating around in my mind and more excitement over Christmas brewing in my soul. But be warned that too much of a good thing isn't necessarily a good idea. Soon enough, I had a headache coming. I'd clearly over-powered my senses with way too much peppermint.
Day 3
I woke up to the scent of LUSH's Yog Nog soap on Day No. 3. This product is essentially the soap equivalent of an eggnog latte. Not only does it have the same scrumptious scent, but it even has a velvety cinnamon topping. Someway, somehow, I refrained from taking a bite out of this product.
Perhaps unsurprisingly, smelling like a sweet holiday treat definitely boosted my overall mood throughout the day. As we prepare for the holidays, it's easy to fall into a stress-trap. How many presents are left to buy? How many annoying relatives will make inappropriate comments about my dating status? But doing something as simple as channeling the festive spirit of this time of year through a beauty product went a long way in making me remember all the good things the holidays have to offer. Mainly, the food.
Day 4
On Day 4, I woke up and went to the bathroom, where I used my Yog Nog soap, which was still luscious as ever. A little bit afterwards, I decided to relax by taking a warm bath with my Yog Nog Bath Bomb.
I loved how it smelled. It was like I was bathing in an actual eggnog drink. To some, that might sound gross. But trust me, it was actually amazing.
After my bath, I rinsed off with my Bath & Body Works Fresh Sparkling Snow Shower Gel (also super fragrant).
Later that day, I met with my close friend Sarah who immediately embraced me, saying, "You smell wonderful!" She was smitten with the holiday scents. And the more I thought about it, the more I realized that spreading cheer is one of the most important aspects of the holiday season. If I can do that through something as fun and relaxing as bathing in holiday-scented beauty products, why wouldn't I?
Day 5
On Day 5, I tried Philosophy's Christmas Cookie shampoo, shower gel, and bubble bath. It smelled so good that I could have eaten it (this was becoming a trend). In fact, the product smelled exactly like my grandma's house when she used to bake cookies for me. They always seemed fresh out of the oven, with that soft and mushy feel. And that's the power of beauty products that smell like your favorite holiday treats, right? They can take you back to a moment during which the holidays really were all about festive fun.
Later that day, I saw my friend Mary Ellis, who commented on my Twisted Peppermint body spray. Curious about how holiday scents would affect her own mood, she agreed to help me try out LUSH's Bar Humbug Bubble Bar and Philosophy's Vanilla Bean Nutmeg.
She and I first tried out the Bubble Bar, soaking our hands for a very "treat yo self" kind of moment. We quickly discovered that this product was a gorgeous sparkly purple shade and had a delightfully fragrant licorice scent. Even though we're not exactly fans of licorice, the smell was light enough to enjoy regardless.
The Vanilla Bean Nutmeg three-in-one was just as fragrant. Well, at least according to Mary Ellis.
"It smells like Vanilla Lip Smackers from back in the day," she told me. We carried on our day feeling pretty refreshed and with a pep in our steps.
Day 6
On Day 6, I tried to keep things simple by limiting myself to one product, opting for the LUSH Christingle Body Conditioner.
This product was bright blue and slimey in the pot (aka super cool), and gave me a warm, tingling sensation while smelling scrumptious. This one was almost like liquid peppermint gum. Thanks to its warming sensation, I definitely felt like I'd just treated myself to some much-needed me time. The long-lasting peppermint smell was also incredibly soothing throughout the day.
Day 7
I wanted to end the experiment with a bang. I exfoliated my skin with the LUSH Salt & Peppermint Bark Shower Scrub that smelled like the perfect combination of cocoa and peppermint.
Finally, I washed off and shampooed with the Philosophy Christmas Cookie product. My S.O. was certainly pleased by the odors, telling me, "You smell nice. This is nice." We both snuggled up, nostalgia holiday feels strong.
Can Holiday-Scented Beauty Products Spread Holiday Cheer?
Let's face it: Anything that smells like peppermint mocha lattes and that you can lather onto your body is a perfect way to embrace the holidays while still maintaining a lazy girl-friendly beauty routine.
While there is a risk of overloading your senses if you opt for too many holiday products at a time, it's impossible not to feel the festive tingles of excitement and nostalgia when you put these on your body. It might be easy to get caught up in the stress of the holidays what with the unfortunate affair that is holiday travel, the expenses of all those gifts, and the relatives you'd rather not see. But something about carrying around a slight reminder of some of the best aspects of the holiday season is a surefire way of staying a little more positive.
I'm not saying holiday-scented products will cure all your holiday woes. But perhaps the reminder of your grandma's kitchen or of putting candy canes on the Christmas tree will be enough to at least temporarily alleviate them. And if not, you'll likely still attract plenty of folks who'll want to snuggle you, which should help.
But, really: Who wouldn't want to smell like a Christmas cookie?
Images: Melodi Erdogan