MIA Releases New Music Video For "Borders"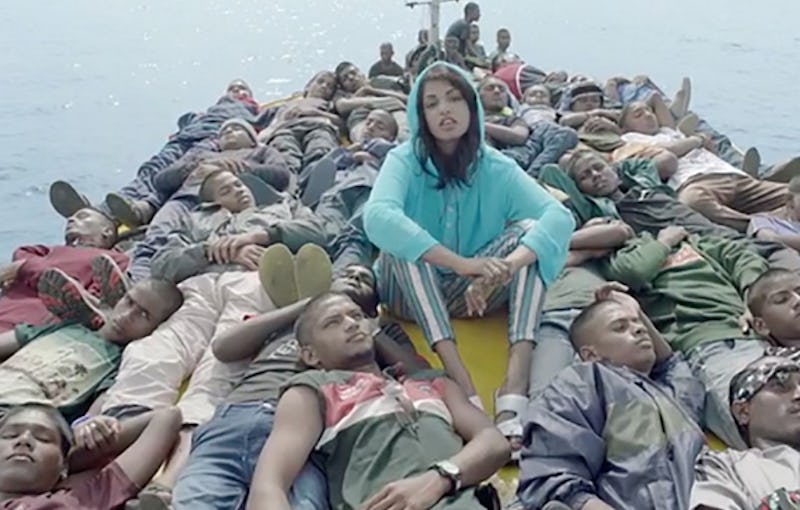 The badass, beautiful M.I.A. dropped her video for "Borders" on Friday on Apple Music with little fanfare, but it's got everyone talking. As it should: in the cinematic, self-directed music video for her first single off her forthcoming LP Matahdatah, M.I.A. directly and aggressively tackles the Syrian refugee crisis. M.I.A. performs "Borders" while taking a refugee's journey; the video shows hundreds of refugees traveling on cramped boats and climbing over barbed wire fences.
Not only that, but she stares the camera and opens up a difficult discourse, confronting viewers with questions like, "Borders, what's up with that? Politics, what's up with that? Your privilege, what's up with that?" And those are questions that everybody should be asking, especially now in the face of such an urgent humanitarian crisis.
With the release of the video, the political, provocative rapper wrote a personal message on her Twitter, dedicating it to her Uncle Bala.
If you're not familiar with M.I.A., aka Mathangi "Maya" Arulpragasam, she's a refugee herself. Born in London in 1975 but raised in the Tamil northern city of Jaffna, Sri Lanka, the 40-year old artist grew up in a dangerous, impoverished environment. Her father was a political activist and when the Sri Lanka Civil War broke out in in the late eighties, M.I.A. and her family went into hiding and eventually became refugees that escaped to London, though that didn't mark the end of their difficult journey.
"Borders" comments on that difficulty: just because refugees are accepted into a country does not mean that their quality of life improves at a rapid pace. They will still face widespread discrimination in the United States, the kind that has already been rampant with governors of many states "refusing" to accept refugees and the continued cries that they are dangerous because a large majority are Muslim, even though almost all victims of ISIS are Muslim. They also face a rigorous and exhaustive screening process, after their already extremely difficult journey to safety.
I have to believe that M.I.A., a woman so aware of systematic discrimination, purposely debuted the video on Black Friday, a day of consumerism, asking direct questions about the world we live in. The chorus is raw and powerful: "Guns blow doors to the system/ F**k 'em when we say we're not with them/ This is North, South, East and Western." She's urgently and angrily reminding her audience that this crisis is a global crisis, and there will be serious repercussions for so many Syrian people, whose lives are endangered, if they are not accepted across those borders.
Image: Apple Music.