What's The Song In The New 'Agent Carter' Teaser?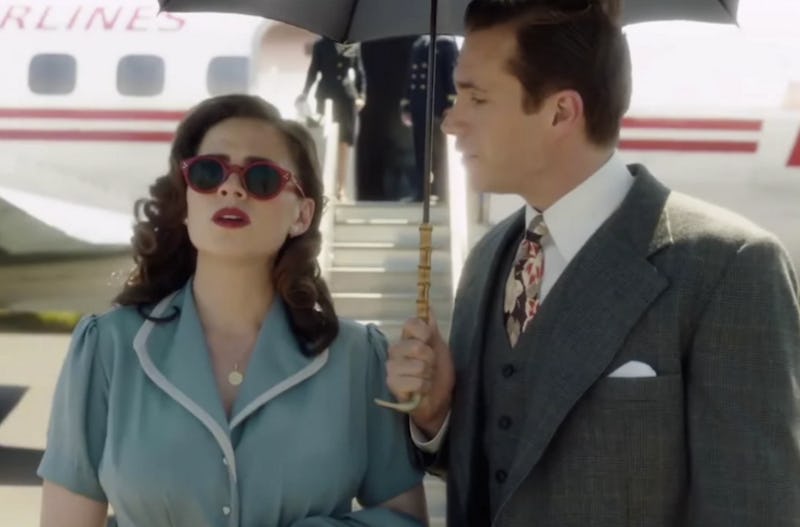 Hollywood suits Peggy Carter well in the new Agent Carter Season 2 teaser. Between being introduced to new car gadgetry, kicking all the butt, and wielding a shotgun, I doubt everyone's favorite formative S.H.I.E.L.D. agent will have much time to enjoy the sun. As long as the action doesn't stop, I will be one happy fangirl though. Accompanying the new footage is your new favorite song. The old school meets new school tune declares, "I'm the chick with the shotgun," just as Peggy comes into frame holding the weapon herself. It's an awesome moment made all the better by the lyrical symmetry, but what is the song in the Agent Carter teaser?
Like Agent Carter , the teaser song is flying under the radar just waiting to become a monster hit. The song is "Shaboom," and it's not from a top 40 artist — although, I have feeling this woman will be going places soon. The song comes from 21-year-old Randi Demarco, who declares in her Twitter bio that she's "AMDA. Cool AF. I sing, act, and write." The young singer doesn't have an album just yet, but you can buy "Shaboom" from iTunes or listen to it on Spotify. Her video for the jazzy song of female empowerment is amazing too. Check it out:
"Shaboom" is the perfect anthem for Agent Carter as she embarks on her next adventure. Season 2 will see Peggy leaving New York City for Hollywood, but moving across the country won't slow her down. The catalyst for her big move is a desire to stop atomic threats in the post World War II era. The fact that this will put her right in the middle of Hollywood's Golden Age is just a happy coincidence. ABC's latest press release teases there is a "sinister threat" waiting for Peggy in California that will threaten everyone and everything she holds dear. There's no word on who — or what — the Season 2 big bad is, but I'm sure Peggy is up to the challenge of taking down anything that threatens those she loves.
"I'm just getting started," she promises in the new teaser, and I believe her. If you haven't caught up on the eight episode first season yet, then get to it. Season 2 of Agent Carter premieres Tuesday, January 5 on ABC, and, if you aren't watching, you are missing out one of the coolest, kick butt comic book shows on TV. While you are at iTunes purchasing your new life anthem "Shaboom," you might as well invest in Agent Carter Season 1 too. You won't be sorry on either count.
Image: ABC