Marathon These New Netflix Options In December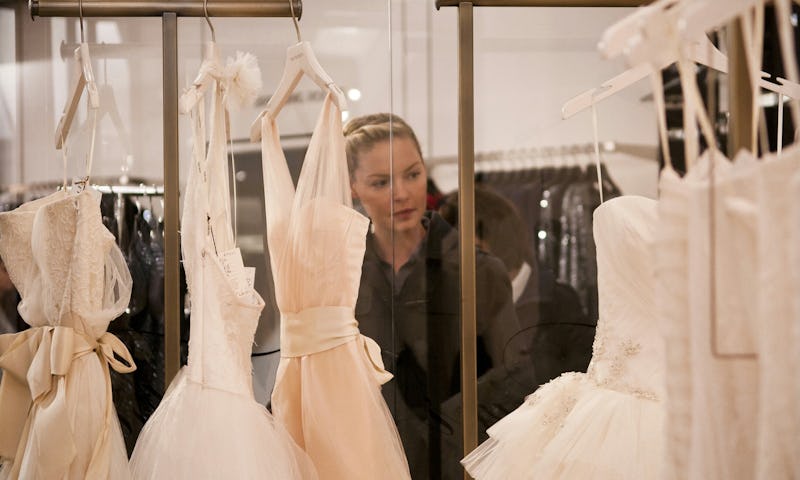 Here's a fact: As temperatures drop in December, Netflix viewing sessions rise. Because, honestly, what else are you supposed to do when it's freezing? Go outside? See people?! Please. Thankfully, Netflix has been killin' the game as of late. The streaming service casually dropped some of the best TV we've seen all year — Aziz Ansari's Master of None, super heroine extraordinaire Jessica Jones, and laugh out loud funny With Bob and David, just to name a few. It's safe to say that December has some tough shoes to fill. So, what's new on Netflix in December that's worth marathon watching, you ask? Well, a lot actually. In fact, besides the typical holiday related stuff you should obviously be viewing, Netflix has some solid offerings this December, both in television and film.
Even though it's tempting to take a month long vacation and do nothing but stream all the new TV shows and movies — in an effort to, you know, figure out what's best — I've narrowed it down for you so you don't have to. (I know, I know, thank me later. I accept chocolates!) From movies shot entirely on iPhones to nurses with severe drug addictions, here are 12 must-sees to stream on Netflix this December. Happy marathon watch — I mean... holidays? How about both? Happy marathon watching holidays! Enjoy.
1. Tangerine (December 1)
Sean Baker's film was shot entirely on an iPhone, but that's not the most impressive thing about it. Exploring topics like gender identity through a lens that's wholly original and not condescending in the slightest, this (in my humblest opinion) is one of the year's best films. Bless Netflix for streaming it! You won't want to miss it.
2. Ray (December 1)
This Oscar-winning biopic features Jamie Foxx as Ray Charles, in one of the actor's most incredible performances of his career (which is saying a lot for Foxx, who has, time and time again, proven he's a triple threat.)
3. Real Rob (December 1)
First there was Louie, then there was Maron, and, most recently, there was Master of None. Now, friends, there's another semi-famous comic looking to dramatize his life for the small screen — Rob Schneider. It's either going to be hilarious (see: aforementioned three shows) or a total disappointment. What's that saying, third time's a charm? Four time's a...? I don't know, you fill in the blank. Either way, it should be fun to witness. Right?
4. Jenny's Wedding (December 1)
Jenny's Wedding (starring Alexis Bledel and Katherine Heigl) is a sweet — at times comical — and well intended film about a thirtysomething lesbian coming out to Midwestern parents. If you'd like to view something cute, light, and easily digestible, then this will be a respite from all the holiday madness.
5. A Very Murray Christmas (December 4)
Here's something you never saw coming: A musical Christmas series directed by Sofia Coppola starring Bill Murray as... Bill Murray. Absurd? 100 percent. Amazing? Most likely.
6. Comedy Bang! Bang! Season 4 (December 4)
If you haven't feasted your eyes on Comedy Bang! Bang! yet, I am so, so sorry for your loss. This "faux" talk show needs to be viewed by everyone, including you. It's better that I don't explain it to much, so just hop on your Netflix account, queue it up, and prepare to be embraced by what feels like a comedic hug.
7. The Ridiculous 6 (December 11)
OK — I already know what you're about to say, and I agree. Adam Sandler hasn't necessarily been hitting the mark as of late. It's true! But maybe this Netflix original movie is what Sandler needs to get his head back in the game? The ensemble Western spoof looks so ridiculous (word play, fully intended) that it might just work.
8. Hart of Dixie, Season 4 (December 15)
The ultimate feel-good CW show, featuring Summer Roberts (!!), sorry I mean Rachel Bilson. Watching Hart of Dixie is like returning to that old Southern hometown that you may or may not have even originated from.
9. F is For Family (December 18)
Following the success of the Netflix original animated comedy, BoJack Horseman, Bill Burr and Simpson's writer, Michael Price, teamed up to create this definitely not intended for families (despite its name) series.
10. Maron, Season 3 (December 28)
If you've missed out on Maron and are fans of Louie or Master of None, then you are doing yourself a disservice. The realist sitcom follows the self depreciating stand-up comic as he journeys through personal relationship and career ambitions. It's imbued with a bleak sense of nihilism, but Maron's self-obsession, and his "I'm my own worst enemy" shtick make this worth a watch. And a dark giggle or two.
11. Parenthood, Season 6 (December 30)
Who doesn't love the Braverman family? Seriously, I dare you to answer this. The sentimental NBC dramedy just ran it's six year course, and to say that fans of the show were devastated would be the most understated thing you could ever say (so probably don't say it, you know?). Re-live the laughs, the feels, the everything in between, when Season 6 becomes available at the end of the month.
12. Nurse Jackie, Seasons 1 — 7 (December 31)
Well, now I know what will go down in history as the best late Christmas gift ever. Nurse Jackie. It's Nurse Jackie. Showtime's drama starring the legendary Edie Falco is a prime example of the female anti-heroine done well. She's complex, cunning, and far from morally superior, but she's as multi-dimensional and layered as television characters come — female or otherwise.
Quick poll: What's your December itinerary look like? Mostly Netflix... or mostly Netflix? Same.
Images: IFC Films