A Gift Guide For Your Fave TV Characters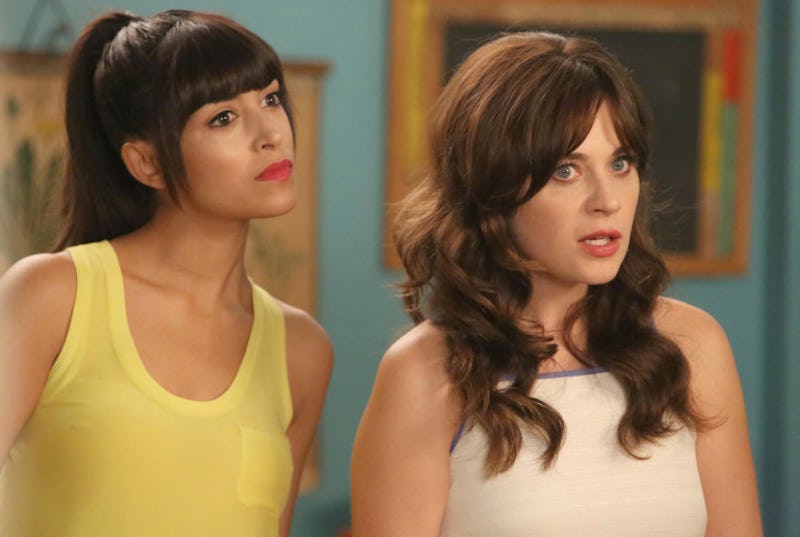 If you're nervous on stage, imagine the audience in their underwear. If you're nervous about shopping for the holidays, imagine your loved ones as television characters and get your online codes ready for #cybermonday. By reimagining those closest to me as archetypes from fictional works, I've found it's easier to disconnect from all of the stresses of gift giving and simply, as Girls' Shoshanna would say, "get 'er done." What can the gals of Girls, New Girl, and Two Broke Girls tell you about making a TV-centric holiday gift guide? As it turns out, a lot.
Everyone knows a music lover like Marnie, a craft devotee like Jess, or a classic dresser like Caroline. Likewise, chances are high that you're shopping for people who are into travel, empowerment and/or novelty. When gifting those you love, thoughtfulness rules over dropping a ton of cash any day of the week. Allow these eight characters to stand in for all your holiday shopping needs. From your college roommate who's constantly sending you her newest Spotify mix to your artsy cousin who makes her own soaps, here's a collection of gift ideas sure to inspire. And they don't even require you spend all of your hard-earned shekels in one go — most are under $100. So when you've been combing the mall for hours and are still left empty-handed, have no fear: Just imagine your favorite television personality right there beside you.
Two Broke Girls' Max Black, The Quirky One
What to get the girl who's obsessed with all things clowns, cats and confections? A vintage clown cat cookie jar! This is from Etsy, for $129.99.
Two Broke Girls' Caroline Channing, The Classic One
It's no secret that Caroline loves her pearls. This $98 "twist" on the perennial classic, from J. Crew, is sure to be a new favorite.
Girls' Hannah Horvath, The Writer
Because nothing says "writer" quite like wearing a Shakespeare pun across your chest. This $24.99 shirt is from Lonely Dinosaur.
Girls' Marnie Michaels, The Aspiring Musician
This user-friendly digital recording tool, $76 from Uncommon Goods, is perfect gift for a budding songstress.
Girls' Jessa Johansson, The World Traveler
What to get for the girl who doesn't really like anything and seems to have seen it all? A book of new places to go next, such as this one from Urban Outfitters for $24.99.
Girls' Shoshanna Shapiro, The Trendy Feminist
With her impending move to Japan in pursuit of her new career, is there any question Shoshanna would appreciate this $32 Etsy necklace?
New Girl's Jess Day, The Crafter
The best of art class, but so much less glue-y. Forget the pipe cleaners and popsicle sticks, these chic DIY sets, $29 from Brit + Co, are perfect for the crafter in all of us.
New Girl's Cece Parekh, The One Who Needs A Breather
Between her quarterlife-crisis and never-ending saga of relationship woes, this is the perfect gift for someone who probably won't stick with meditation but could do with some noncommittal relaxation. A set of three goes for $36 from K Studio Home.
Holiday shopping for your friends and family = stressful. Holiday shopping for fictional characters from TV = super easy! Now if only there was a fun way to reimagine your laundry...
Images: Giphy (8); FOX; Etsy (2); JCrew; Lonely Dinosaur; Uncommon Goods; Urban Outfitters; Brit + Co; K Studio Home