These Jordan Smith 'Voice' Quotes Will Inspire You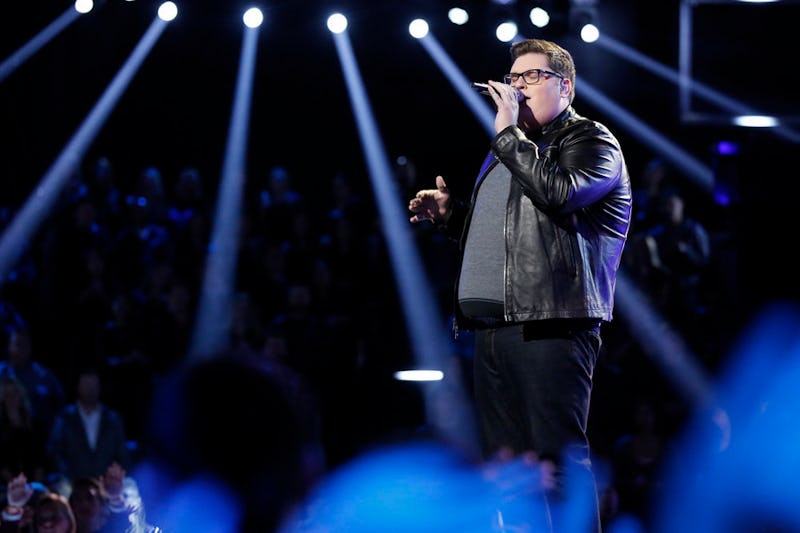 Last week, Jordan Smith continued his hot streak on The Voice Season 9 by slaying a cover of Jessie J's "Who You Are." I'm beginning to wonder if there's anything the Kentucky native can't sing. But, aside from his killer voice, Smith has a lot of important things to say without music, so here are Jordan Smith's best quotes, and they'll certainly inspire you. Remember, Smith has had quite a journey and hasn't always gotten the greatest feedback from his voice — hard to believe, right? But it's true.
These days, the 22-year-old college student is racking up the YouTube views and ruling the iTunes charts with his magnificent The Voice covers, like Selah's "Great is Thy Faithfulness," Sam Smith's "Like I Can," and Beyonce's "Halo." After his stunning Blind Audition to Sia's "Chandelier," Smith chose Adam Levine to be his coach — and he could not be happier with that choice. "He really encourages us as individuals and wants us to feel comfortable and be who we are," Smith told Hollywood Life. "I think if there was something we were uncomfortable with, or felt we couldn't do our best with, I feel he'd encourage us and want us to say something. He celebrates being confident in your decisions in who you are." Here's the other words of wisdom he has to share.
"I Don't Know If I'm Happy Or Really Scared."
Smith said this after the wild applause and joyful reaction to his Blind Audition, and it's totally relatable.
"I Wanted To Show That You Can Be Different & Still Be Special. Being Different Is What Makes You Special."
Smith told this to Kentucky.com in the above video about his epic Blind Audition. Definitely a great motivation to have.
"I Want Other People To Be Able To Find Security In Knowing They Can Accept Themselves & They Can Break The Mold & Be Different, & That Your Success Can Be Measured In The Joy That You Have In Who You Are."
Smith said this inspirational message in an interview with The Lexington Herald-Ledger .
"A Lot Of The Other Singers Are In The Corner Trying To Gather Their Thoughts. I'm Laughing With The Staff & Joking With The Production Team. I Don't Want Nerves Or Worry To Get In My Way."
Smith told this to the Chattanooga Times Free Press when asked if he ever gets nervous. He has the perfect attitude!
"Not Only Do You Need To Be A Talented Musician & Sing Well, You Need To Be Able To Sing From Your Heart. That's What Moves People & That's What Makes Really Good Music."
DeepestDream.com asked Smith what he's learned from The Voice and this was his answer, and he's so right!
I'm exciting to hear what else Smith has to say as his journey on The Voice continues.
Image: Trae Patton/NBC