Meet The Women Of The 2016 Pirelli Calendar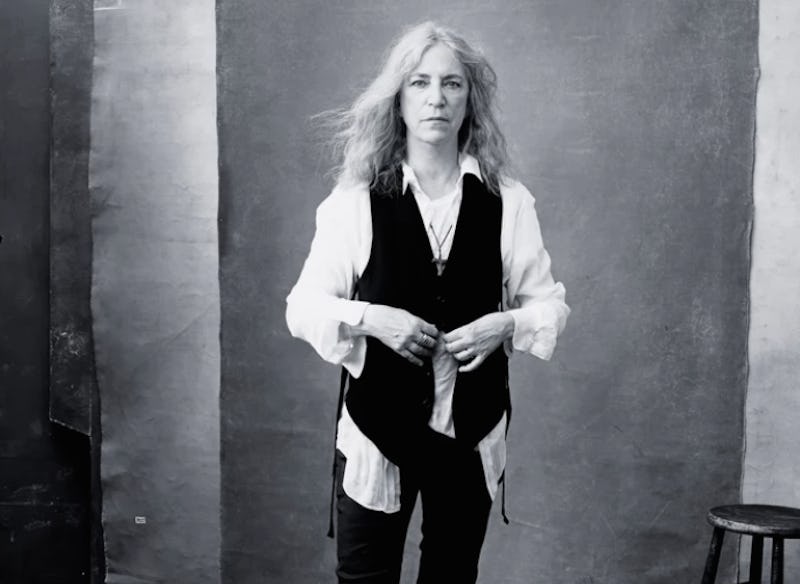 If I heard that a new, high-profile calendar full of female celebrities and influencers was being released, I would expect said calendar to include a year's worth of incredibly beautiful (and mostly white) women in various states of undress, gazing alluringly over at the camera. The 2016 Pirelli Calendar, however, has defied that expectation, and the resulting images are more powerful than any I've seen the tire corporation produce in the past.
Shot by the incomparable Annie Leibowitz, this year's Pirelli Calendar includes 13 women that were chosen for their achievements and voices. Since 1964, the Italian tire company has released a yearly calendar to 20,000 VIPs, including musicians, celebrities, and royalty. And most of those calendars included hyper-sexualized images of the world's most conventionally attractive women. Today, more than 50 years later, a change has finally come: Leibowitz and Pirelli selected a group of diverse women, most of whom are fully dressed and presented in a compellingly powerful way, represented first and foremost by their achievements over their bodies.
The 2016 Pirelli Calendar's lack of attention to its honorees' physiques is undeniably body positive, inclusive, and hopefully an indication of more forays into broken convention in the future. The women honored this year represent all ages, all backgrounds, and all types of careers. Meet them below, and prepare to be inspired.
1. Yao Chen
Yao Chen is an actress and the very first Chinese UNHCR Goodwill Ambassador. She has 66 million followers on Weibo (a Chinese social media platform comparable to Twitter) and uses her platform to express ideas on hot topics such as pollution and censorship. You can think of her as the Chinese Angelina Jolie: She's a gorgeous movie star with a positive political agenda, and serves as the perfect introductory photo to the 2016 Pirelli Calendar.
2. Natalia Vodianova
Natalia Vodianova came from poverty in Russia, working her way to being one of the most successful supermodels in the world (she is particularly known for her seven-figure contract with Calvin Klein). However, this woman is more than just the prototypical pretty face. She's also an activist.
Vodianova has used her platform to found Naked Heart Russia, an organization that creates safe spaces for impoverished and disabled Russian children. For the 2016 Pirelli Calendar, Vodianova took a huge departure from her usual sexy modeling looks and was photographed in a magnificent silk robe, her child hanging from her hip. It was a particularly interesting lens on a woman who really does seem to do it all.
3. Kathleen Kennedy
Kathleen Kennedy is a producer and chairperson for Lucasfilm (chosen by George Lucas himself), arguably making her one of the most influential and powerful women in Hollywood. At 62 years old and without a celebrity-level persona, she's not the prototypical woman to be featured in a calendar like this, but her inclusion is certainly refreshing and welcome.
4. Agnes Gund
Agnes Gund is an art collector and patroness who is thought to be one of the most important collectors and curators of contemporary art. Her AG Foundation donates several million dollars each year to artistic and cultural institutions, as well as women's organizations. In the Pirelli Calendar, Gund is photographed with her adult granddaughter — an homage to powerful women in the arts throughout the generations.
5. Serena Williams
Serena Williams is the number one women's tennis champion in the world, and her inclusion in the Pirelli calendar is significant on a lot of levels. Though she is topless, the image of a dark-skinned, muscular black woman is one of strength rather than sexuality created for the male gaze. It tells the story of a body that is powerful, regardless of the fact that society routinely implies that such a body is not.
6. Fran Lebowitz
A national treasure and one of the most important social and cultural critics in the world today, Fran Lebowitz has been dismantling people and their behaviors for the better part of 30 years. Lebowitz is an excellent addition to the Pirelli Calendar, as she speaks for women with a style that is unabashedly and unashamedly their own. She is almost always dressed in a men's jacket, white shirt, cuff links, and jeans.
7. Mellody Hobson
Mellody Hobson is the president of Chicago based money-management firm Ariel Investments, and has devoted much of her time to philanthropic endeavors. She's a woman of color in a predominantly white male business world, and has been incredibly successful. Perhaps most interestingly is that this 2016 Pirelli Calendar honoree is married to film giant George Lucas, proving that powerful women can do much more than simply stand behind powerful men.
8. Tavi Gevinson
National treasure, teen queen, and Rookie editor Tavi Gevinson has arguably changed the way that young women interact with the world around them, starting from when she was a young woman herself. Ever since her early days as a pint-sized style blogger, Gevinson has written insightfully about the struggles of being a young person trying to navigate their environment while remaining true to themselves.
9. Shirin Neshat
Iranian artist Shirin Neshat grew up just before the Iranian Revolution forced her parents to move her to the United States, but her origins have always influenced her work, as she focuses particularly on the role of Iranian women in the revolution. Her work represents the codes and mores of Muslim society in a particularly insightful way, and it's incredibly important for Muslim and Muslim female visibility in 2015.
10. Yoko Ono
There is simply no scope broad enough to include all of the important work that Yoko Ono has done, through her music, her art, and her activism. She is often considered to be one of the most important avant garde artists in existence, and at 82 years old, she's showing no signs of slowing down.
11. Patti Smith
Patti Smith has been inspiring misbehaving women since her debut album Horses from 1975. Since then, she has become one of America's most prolific female musicians, and parlayed her music into several novels, most notably Just Kids, the autobiographical account of her relationship with Robert Mapplethorpe. Smith is also an inspiring fashion icon: An androgynous rule-breaker continuously proving that the lines of female beauty are meant to be blurred.
12. Amy Schumer
Amy Schumer is probably America's most beloved comedian these days, known for her irreverent humor and particularly direct approach to modern feminism. It's appropriate, then, that Schumer has the most traditionally sexy photo in the 2016 Pirelli Calendar shoot. The joke being, perhaps, that she didn't get the memo.
13. Ava Duvernay
Ava Duvernay is a woman of color who directs movies in Hollywood, and that truth in and of itself is a powerful one. Hollywood is known for being dominated by white men, particularly in the directorial realm, and Duvernay's presence is definitely indicative of the importance of that fact changing. She is best known for cowriting and directing Selma, the deeply moving Civil Rights era historical drama about the voting marches to Montgomery.
It's certainly inspiring to see this incredible group of women featured in a publication that has historically been known for overt objectification. Hopefully, this indicates a more thoughtful approach to how we celebrate (and why we celebrate) all types of women moving forward. Because as honoree Tavi Gevinson put it in an interview with the New York Times: "A white, able-bodied, cis-gendered woman being naked is just not revolutionary anymore."
Images: Courtesy Pirelli