6 Reasons Zach Seabaugh Should Win 'The Voice'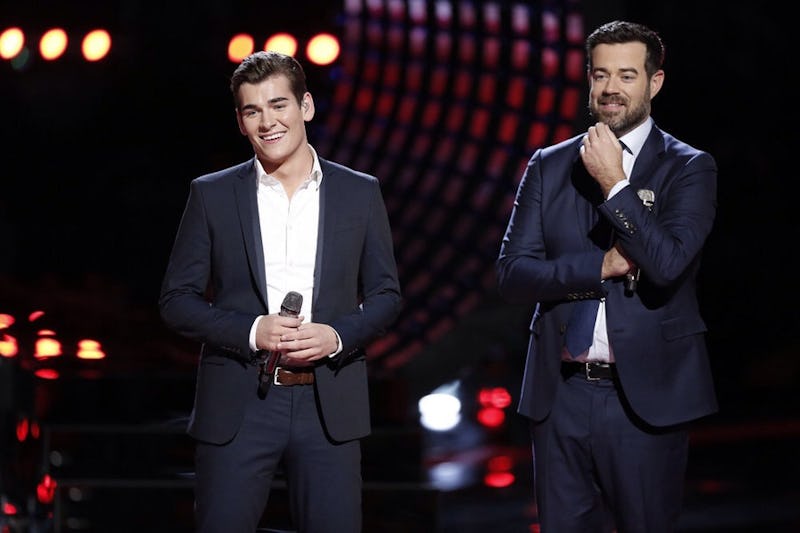 The Voice has been full of young talent in Season 9. Most of these kids are barely out of diapers and are owning The Voice stage like seasoned pros. One of these talented Voice contestants is 17-year-old Zach Seabaugh. Coming straight out of the gate with Elvis-inspired pelvic rolls and stunningly good looks, Seabaugh quickly solidified his place as the heartthrob of Season 9. Coach Adam Levine even confirmed what we were all thinking by almost immediately pointing out that the teen looks just like Superman. Couple that with his vintage moves and Seabaugh has what it takes to win this season of The Voice.
Sure, there are plenty of contestants that are more than worthy of nabbing The Voice crown, but there is just something unique about Seabaugh. With Blake as his coach, he has really been able to hone his love of classic country music and get his fans swooning. His backstory also makes him an interesting candidate to take the win. As we learned on the show, having been introduced to classic country by his beloved grandfather, Seabaugh only recently discovered his true interest in the arts. The sudden revelation caused him to quit football to focus on music full-time. His fans couldn't be happier with the switch!
Here are a few reasons why Seabaugh should totally take The Voice crown.
1. He Already Has A Ton Of Fans
Zach is a natural-born performer. He has the ability to make his fans swoon at his feet. That's not something that can be taught, that's something that you either have or you don't, and it will play well for his success off the show.
2. He Is Basically A Vintage Dreamboat From A Time Machine
The kid looks like he's straight out of the past, in the best way possible of course. He's like a delightful mix between Elvis in James Dean. Looks aren't everything, but they do help when you also have natural talent!
3. He Took A Unique Path To Music
As we learned on the show, Zach learned all about classic country music from his late grandfather, but he had been pursuing a love of athletics. When he realized his passion for music, he quit football to chase his dreams. Now that's dedication.
4. He Is Already Comfortable Performing
Zach was performing all around his home state and various festivals and events way before The Voice even started for him.
5. Blake Thinks He's Ready
After wowing everyone with his rendition of "My Love" by Little Texas, Seabaugh received a compliment from his coach that proves his staying power. Blake said, "I don't know that I've ever had anybody on this show like you, that I really feel like you could walk off this stage right now, get in your tour bus and go on your headlining tour somewhere." If Blake thinks he can do it, he's definitely on his way to a well-deserved victory.
6. His Sock Game
It's on point. One thing you need for success? Amazing socks. Without amazing and super unique novelty socks, you can't truly go places. I'm guessing here, of course, but having great socks can't hurt!
Images: Tyler Golden/ NBC (2)