Ranking The Best Shakespeare Film Adaptations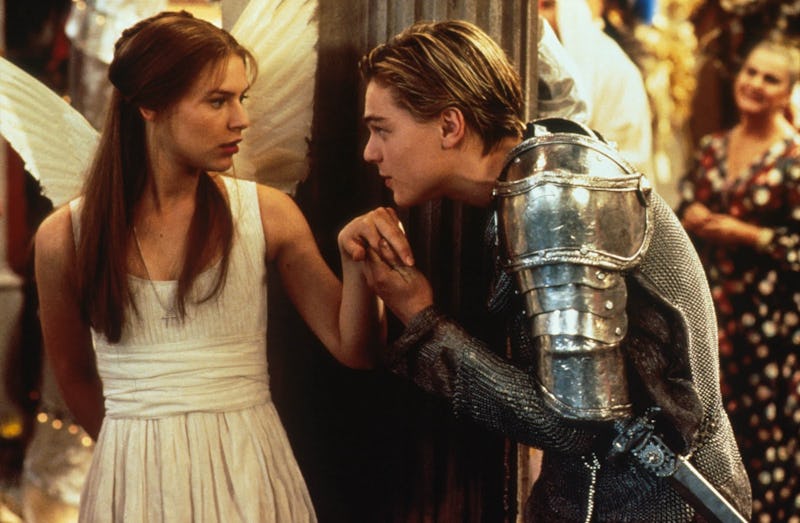 Where was Macbeth, the upcoming adaptation of William Shakespeare's play that's opening in U.S. theaters Dec. 4, during my high school English class? Directed by Justin Kurzel, Macbeth stars Michael Fassbender as the titular protagonist opposite Marion Cotillard as Lady Macbeth. It's too early to tell where Fassbender's Macbeth will rank among Shakespeare film adaptations, but with a cast like that, it certainly has a shot at landing high on the list.
For a quick refresher on Shakespeare's version of the tale: Macbeth one day receives a visit from three witches who tell him that he's going to become the King of Scotland (yay). Macbeth goes a little crazy with his desire for power and with the help of his wife Lady Macbeth, he becomes king by killing the previous king, thus earning the throne with blood on his hands (not so yay). Things spiral out of control from there as the Macbeths try to hide their tracks with even more murder. Crippling guilt ultimately drives Lady Macbeth to suicide, and the misunderstanding of a prophecy leads to Macbeth's demise in battle.
In typical tragic Shakespearean form, Macbeth is not a happy story — but it's an excellent drama. Many Shakespearean works share the same sort of excellency, from gripping romances to family dramas, hence their many adaptations into films over the years. In honor of 2015's Macbeth, I've ranked the best Shakespeare film adaptations for your viewing pleasure.
10. Macbeth (1971)
It'll be interesting to see how the 1971 adaptation directed by Roman Polanski compares to Kurzel's take on the story. Polanski's version of the story is known to be even more grim and decadent in its violence than its source material, for which the film has received both praise and backlash. It's all about perspective with this one.
9. Julius Caesar (1953)
Two words: Marlon Brando. The legendary actor shines as Mark Antony in this take of Shakespeare's arguably most famous betrayal play.
8. Henry V (1989)
This classic with many accolades was directed by Kenneth Branagh, who also stars as Henry V himself (this won't be the first time you see Branagh on this list, FYI). It's pretty pretty high on the list of absolute must-see Shakespeare adaptions of all time. This film was also Branagh's directional debut, for which he earned an Oscar nomination.
7. Ran (1985)
This utterly Japanese take on Shakespeare's King Lear is a sumptuous, visual feast with plenty of action and flair. While we're removed from Britain and thrusted into Japan's Sengoku era with this film, none of King Lear's original themes or tragedy of Shakespeare's original work are lost in this highly cinematic, full-on-epic treat.
6. Othello (1995)
What's notable about this film is that this adaption of Othello is the first big-budget film to cast Othello as a black man (portrayed by Laurence Fishburne). The movie is a thriller as Fishburne carries us through to Othello's downfall as fueled by the envious Iago, portrayed by Kenneth Branagh.
5. 10 Things I Hate About You (1999)
Shakespeare's The Taming of the Shrew never looked so good in a high school setting. In 10 Things, Julia Stiles is the shrewish Kat who is a delight to watch onscreen as she butts heads with Heath Ledger as Patrick, the bad boy who falls for her.
4. The Lion King (1994)
Surprise! In case you didn't know, this beloved Disney classic was influenced by Shakespeare's Hamlet. It may be hard to see it at first, but think about it — Hamlet kills his uncle in the play and Simba fights Scar who also dies, albeit not by Simba's hands, er paws — you get the idea.
3. Hamlet (1996)
Kenneth Branagh (who has a thing for Shakespearean adaptations, it seems) both directed and starred as Hamlet in this highly acclaimed adaptation. His contemplative yet keenly sharp portrayal of the Prince of Denmark is deeply captivating throughout the entire four hours of the film. Seriously. I've watched the entire film and have lived to sing its praises.
2. Much Ado About Nothing (2012)
A modern day retelling, this black-and-white romantic comedy, directed by Joss Whedon mostly stays true to the play, excelling in its pacing from gut-wrenching laughter to angst and then laughter again between Beatrice, Benedick, and company.
1. Romeo + Juliet (1996)
Coming in at number one is Baz Luhrmann's fresh, fast, and deliciously modern take on Shakespeare's most tragic love story. The adaptation stars a young and handsome Leonardo DiCaprio opposite Claire Danes as Romeo and Juliet respectively. In this version, guns replace swords — yet the central tale of star-crossed teen lovers is captured in whole.
There you have it, folks. You'll definitely want to keep this list handy as a pre-Macbeth prep course or palate cleanser for after you see the film.
Image: 20th Century Fox