You Need To Play The 'Elf' Drinking Game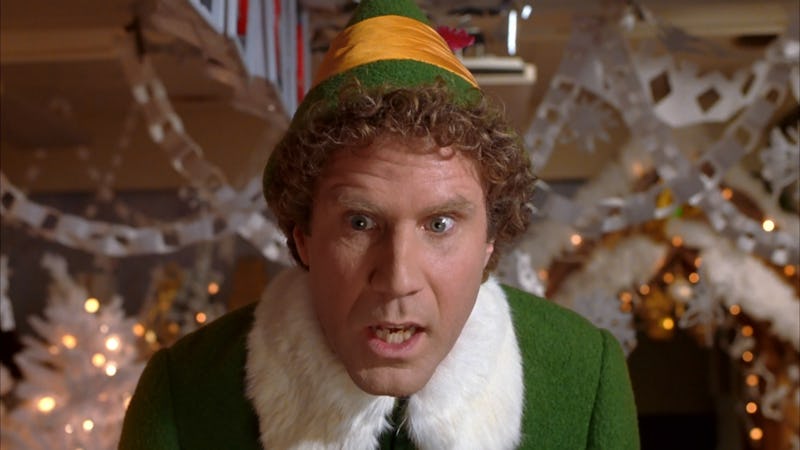 There are few Christmas movies that are as good at spreading Christmas cheer as Elf is. We can thank Will Ferrell's Buddy the Elf for that: his sole purpose in life is to make sure that the holiday spirit is inside each and every person, even those who tend to be prone to Grinch-like behavior during the rest of the year. Another thing that tends to make people just a bit cheerier? Booze. Combining (responsible!) drinking with a viewing of this Christmas movie is the perfect way to kick off your holiday season, and put you and your friends in the highest of spirits. After all, what's Christmas without an Elf viewing party?
The story of a human who is raised by Christmas elves and must seek out his biological family should warm the hearts of any viewer, and therefore it requires an equally warm beverage to enjoy for the drinking game. Brew up a warm boozy beverage like a spiked hot chocolate, hot toddy, or hard apple cider for sipping on during the the game, and grab a bottle of hard liquor of your choice (preferably one in a holiday-inspired flavor) and a few shot glasses so that you and your friends can cheers during some of the film's really big moments. Need a chaser? A swig of maple syrup should do the trick.
Here are the rules for the only drinking game you need this holiday season:
Take A Sip If...
Buddy mentions "Christmas cheer"
Buddy says "Santa"
Buddy eats candy
Buddy eats something he shouldn't (like a cotton ball)
Anyone starts singing
Buddy and Jovi share "a moment"
Buddy talks to an animated character
People look at Buddy like he's crazy
Maple syrup appears onscreen
Buddy mentions the North Pole
We see the Gimbles sign
Walter does something coal-worthy
Buddy decorates for Christmas
Jovi rolls her eyes
Walter gets angry at Buddy
Take A Shot If...
Buddy calls himself a "cotton-headed ninny-muggins"
The real Santa appears
There's a snowball fight
Buddy gets drunk
Buddy buys his dad lingerie
Peter Dinklage shows up
Jovi starts singing
Now go sit by the fireplace, get toasty, and pop on the Elf DVD to get appropriately toasted with your merriest of friends. Hey, it's Christmas!
Images: New Line Cinema; Giphy (2)