First Day Of School Clothes From The '90s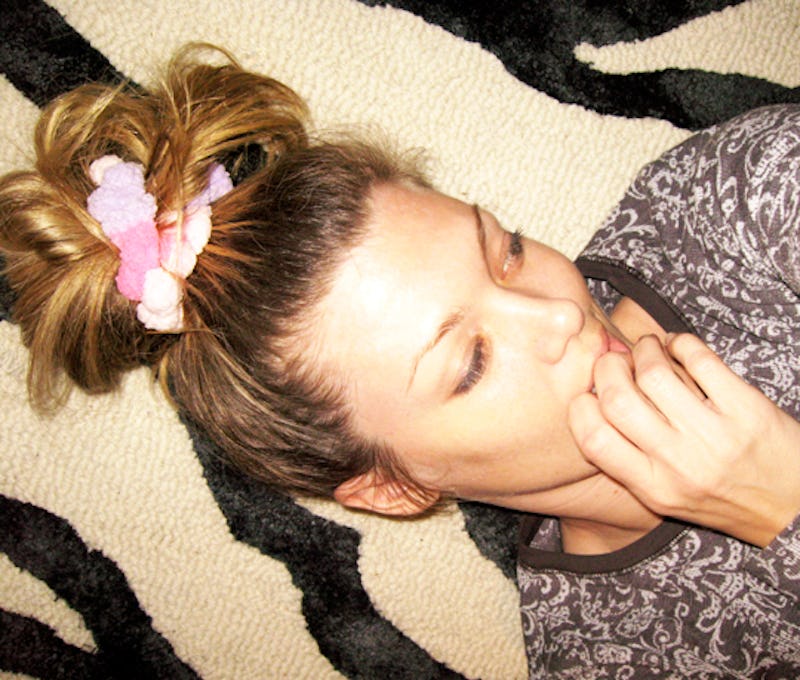 Growing up in the '90s was certainly enthralling, so waxing nostalgic about our '90s fashion sense is easy to do. Especially the outfits we wore on the first day of school. There was just such a wide variety of dope clothes we sported as we listened to the likes of The Spice Girls, Korn, and various Seattle rock groups. Whether you were a grunge rocker, a pop kid, or somewhere in between, your wardrobe was likely stocked with some classic '90s outfits, each one cooler than the last.
If Clueless taught us '90s kids anything, it was that although having a killer wardrobe isn't nearly as important as perseverance, friendship, and helping others, it certainly doesn't hurt. Your style is like your calling card, after all, so planning your first day of school ensemble back in the day was important business. You had to look fly, but effortlessly so. You had to combine Fresh Prince style with a "talk to the hand" attitude. But most importantly, you had to navigate the fine line between following epic, colorful trends, and seeking truly individual self-expression.
If you miss your carefree youth and the hours spent rummaging through your closet with your BFF to find the perfect first day of school outfit, here's a quick spin down memory lane, in the form of first day outfit pieces from the '90s.
1. Flared Jeans
Jennifer Lopez Whiskered Flare Jeans, $21, Kohls
The ultimate in quintessential '90s style was flared or baggy jeans. And if there's one thing most of us wore on one first day or another, it was our favorite pair of denim flares. They represented style, confidence, and the carefree attitude that was emblematic of pop culture at the time.
2. Flannel Shirts
AEO Canyon Boyfriend Flannel, $24, American Eagle
The grunge scene hit the '90s hard. And flannel may have been the greatest side effect, at least in terms of fashion. Whether your flannel rested atop a spaghetti string tank top, or a T-shirt covered in the logo of your favorite rock band, a button-up one likely made your first day wardrobe list at least once in the '90s.
3. Scrunchies
Standard hairbands are dull; there's no way around it. The '90s solution was the scrunchie, and although they came into style in earlier decades, these fluffy balls of hair-holding glory reached their creative peak in the '90s. Usually in the form of feathered, ribboned, and sequined variations.
4. Plaid Skirts
The school girl look was majorly in during the '90s, and with it, the non-uniform abundance of plaid mini skirts. Pleated and bright plaid skirts were wardrobe cornerstones for many of us, and certainly top contenders for a fairly fancy first day look.
5. Colorful Corduroy Pants
Some people swear by cords. Others cringe at the very sound and feeling of their ribbed fabric. Either way, corduroy had its day back in the '90s, and for each color of the rainbow, there seemed to be a popular pair of corduroy pants to be had.
6. Chunky Shoes
Stilettos? Flats? No way. If you had any sense of style in the '90s, your go-to shoes had chunky heels or chunky soles.
7. Jean Jackets
Jean jackets were the ultimate '80s to '90s transition piece. They were edgy, trendy, and found all across the board, from the grunge crew to the pop crew, and everywhere in between.
8. Overalls
I had a glorious, lace covered pair of overall shorts in the mid '90s. They were the pride and joy of my closet, and I wore them to the last day of school as well as the first.
9. Anything Argyle
Preppy chic was a pretty major deal for a while in the '90s, and nothing quite says preppy like an argyle vest. Or argyle socks. Or an argyle sweater.
10. Sweaters Over Collared Shirts
Speaking of argyle sweaters, if you managed to wear a collared shirt under your argyle sweater, you were sending one very clear signal. You were claiming your '90s roots, loud and proud. You also may have been proclaiming that you valued pocket protectors.
11. Adidas Anything
Adidas Originals Trefoil T-Shirt, $28, Dicks Sporting Goods
Sure, Adidas is still a hugely popular brand. But in the '90s, the acronym was also thought to have signified a certain phrase (all day I dream about sex). Perhaps as a result, Adidas sky-rocketed to fame and prevalence.
12. Skater Shoes
Got Vans? How about DC skate shoes? These comfy, skater-friendly kicks dominated in the '90s, and it's no wonder why, considering their sporty, comfort-driven shape.
13. Athletic Tear-Away Pants
Adult Unisex Tear-Away Pants, $32, Discount Dance
How could we revisit '90s first day clothing without considering how psyched we were to take one step closer to looking like Sporty Spice on our first day back at school? Tear-aways were comfy, practical, and looked so super fly that you could wear them to work out in and to homeroom.
Can you imagine trying to make it as a '90s kid without any of these standbys? Talk about lame.
Want more '90s love? Check out the video below, and be sure to subscribe to Bustle's YouTube page for more inspo!
Images: lovemaegan, dpkw, heartbeats, joybot, castawayvintage, inkalily, mutednarayan, jimlandover3, evilerin/Flickr; Courtesy Brands