Oliver, Barry & Felicity Need An 'Arrow' Spin-Off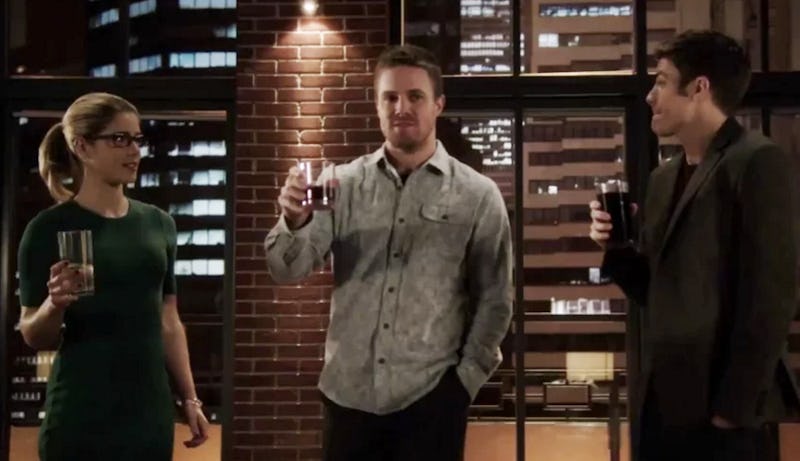 I'm just a simple superhero show fan girl. I don't expect much, other than the enduring safety of my faves, continuity, and believable character development. So, when I say that The Flash and Arrow crossover has made me yearn for more of the Oliver Queen, Felicity Smoak, and Barry Allen friendship trifecta, I expect some kind of a follow through. You pursue your heart's desire with the whole plot arc, powers that be. Just deliver on the Ol-ic-arry (does this work as a strictly platonic trio name? IDK) of it all. I trust you. (Kind of).
In the first part of what is dubbed as the "Flarrow" crossover, or, "Legends of Today," there were assuredly some instantly classic moments and lines delivered by the collective casts of both shows. But what really stuck out to me was any scene that featured a combination of Oliver, Felicity, and Barry. And it's not only because of the easy and believable chemistry between the actors that makes them a pleasure to watch together, but more so what the characters bring out in each other. Any situation between Oliver and Barry or Felicity and Barry, or all three, allows for story progression and my coveted aforementioned character development. On a more shallow note, though, seeing them together is just a ton of fun.
So, I don't know about you, but I need more of Oliver, Felicity, and Barry interactions, stat. And, here's why.
1. Barry's Reemergence Shows A Poignant Change In Oliver
It is major that the brooding and painfully reserved Oliver Queen can show some sort of outward care and affection to those that he doesn't consider his family.
2. Oliver Gives Barry Hope And Guidance
Oliver once said that they wouldn't get "the girl" but Oliver did, and so maybe Barry can, too. Look at that, Oliver giving people hope. *Wipes tear* But, you know, not too much. Let's not get ridiculous. He's still mostly Oliver "Pull Yourself Up By Your Own Bootstraps" Jonas Queen.
3. The Affable And Silly Demeanor Both Felicity And Barry Share Made A Line About Cocktail Hotdogs My Favorite Moment Of The Crossover
This gem of a scene would have undoubtedly fallen flat if it was said by anyone else to anyone else.
4. Barry Voices Oliver's Evident Exasperation
We all need that friend who is braver (or more foolish) than we are to point out the absurdities we've allowed ourselves to accept.
5. That Time Barry Was The Audience
Sometimes, you just need to take a step back and look at all the progress that has been made in a season. And, squeal about it a little.
Also, Emily Bett Rickards in this scene? A+. I'm still laughing.
6. It's Amusing To See Oliver And Barry Tease Felicity
It also prompts Oliver to say things that are a borderline, Felicity-like sexual innuendo. Which I am so here for.
7. Barry Catches Olicity In The Act...
OF BEING ADORABLE. Whereas others have become sort of accustomed to their frequent affection by now.
8. The Banter. Oh, The Banter
Even though the relationship has warmed considerably and doesn't feel as antagonistic as it did when Barry was totally into Felicity, the sassy quips and subtle digs they give to one another brings me a considerable amount of joy.
9. Because I Am Oh So Fickle, I Need Barry Around Because He Gives Us Treats Like This
What did we (and by "we" I mean me and Olicity) do to deserve you, Barry Allen? I feel so unworthy.
If there is a serious lack of the Oliver/Felicity/Barry friendship for the rest of the season, I am not shy about pitching a Three's Company-type spinoff starring all three. Don't test me.
Images: The CW; felicitys/Tumble (3); dobey/Tumblr (4); queenmerlyn/Tumblr (2); arrowsource/Tumblr (3); grantsgustins/Tumblr (3); travelingstrawberry/Tumblr (2); thearrowgifs/Tumblr (2); olicitykisses/Tumblr (2)