Amy Poehler & Tina Fey Are Back At It In 'Sisters'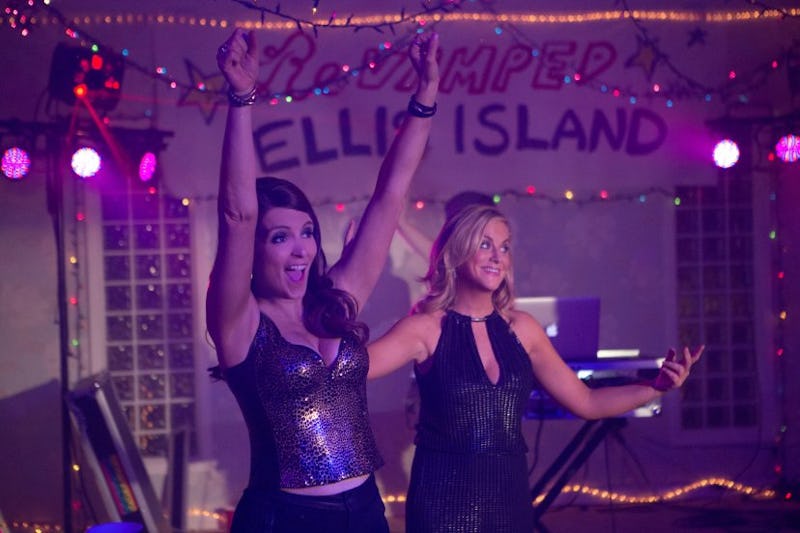 Not to be outdone in 2015 by Amy Schumer's Trainwreck, first ladies of comedy Tina Fey and Amy Poehler are teaming up again for Sisters, a comedy in which the two actresses play adult sisters Kate and Maura returning home to clean out their childhood abode — and maybe have one last hurrah. And as we know from Mean Girls, Baby Mama, and even their work together on Saturday Night Live!, nothing is off limits for these ladies. So what can you expect from Sisters ?
As far as plot is concerned, Sisters features that old-as-time trope in which one sister is the free-spirited and the other uptight. Kate (Fey) and Maura (Poehler) Ellis have just been informed that their parents plan to sell the house they grew up in and demand the two come home to clean out their childhood bedrooms. Recently divorced Maura needs a little kick to get back in the game, though, so they seize the opportunity to throw a last blowout party in hopes of setting Maura up with a new dude (Ike Barinholtz). Long-time Fey-Poehler collaborators and fellow SNL alums Maya Rudolph (playing a childhood friend-turned-nemesis of the sisters) and Rachel Dratch also make appearances. But there's a whole lot more going on under the surface of this movie, so here's a rundown of what could be in store when this one comes to theaters Dec. 18.
1. The Cast
The star-studded Rolodex that makes up Sisters is pretty astonishing. Actors recruited to the project include John Cena (WWE wrestler and Trainwreck alum); John Leguizamo (Ice Age, American Ultra, Love in the Time of Cholera); Madison Davenport (Noah, Shameless, Ponyo); James Brolin (Traffic, The Amityville Horror); Kate McKinnon (SNL, the new all-female Ghostbusters); Dianne Wiest (I Am Sam, Edward Scissorhands, The Birdcage); Heather Matarazzo (Welcome to the Dollhouse or, more importantly, Mia from The Princess Diaries); Santino Fontana (the voice of Hans from Frozen); Brian d'Arcy James (Smash, one-time King George of Hamilton, now in Spotlight). That's just the first-billed cast. There's basically no one on this list who isn't someone (other SNL pal cameos include Samantha Bee, Bobby Moynihan, and John Lutz).
2. The Inspirations
Director Jason Moore and screenwriter Paula Pell studied '90s bro-comedies like House Party and Can't Hardly Wait and the more recent party comedy Project X while preparing for the film, according to the Huffington Post — so if those movies appeal, Sisters is probably the film for you.
3. The Real Story
Screenwriter Paula Pell told the Huffington Post in the same story that she and her sister had a similar relationship to the on-screen dynamic between Kate and Maura. Her script was partially inspired by her girlhood diary, which chronicled that relationship. (Pell added that she was definitely the Maura of the two — a little dorky, uptight, nervous, yet maybe willing to let loose given the proper opportunity.)
4. The Long-Time Collaborator
Sisters is not Pell's first time working with Fey or Poehler — the screenwriter is also an SNL veteran and worked on Fey's 30 Rock and alongside SNL peers Maya Rudolph and Kristen Wiig in Bridesmaids. A prodigious comedy writer, Pell also signed onto Trainwreck with Amy Schumer, this year's breakout comedy hit.
5. The House Slated For Destruction
The Wall Street Journal reported that the set for the film — the childhood home the sisters are supposed to clean out, and instead obliterate in a party — was constructed expressly for Sisters. This was no real house. It was made to be destroyed. Moore scheduled shooting in chronological order so that the actors could let loose on the house, starting from the beginning of the story and slowly dismantling it from the inside out (think pizza nailed to the walls, flooding, rotting fake grass). So all the damage incurred over the course of Sisters? It's all real.
6. The Practical Jokes
On and off set, Poehler and Fey are known for their sisterly antics. As many gags as appear on screen, there were as many to match behind the scenes. Actor Ike Barinholtz, who plays the women's neighbor, and Poehler's love interest, told the Chicago Tribune that Poehler and Fey teamed up against him, refusing to speak with him during filming except when scripted. It might make their working relationship difficult, but also might make that awkward chemistry between Poehler and Barinholtz's characters all the more vivid.
Poehler and Fey have a knack for making the slapstick somehow engaging and smart. Sisters will undoubtedly have its screwball influences, but beneath the veneer of Hollywood comedy is a current of intelligent humor. It's high time they appeared together on screen once more.
Images: Universal Pictures (3); Giphy (4)