Which December Films Will Win Their Genres?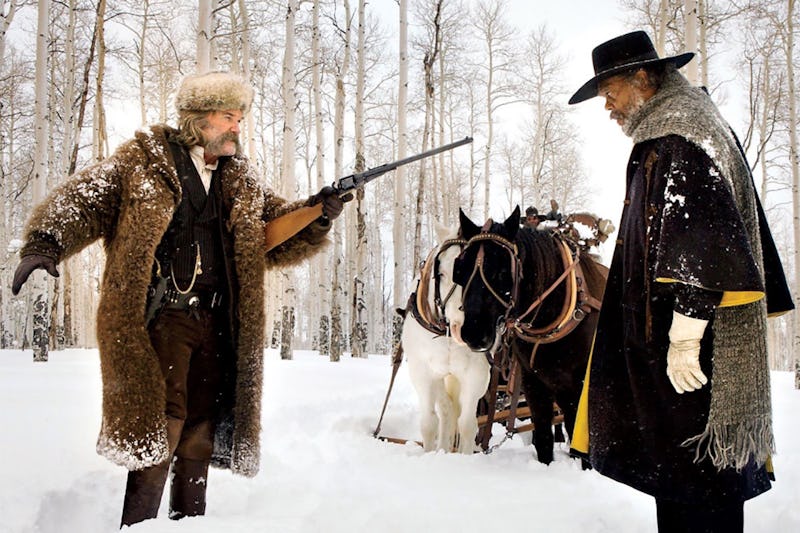 Rivaling holiday festivities as December's greatest selling point is the fact that December seems to be the month to roll out some of the best feature films of the calendar year. Traditionally, December is the time where you can find a wide variety of high-profile pictures, including likely blockbuster champions pegged to the commercially-viable Christmastime release, as well as Academy Awards candidates sneaking into consideration during the final weeks of eligibility. Eager to please all audiences, December is regular benefactor of grand-scale adventures and smaller, more temperate dramas and comedies of note. Our next go-'round with the month doesn't look to disappoint in any of the aforementioned categories. But which December movie will reign supreme?
In fact, the 31 days to come in 2015 will offer Oscar-friendly pictures and performances, guaranteed commercial hits of the sweet adventure and laugh-out-loud comedy variety, tear-jerking dramas, invaluable message movies, and even a few whose genetic makeup make them suited to fit all (or, in a few cases, even none) of the above categories. Check out this breakdown of the December '15 movie release schedule and decide for yourself which film in each category will reign supreme as the best film you haven't seen... yet.
The Message Movies
Past December releases like Philadelphia have proven that the end of the year is the best time for spreading sociopolitical messages of all sorts.
Concussion: Following the suicides of injured NFL stars Junior Seau and Dave Duerson, producer Ridley Scott set into motion a film highlighting the prominence and seriousness of the head injuries suffered by professional football players, selecting Peter Landesman to write and direct and Will Smith to star. However, the film's contractual partnership with the NFL itself — in the interest of using team names and logos — might "soften the blow" upon the cause in question.
Where to Invade Next: Michael Moore's first new picture in six years holds standard American domestic practices against those of several European nations showcased on screen. However, Moore's reach never extends beyond the established Moore audience, because the filmmaker's career has made him so polarizing that people tend to decide whether or not to see a movie just by seeing his name on it.
Chi-Raq: Spike Lee's hyper-stylish dark comedy tackles gang-related gun violence in American cities like Chicago. Though playful and upbeat, the movie makes no bones about exposing the gravity of its central theme, managing to bring to light corners of the ubiquitous problem that audiences might not even have considered. Of the three, I think this one will come out on top.
The Heavy of Heart
Riding high on holiday-inspired vulnerability and low on Vitamin D, we're at our most susceptible to tearjerkers in these unforgiving winter months.
Son of Saul: The rare intimacy of Hungarian writer and director László Nemes' Holocaust picture, which takes place entirely within the confines of a concentration camp operating within the infamous Auschwitz camp network, is what makes Son of Saul the unsettling combination of compelling and treacherous. You don't even need to read this rest. This one will be the clear winner.
In the Heart of the Sea: A period drama about a colossal shipwreck? Released in December, and starring impossibly beautiful English people? Although shared characteristics with another Christmastime release make In the Heart of the Sea sound like a sure-fire hit, Ron Howard's story about the origins of Herman Melville's seminal novel Moby Dick might prove too raw for audiences seeking a good old fashioned weeper. (Cannibalism might not have gone over so well on the Titanic.)
45 Years: There are some movies you're driven to see by lone virtue of their top-billed talents. The conversation about 45 Years surrounds Charlotte Rampling, who plays a married woman whose longtime husband discovers the preserved body of his former lover who was killed and frozen during a mountaineering trip. Even the most hard of will shouldn't make it through Andrew Haigh's latest human drama without getting a little misty.
The Laughers
After the often bleak and dire stretch of horror-laden October and Oscar-friendly November, December allows for a few cheerful comedies to cleanse the palette.
Daddy's Home: A dorky Will Ferrell and tough guy Mark Wahlberg play rival father figures to the latter's biological children in what looks to be typical Ferrell-comedy fashion. The SNL vet's last union with Wahlberg turned out the impressive buddy cop satire The Other Guys, so hopes are high for a reasonably good time with this outing.
Sisters: Tina Fey and Amy Poehler play estranged sisters who get up to some hijinks when their childhood home goes on the market. While Fey and Poehler have done wonders on the small screen, both together (on Saturday Night Live and as hosts of the Golden Globes) and separately (on 30 Rock and Parks and Recreation, respectively), their big screen record is thus far less stellar. Fans of the duo are likely willing to expense yet another benefit of the doubt for this latest comedic outing, making it the clear winner here.
Krampus: For something a little more sinister, the Christmas-themed horror comedy Krampus — lined with recognizable forces like Adam Scott, Toni Collette, David Koechner, and Conchata Ferrell — looks to be delightful harmony of funny and twisted. However, the horror comedy niche, especially past the genre's prime Halloween season, might not draw in as big of a crowd as, say, Sisters.
The Oscar Contenders
In the final weeks of Academy Awards eligibility, some of the strongest candidates for top acting, directing, and Best Picture Oscars come out of the shadows.
Joy: The dream team of writer and director David O. Russell and star Jennifer Lawrence has proved Oscar-friendly two times out of two so far. The hype surrounding Lawrence's first center-stage act in a Russell film involves no shortage of mentions of Best Picture, Best Actress, and Best Director victories. Lawrence might make this movie the winner just by the cache of her name alone.
The Revenant: Three big Oscar talking points have preceded the release of The Revenant. First: Could Alejandro González Iñárritu take another Best Director trophy? Second: Could Emmanuel Lubezki take another Best Cinematography trophy? And third, and most importantly: Could Leonardo DiCaprio finally win a freaking Oscar for acting?!
The Big Short: The underdog in this category is Anchorman director Adam McKay's stab at serious filmmaking. The sociopolitical satire rounds up a talented (and handsome) ensemble cast to play in the fruitful grounds of 21st century America's economic crisis. The narrative of McKay's self-reinvention will serve him and his picture well come awards season, but is the Best Picture race already too crowded to welcome this possible contender?
The Uncategorizable
What can you say about…?
Macbeth: There's something wholly strange about any cinematic adaptation of a William Shakespeare play. It seems as though Hollywood hasn't figured out exactly how to make the gambit work — do you stick rigidly to the original text or play inventively with its premises and themes? Such questions leave movies like Justin Kurzel's Macbeth, starring Michael Fassbender and Marion Cotillard, hazy entries into the cinematic canon.
Anomalisa: As the name would suggest, Anomalisa looks to be one-of-a-kind: a nervous breakdown black comedy delivered by way of the always somewhat unnerving stop-motion animation medium. Charlie Kaufman has never written or directed a movie that sits comfortably in any genre classification, and his latest looks to up the ante on existentialism and strangeness.
The Hateful Eight: Quentin Tarantino's forthcoming Western has equal claim to every category on this list. The film is no doubt laden with giddy laughs and hard-to-watch depths of grim. It looks to prove a success at the box office and a possible contender for Best Picture. Its performances, notably those of Samuel L. Jackson and Jennifer Jason Leigh, have won the esteem of pre-release buzz. And thanks to Tarantino's association with recent anti-police protests, the film is drawing as much controversy as a Michael Moore release or a Spike Lee film about gun control might. So, no matter what you're looking for this winter, The Hateful Eight might well land in your radar.
The Blockbusters
Avatar, Titanic, the Lord of the Rings movies… December is no slouch when it comes to blockbuster champs.
Star Wars: Episode VII – The Force Awakens: Unless the pop culture focus does a complete 180 in the next few weeks, Star Wars will be the unrivaled blockbuster kingpin of December. Maybe 2015. Perhaps even ever. All the other movies can go home.
Images: The Weinstein Company; Roadside Attractions; Sony Pictures Classics; Universal Pictures; 20th Century Fox; Disney; Paramount Pictures