The 'Girls' Season 5 Trailer Will Suck You In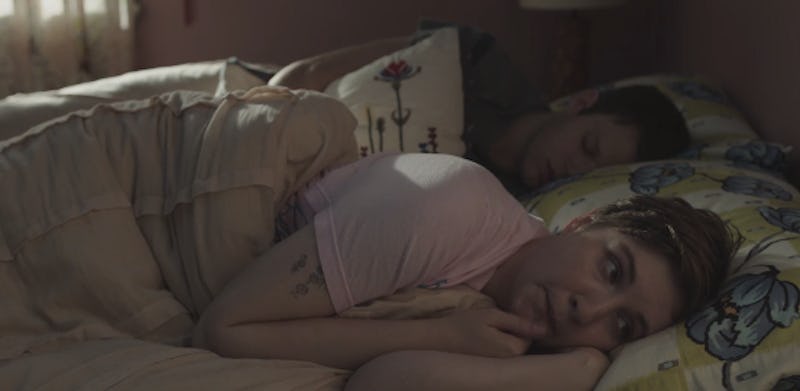 I always think I'm done watching Girls, and then they do something to reel me back in again. And wouldn't you know it? The trailer for Girls ' Season 5 is no exception. The show returns for its fifth — and maybe second to last! — season on Feb. 21, on HBO, as always, and, up until I watched the newly-released trailer, I didn't think I'd be one of the people pointing my face at it. But these women are still so open and honest and compelling and utterly unapologetic about refusing to learn their lessons after four full years on the air that it's hard to turn away. (Probably because I also take more than four seasons to figure things out sometimes, so I appreciate the on-air reinforcement.)
The trailer gives us looks at Hannah (Lena Dunham, duh), still happily involved with Fran (Jake Lacy), who is having to adjust to Hannah swapping spit with Elijah in their kitchen. We see Shoshanna (Zosia Mamet) still successfully avoiding her problems in Japan, and it looks like Marnie (Allison Williams) is serious gonna go through with this wedding thing, which seems like a nightmare. But they're also addressing in the trailer that it's a nightmare? So, I probably should tune in just in case to make sure it's definitely a nightmare.
Shockingly, Jessa (Jemima Kirke) is seeming like the most normal out of the bunch, which I never thought I'd say, and, oh no, they've done it. They've got me again. Take a look at this trailer yourself and try to tell me you're going to be able to resist.
Unbelievable. How do they do this? Is it some kind of subliminal message in the perfect tracks they pick to back the previews? Whatever it is, it's working, and I will see you all on Feb. 21. With bells on.
Image: HBO