If you're anything like me, a new season of television shows can be, well, overwhelming. Mainly because I'm the kind of person who wants to know about every single show that is premiering, set my DVR to record them all, and then slowly weed out the ones that aren't that interesting. It's my annual — or really semi-annual — television tradition, but it's also incredibly tedious. Because, rarely can you find a list of all the new shows unless you scour each individual network's premiere schedule.
Personally, that sounds totally miserable to me. Totally miserable and utterly exhausting. Because if there's one thing that I hate more than missing a show that everyone is talking about, it's Internet fatigue from trying to find the shows that everyone is talking about.
So I decided to do things a little differently this year. I compiled a list of all of the new shows premiering in 2016, across the networks. It's extensive. It's exhaustive. But it will become your ultimate guide to getting to know the new mid-season lineup.
Because, trust me, you aren't going to want to miss out on some of these shows:
Barrett's Guide To Surviving Life (FOX) — January 3
A bunch of guys doing anything they can to survive post-college life? Sign me up.
Bordertown (FOX) — January 3
The latest in animation awesomeness from Seth MacFarlane, this show takes place in a fictional town between the U.S. and Mexico and promises to be just as funny as it is offensive. You know, in true MacFarlane style.
Superstore (NBC) — January 4
As someone who once worked into a mega-retail store, I'm excited for this one more than any other.
The Shannara Chronicles (MTV) — January 5
MTV adds yet another sure-to-be hit.
Angel From Hell (CBS) — January 7
Jane Lynch is back! And she's better than ever.
Shades Of Blue (NBC) — January 7
Mark my words: This is going to be the one everyone is talking about. Jennifer Lopez stars in it, after all!
Shadowhunters (Freeform) — January 12
Now with even more supernatural for your viewing pleasure. The new season starts on January 12th at 9:00 p.m.
Teachers (TV Land) — January 13
Your teachers were not the angels of light and education you imagined them to be, and this show gives us all an inside look of what teaching the future generations of America while dealing with overbearing parents really looks like. The hilarious new season premieres on January 13th at 11:00 p.m.
Second Chance (Fox) — January 13
Nothing good ever comes from doctors playing God and men coming back to life. Didn't y'all see Pet Cemetery?
Colony (USA) — January 14
Lovers of Lost and distopian fiction will love this new series from USA.
Billions (Showtime) — January 17
A star-studded and timely drama about fraud and the financial crisis.
Legends of Tomorrow (The CW) — January 21
Get excited for even more superhero goodness,.
Baskets (FX) — January 21
Zach Galifianakis in his return to television (don't tell me you forgot about Tru Calling )? Yes, please.
Recovery Road (Freeform) — January 25
A show about addiction and recovery, Recovery Road is definitely one to watch in the new year.
Lucifer (Fox) — January 25
Thought L.A. was the City of Angels? Welp, in this series, it's also the city of the original demon.
Outsiders (WGN America) — January 26
It's like Winter's Bone meets Braveheart. Or something like that. Either way, this show looks dark and grimy and totally up my alley. .
Madoff (ABC) — February 3
This miniseries about Bernie Madoff and his wife, Ruth, tells the story of the Ponzi scheme that robbed thousands of people.
Those Who Can't (truTV) — February 11
Who doesn't want to go behind the scenes of a high school from the adult perspective? I do! I do!
Vinyl (HBO) — February 14
This new series from Martin Scorcese is bound to be amazing.
The Real O'Neals (ABC) — March 2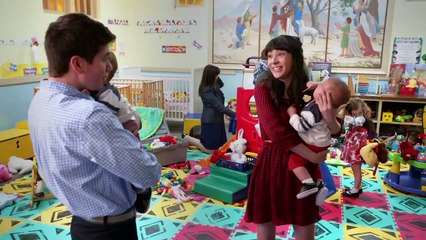 This show about a "typical" Irish Catholic family is already stirring interest.
Criminal Minds: Beyond Borders (CBS) — March 2
If there's one thing more exciting than a murder mystery, it's an international murder mystery. Check this one out if you can't get enough of crime shows and thrillers.
The Family (ABC) — March 3
A fascinating portrait of a family torn apart by a trauma that happened 10 years ago.
Of Kings And Prophets (ABC) — March 8
Listen up if you love all things Game of Thrones and royalty-related, this is the new 2016 show for you.
The Catch (ABC) — March 24
Who hasn't been blinded by love? This fraud investigator becomes the victim of her own husband, because love makes fools of us all.
Clearly, a ton of shows are premiering mid-season between January and March of 2016 — which means it's time to clear out that DVR, friends. Thankfully, the holiday break that most television shows take in December and early January is the perfect time to get that done.
Happy watching!
Image: NBC