How To Make A 'Gilmore Girls' Santa Burger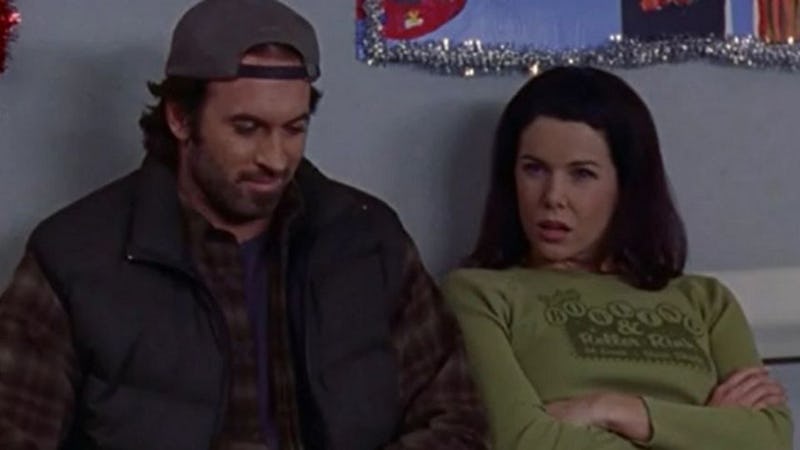 Once upon a time, a diner owner had a crush on a woman with a gift for making pop culture references and drinking more coffee than any normal human could metabolize. It took them many years to realize they were in love with each other, but one of the greatest gestures the diner owner, Luke Danes, ever made was making the woman, Lorelai Gilmore, a Santa burger. What is a Santa burger, you ask? Well, it's quite disgusting if you hate mayonnaise, cream cheese, or ketchup, but it's also a heartwarming declaration of love perfect for the holiday season.
As every Gilmore Girls fan knows, Luke like to put on a grumpy front. He often refused to decorate his diner for the town's endless parade of festivals just to annoy Taylor. He would do anything for Lorelai, though, and one of the first times he proved how much he cared about her was in Season 1's "Forgiveness and Stuff." Lorelai is fighting with her parents, and things are tense between her and Rory, so she skips her parents' Christmas party. On a normal day, Lorelai would have loved a Friday night off, but Christmas was the one time of year when she actually enjoyed going to her parents' house.
Enter Luke. In hopes of cheering up Lorelai, he makes her a Santa burger with a ketchup hat and a cream cheese beard and two eyes made out of olives. It's so not something Luke would do for anyone else, but he did it for Lorelai, and it was insanely romantic. If you want to follow in the footsteps of the grand gesture maestro that is Luke Danes, or you simply want to try the famed Gilmore Girls' dish, then now is the perfect season to whip up a Santa burger. Trust me, it's a super easy, probably inedible, but completely adorable food stuff to make.
What You Need
2 Pieces Of Wonder Bread
1 Half Of A Hamburger Bun
1 Jar Of Mayonnaise (Or 1 Block Of Cream Cheese)
Green Olives
Cherry Tomatoes
1 Red Pepper, Sliced
Hamburger Patties
Santa-Hat Shaped Cookie Cutter
Directions
First thing is first, you need to make your hamburger patty. You can use whatever recipe you like, and feel free to substitute a veggie burger or a turkey burger. You can even buy pre-made frozen patties; it's dealer's choice guys. Grill or fry your burger to your liking, and then pop it in the oven to keep it warm while you prepare the Santa part of your burger.
Take two pieces of Wonder Bread and one hamburger bun and arrange them in a row on a plate with the bun in the middle. Press a cookie cutter shaped like Santa's hat in the top piece of bread, and either discard the excess bread or save it for the beard. Alternatively, if you can freestyle a hat using a kitchen knife. That is also a totally valid option; I'm just not that gifted. Cut away the crust on your bottom piece of Wonder Bread.
Place your burger on the bun, and then it is time to start decorating. Start by placing a round dollop of mayonnaise or cream cheese at the top of the hat to create Santa's bobble. Luke used cream cheese, so, if you want maximum authenticity, go with that. While you have your cream cheese or mayo out, go ahead and put a healthy amount at the top of the burger and cover about a fourth of the bottom of the hat. Then move to the bottom bun to create the beard. Squirt mayo or spread cream cheese across the bottom of the patty, leaving just enough room for Santa's mouth. Cover the rest of the bottom piece of bread in mayo or cream cheese, using a knife to create beard-esque swirls — you don't want it to look too boxy.
Return to the hat and fill in the rest of the area with ketchup. Now, you're ready to create Santa's face. Cut a green olive in half and use the halves to make Santa's eyes. Then use one small, cherry tomato for his nose, and finally add one red pepper slice to create his mouth. Present your masterpiece to someone you love, who also loves condiments and Gilmore Girls, and become a Luke Danes level Christmas hero.
Images: Warner Bros. Television (2); fridaynightdinner/Tumblr (2)