15 DIY Gifts For Book Nerds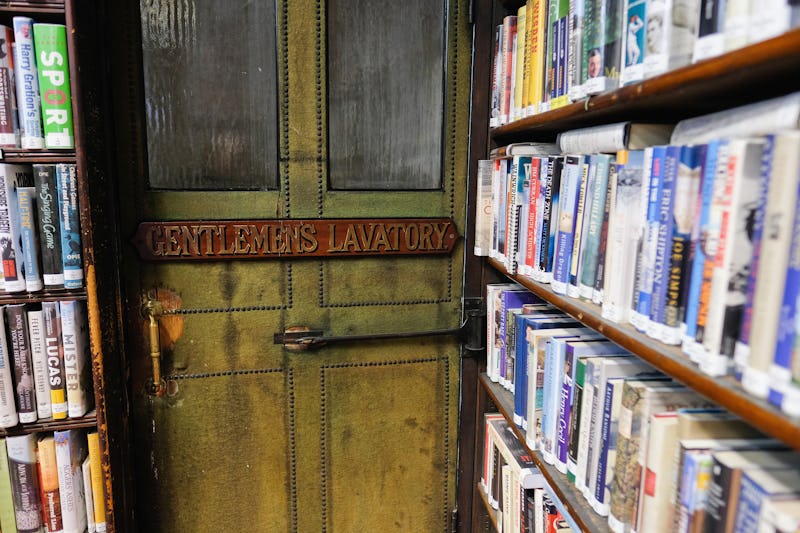 Ian Forsyth/Getty Images News/Getty Images
If there's a certain types of gifts all book nerds love more than anything else (besides a book, of course): It's the ones with the most thought and creativity put behind them. Some of my favorite gifts over the years have been paper flower bouquets made of used books, book pillows, and the adorable DIY bookmarks I love to use again and again. So if you've got a crafty hand and a few book nerds in your life, consider making them (or even yourself) some DIY gifts with a literary spin this holiday season.
It's always good to have an excuse to take up a new hobby around the holidays. I usually dig out my paintbrushes and paints to use as DIY gifts, along with baking as many cookies and treats as possible. (And it saves you money during the busy holiday time, too.) This year I'm definitely going to try making some personalized journals from scratch and maybe even some bookish jewelry after seeing all of these amazing, and easy DIY tutorials.
You might need to take a trip to your local crafting store to make sure you're stocked up on hot glue guns, scissors, and paper, because these 15 unique and personal DIY book gifts are going to make you into a crafting queen!
1. DIY Bookmarks
These adorable DIY bookmarks are easy to make and will make any book lover in your life happy. You can practically make bookmarks out of anything — recycled book pages, balsa wood, and even fabric if you're a sewing goddess. Get creative and personalize it for your book lover.
2. DIY Journal
If your book nerd is also a writer at heart, there's nothing more perfect than a handmade journal. These are pretty easy to make: just pick up a couple unique sheets of paper and bind them together with either glue or string. There are plenty of tutorials out there, and the great part is, you can write a little note on the first page telling your book nerd how much you love her.
3. DIY Book Safe
This, along with a few other DIY book gifts, is best used with recycled or worn down books missing a few pages. All you'll really need to do is have an X-acto knife ready and some glue to keep the pages together. The best part about this already awesome gift is that it can be used as a box for another gift if you're feeling extra generous!
4. DIY Book Jewelry
This is one of my favorite ideas because you can choose from so many things — necklaces, earrings, bracelets, rings — and from there you get to pick out a book page to use. Or you could even make a mini replica of a book for an accessory. You can have fun in the jewelry aisle at your local craft store and pick out neat ways to make these, or get even more crafty with clay and make miniature bookshelf necklaces!
5. DIY Bookshelf
If you're talented working with some wood and a saw, making a uniquely shaped and customized bookshelf is easily one of the most amazing gifts to anyone who loves and collects books. And even if you aren't particularly comfortable using power tools but have a talent with paintbrushes, you can always pick up a small (new or used) bookshelf and paint it by hand with book quotes, literary scenes, or something else that'll personalize it to your gift receiver.
6. DIY Personalized Bookplate Stickers
These are a little old school, but that makes them classically amazing. If you're artsy in that you want to create your own stickers, I can't really think of something more thoughtful than that. But if you're like me and can't draw much besides stick figures, there are plenty of bookplate templates to pick from and personalize.
7. DIY Bookends
Maybe you already have an idea in mind for your book lover, but there are so many different types of bookends you could make, and if you're in need of some inspiration, check out these awesome ideas! It could be as easy as painting rocks to as intricate as creating a tiny diorama.
8. DIY Book Bouquet
I personally love flowers made from recycled books for many reasons, but mostly because they never wither away. So if you're interested to get your glue stick and scissors out, try out a few different tutorials on how to make a paper book bouquet. This is definitely a more romantic gift, and one that's sure to produce a lot of smiles.
9. DIY Book Clutch Or Purse
These book purses are so fun and great to store other books in — because let's be honest, book nerds need big purses to put their books into. If you're into a more hands-on project, try making one of these from scratch!
10. DIY Favorite Book Shadow Box
Shadow boxes are way underutilized in my opinion. You can fill them with so many things, and if you're into scrapbooking, this is definitely up your alley. This personal project might require you to know a bit about your book nerd's favorite book, and if you do, you can put in cut out pages, create significant character scenes, draw out the best quotes, and fill it with all sorts of other tiny knick-knacks.
11. DIY Recycled Book Photo Album
If you're looking for a way to capture a friendship or relationship in the most adorable way, try using a book (again, preferably a recycled or worn one) that means a lot to the two of you, and turn it into a photo album. In this tutorial you can make each page into a photo holder, or you can personally fill it up with photos before you give it to them.
12. DIY Book Shoes
How awesome are these comic book shoes?! With a cute pair of shoes, some modge podge, and cutouts of comic books or text from a favorite novel, you can create one-of-a-kind shoes that your book lover will want to wear just about everywhere.
13. DIY Literary Book Scented Candles
Candle making has never seemed easy to me, but then I tried it out and it was actually a whole lot of fun. The materials are generally easy to get your hands on, and after melting some wax and experimenting with scents, you have a candle! The great part about this DIY project is you can make up your own scents like what you imagine Hogwarts to smell like around Christmas time or what Peeta's bakery in Panem is like.
14. DIY Book Cross Stitch
Cross stitching takes a lot of patience, but it's also pretty easy to learn. From favorite book quotes, titles, and literary scenes, you've got a wide range on what to cross stitch for your book lover.
15. DIY Book Cookies
You can never go wrong with cookies, especially not if you use these literary cookie cutters. Making adorable book cookies, or any book-related baked good, will gain you major points with any book nerd this holiday season.