9 Books To Read When You Need Some Cheering Up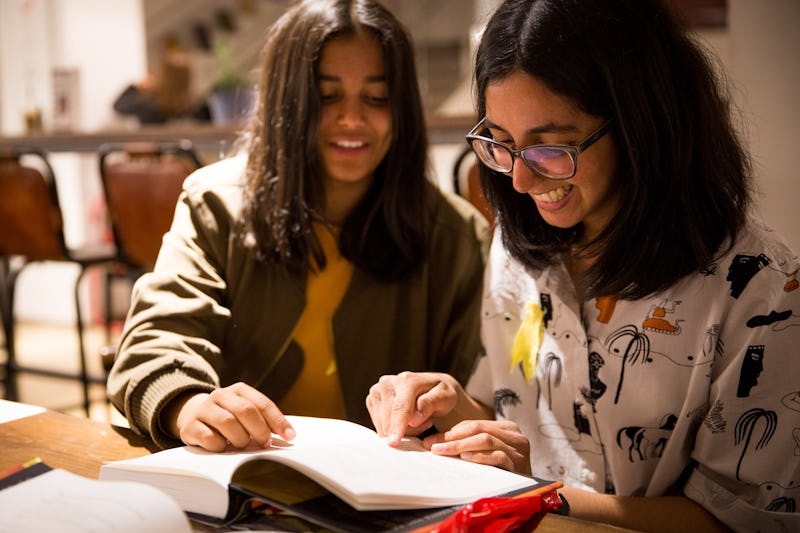 Rob Stothard/Getty Images Entertainment/Getty Images
Getting caught in a rut, whether it's due to heartache, homesickness, jealousy, or a combination of stress and anxiety can be a hard thing to climb out of. Sometimes a vacation or creative project can help, and other times it takes talking to a good friend. One thing that has never failed to cheer me up is reading an uplifting book.
Life isn't, and frankly never will be, easy. However, that doesn't stop me from wishing life could just be an uphill rollercoaster, or a hot air balloon that goes up so far in the sky that the world keeps getting bigger, more colorful, and easier to see. That isn't realistic, though, because the rollercoaster is going to spin and loop and dive so far down you'll feel your stomach in your throat. And that hot air balloon will eventually lower to the ground, bringing you back to reality. A reality where rough patches are inevitable.
There are plenty of sad, reflective books out there — and as great as those can be to help you cry out all the tears, they aren't the ones that'll help you feel better. You need something relatable, funny, and sprinkled with hope that'll lead you to feel better about whatever you're going through. And these nine books are sure to do exactly that.
For every twentysomething that didn't get their dream career straight out of college or found it and quickly lost it — make sure you own a copy of this book. Clay Jannon, a web designer who recently lost his hot-shot job is now working in Mr. Penumbra's 24-Hour Bookstore which seems like a complete bore — until he starts to find hidden secrets behind the books. This is an incredibly fun read full of quirky but not cutesy characters, and will bring you out of just about any rut you find yourself in.
This story takes place in Georgia in the midst of the 1960s with Scarlett Blaine, the good middle child in-between a hippie older sister and misunderstood little brother. At the beginning of a hot summer, Scarlett's brother Cliff wants to build a rocket to Jupiter, and no matter how insane the idea is, she goes along with it and gains funding from baking and selling her pies. That's when she meets Frank, and the summer becomes even more exciting. I read this book when I was in a rut from feeling stressed over school and work, and it instantly cured me. This subtle YA novel pulls at the simplicities of life and how easy it is for things to go wrong, but also reminds you that everything happens for a reason.
An inspirational memoir can do many things: uplift, motivate, encourage, and move you to be a better person. It can also show you that not even the most successful people knew what they were doing for a long time, and that's exactly what Murakami does in his autobiography. Even if you aren't a runner or have no desire to be, this story captures the themes of enduring pain, growing older, and looking back at the memories that make you who you are. This book is specifically good for you if you're in a rut about turning a certain age or feeling particularly nostalgic for the past.
A genetics professor, Don Tillman, is on a quest for the perfect wife. Someone who is logical and smart, not a smoker or drinker. But then he meets Rosie, who is everything except what he was searching for. Rosie, on her own quest to find her biological father, makes for an interesting twist in this adorable love story. If you've been going on date after date and have yet to find the relationship you've been looking for, this is the book for you. It's all about separating the idea of love from the actual thing, which is far more complicated and complex than we want to believe it to be.
Life can be wonderful, and it can be awful. It's the ups and downs between the middle ground that we tend to focus on, and with Cheryl Strayed's wise words of advice, you'll feel better about maneuvering through the rough patches. Her guidance and advice will not only pull you out of feeling down in the dumps, but will also remind you of all the good things in life and what you have to look forward to. Made up of her previously anonymous advice columns for The Rumpus, this is the book you'll basically always need in your life.
6. Dumplin' by Julie Murphy
Willowdean Dickson, or "Dumplin'" idolizes Dolly Parton, loves red candy suckers, and decides to enter a beauty pageant to prove to the world she belongs up there even though she's far from a size 0 like all the other girls. This body-positive novel is the book you've been waiting for to help make all of those troubling insecurities disappear for good. If you've been struggling with your own confidence, whether it has to do with body size or not, Dumplin's story will definitely encourage you to feel stronger and happier in your own shoes.
I had the incredible honor of meeting Samantha Irby and hearing her read aloud one of her essays in Meaty, and if you're in need of a good laugh, then I promise you this is the book for you. Her strong humor on failed relationships and sharp honesty about being a woman will make you ache in pain from laughing so much. These essays are grounded in Irby's battle with Crohn's disease and family issues, and it will give you that reminder that with a little dosage of humor and an artistic escape, we're all able to get through this craziness we call life.
With overwhelming academic pressures, Craig Gilner, a previously ambitious teenager ready to take on New York City, nearly kills himself. That's when Craig checks into a mental hospital, and where the rest of his story begins. With a group of other teenagers battling different mental disorders, and an odd but contagious sense of humor, It's Kind of a Funny Story is actually a good read for anyone suffering from anxiety or depression. Vizzini doesn't skip out on the realities of mental illness, but he also paves the realistic journey to happiness, which is definitely not a straight line, but one worth chasing after. Tragically, the incredible author committed suicide at 32, leaving even more power and weight in his book.
Adapting to a new life in a new place full of new people is probably one of the most difficult things I've ever been through — and that was just moving a few states away from home. Jhumpa Lahiri captures the honest and powerful reality of the immigrant experience, and the story of a newlywed woman moving countries and struggling to fit in throughout her entire life. This is the novel for you if you've been feeling rather homesick or displaced lately because it'll remind you that you're not alone in that, and you will get through it.