'You're The Worst' Was The Biggest Globes Snub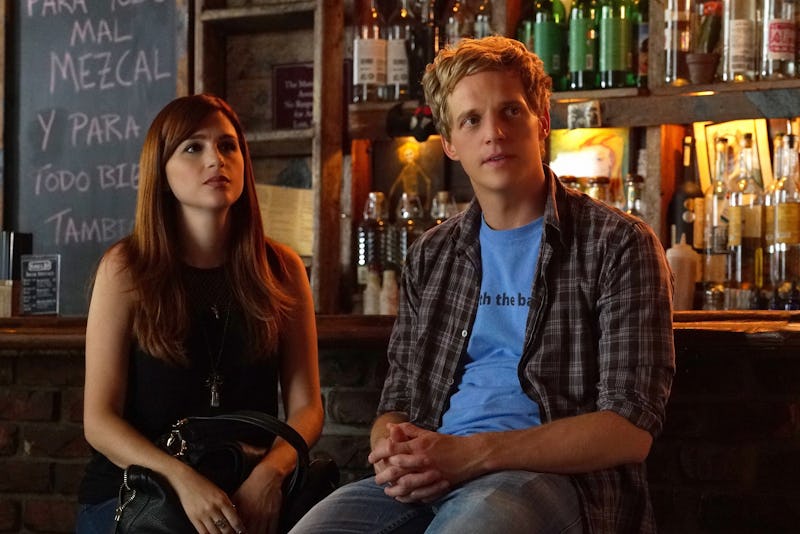 The Golden Globes are so often a place where unsung TV gains recognition. The Globes were the first award show to recognize the merit of shows like Jane the Virgin, Brooklyn Nine-Nine, Transparent and The Affair. They're great at identifying shows that maybe aren't as much on America's radar as they should be. This year wasn't an exception to that per se. The 2016 Golden Globes nominations did feature, in some capacity, Master of None, Casual, Crazy Ex-Girlfriend and Outlander, which would all seem like underdogs at the Emmys. But where the Globes really got it wrong this year was the You're The Worst snub that was, well, the worst.
Sure, the FXX show was always a dark horse. It's on a weird channel that a lot of people probably aren't even sure they have, and there are no big names in the show (or writing for the show or directing the show). Master of None has the star power of Aziz Ansari, who, between his stand-up, his role on Parks and Recreation, and his successful book, can't really be considered an unlikely candidate for accolades. Casual has Oscar-nominated director Jason Reitman behind it, and Outlander has a built-in fan base due to the book series it's based on. You're The Worst doesn't have any of that. It's not flashy, and it's even a bit crass at times, but, despite all that, it's truly one of the best comedies on television right now.
You're The Worst starts off on the oft-covered premise of two people who are terrified of monogamy, but are perfect for each other. Sure, it's been done. There's nothing groundbreaking in a show about thirtysomethings who are afraid to commit. Amy Schumer did it so well earlier this year in Trainwreck (which did score two Golden Globes nominations). But the show doesn't leave it there. The main characters, Gretchen and Jimmy, move past the casual sex buddies trope fairly quickly, and that's when the show gets great.
Because it's on an obscure network and has obscure actors, You're The Worst gets away with a lot. The writing is clever, biting, and even mean sometimes, but in a way that's completely refreshing. There are plenty of merits to writing shows about lovable characters in a nice way, but it's a lot harder to write a show about flawed, sometimes awful people and make the audience love them anyway. This isn't a show that has to play by the rules. The writers and actors do what they want with it, and you can tell.
This season for example, they beautifully tackled the harsh realities of clinical depression, and what it's like to be in a committed relationship with a depressed person. Chris Geere so wonderfully portrays how it can make you feel so helpless to see the person you love so sad. And Aya Cash plays Gretchen's depression in such a powerful, stark contrast to the character's usual vivacity. The show took this on while still firmly remaining a comedy. The serious storyline managed to remain true to the dark humor that the show always had. It was amazing to watch. A lot of comedies flounder when their main characters get into a relationship. It's hard to realistically depict monogamous love, because it can seem monotonous, but it really doesn't have to be. You're The Worst is proof of that.
Awards shows are supposed to represent the best work of the year. Not recognizing You're The Worst, at least in a nomination for the brilliant Aya Cash, means that the TV comedy category is incomplete. It's one of the best comedies on television, in every aspect — acting, writing, directing, whatever. It's the height of good comedy, and it deserved a nomination.
Images: Fox