15 Of The Coziest Plus Size Pajamas For Winter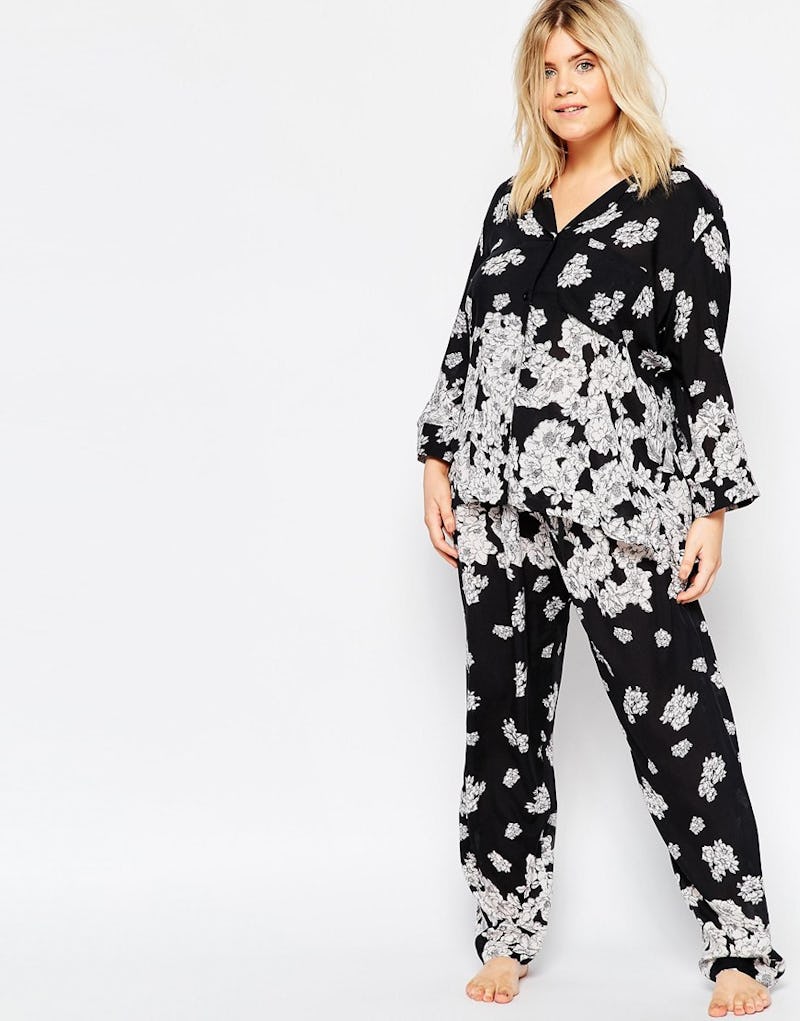 The other day, I was doing a little bit of online shopping when I took a quick inventory of my cart and realized something that was simultaneously amazing and upsetting: The majority of my picks were plus size pajamas. No, pajamas aren't particularly scary in and of themselves, but it's the moment that you realize you just may have more pajamas than clothing that will really chill you to your core.
I can't help myself: Pajamas are cute, pajamas are comfortable, and there is nothing that pleases me more than getting cuddled and hitting the sack. During the warmer months, we are treated to an endless supply of teddies, rompers, and chemises — and yes, all of those are pretty great. But in my opinion, they don't hold a candle to the fleeces, thermals, and cozy knits of the winter months. In other words, I've been waiting all damn year for this.
Granted, we can't just live in pajamas. There are plenty of plus size holiday dresses, plus size winter jackets, and plus size statement pieces that need our attention, too. But when the time comes to batten down the hatches, you're going to want to have easy access to some seriously snuggly sleepwear. Here are 15 of the best plus size pajamas I've found, ready and waiting to cloak your body in cuddlesome ecstasy.
1. The Tartan Onesie
Pretty Secrets Tartan Fleece Onesie, $55, Simplybe
When you obtain a onesie like this, there is simply nothing else for you to do besides sit under the Christmas tree and gorge yourself with cookies. In a sense, this fleece dream isn't just for Christmas, it is Christmas. Bonus points if you can get everyone in your family to wear one.
2. The Candy Cane Set
Thermal 2-Piece PJ Set, $50, Lane Bryant
Feminine, simple, and damn comfortable: These just might be your favorite PJs of the entire winter season. They're extra cute for Christmas, too, as you will resemble a chubby life-sized candy cane.
3. The Posh Floral Set
ASOS Curve Wandering Woven Floral PJ Set, $54, ASOS
There's just something about this PJ set that says "luxury" to me. It's for the fancy plus size broad who abhors wearing clothing that is too on-them, but still wants to look cozy and posh on Christmas morning. And don't deny yourself the opportunity to wear the pants with a black tank and a leather jacket outside the house. It makes sense to me, anyways.
4. The Monochrome Plaid Set
Dreams & Co Plain Flannel PJs, $35-$40, Woman Within
It's black and white buffalo plaid, it's made of flannel, and it comes in a great range of sizes. What's not to love about this cozy pajama set?
5. The Oversized Polka Dot Set
ASOS Curve Giant Spot Pajama Set, $32, ASOS
These PJs are adorable, and have the added bonus of being made of a super light material. They might not keep you warm all winter long, but they're perfect for layering and/or wearing with a bulky robe. Plus, giant polka dots. That is all.
6. The Champagne Set
Charter Club Minky Notch Collar Top and Pajama Pants Set, $29, Macys
Yes, those are tiny glasses of champagne all over the pajamas, and yes, you should drink a glass of champagne while wearing a pajama set that's covered in glasses of champagne. It just makes sense.
7. The Satin Set
ASOS Curve Satin Pajama Set, $50, ASOS
The satin pajama is, in my humble opinion, the absolute height of luxury. These would go well with a pair of fuzzy slippers and a dressing gown, and my only hope is that there is a posh chaise lounge for you to collapse on nearby while an attractive person fans you and feeds you grapes.
8. The Plaid Nightgown
Tartan Flannel Nightgown, $65, L.L Bean
Admit it: Your grandma was really onto something. No, they might not be the "sexiest" option, but I like to think I've reached a point in my life where being in an itchy lace garter belt is kind of, you know, off the table. This is the dawning of the age of the tartan flannel nightgown, and I am ready to accept it fully into my life.
9. The Easy Set
Plus Size PJ Set, $33, Old Navy
Because what's easier and more classic than a pair of Old Navy pajamas in a cool-tone color combination? Old Navy is constantly releasing PJ sets like this in plus, and if you're lucky, you can catch them when they're on super sale.
10. The Short Nightgown
Croft & Barrow Minky Fleece Henley Sleepshirt, $23, Kohls
Even when it's cold outside, I often prefer not to have anything covering my legs when I sleep. This short nightgown is the perfect solution: It's basically an oversized henley shirt, so all you need to do is slap on some warm, fuzzy socks and hit the sack.
11. The Warmest Onesie
Plus Size Cuddl Duds Pajamas: Cozy Up Hooded One-Piece Pajama, $34, Kohls
Cuddl Duds are known for being super insulating, and this one-piece situation is a dream. This is the kind of outfit you wear when you want lots of people to hug you. And believe me, you're going to want to hug yourself.
12. The Classic Flannel Set
Women's Tartan Flannel Set, $65, L.L Bean
L.L. Bean has stood the test of time for a reason: Its prints are classic, its fabrics are luxe, and it offers a lifetime guarantee on most of its products. And, perhaps most compellingly, it makes its most popular designs in plus sizes.
13. The Chill Set
Plus Size Chaps Pajamas: Highland Estate Hoodie & Pants Pajama Set, $23, Kohls
Wear it to bed, wear it to brunch, and hell, keep wearing it all day long: This easy-to-wear set is cozy, affordable, and possibly the perfect solution to all of your PJ problems.
14. The Big Bear Set
Karen Neuberger Bear Microfleece Pajamas, $54, Bare Necessities
Sometimes you just want to stop acting so grown-up and indulge in a little bit of sleepwear that reminds you of childhood. Not all animal prints are created equal, but this set of fleece pajamas with polar bears all over it is warm as hell, festive, and wonderfully childish in the best possible way. In other words, you'll be the cutest adult baby in town.
15. The Snow Bunny Onesie
Pretty Secrets Cuddle Fleece Onesie, $55, Simplybe
This really needs no explanation, other than to say it is perfect, and will make all your cuddle-dreams come true. And yes, those are tiny ears.
These are some of my picks for best plus size pajamas, but as long as you've got a little bit of extra money to spare and some time to kill, the options you can find are endless. This holiday and winter season, indulge yourself in some comfy duds, and let the power of fleece compel you.
Images: Courtesy Brands