A 'High Castle' Star Teases Season 2 Potential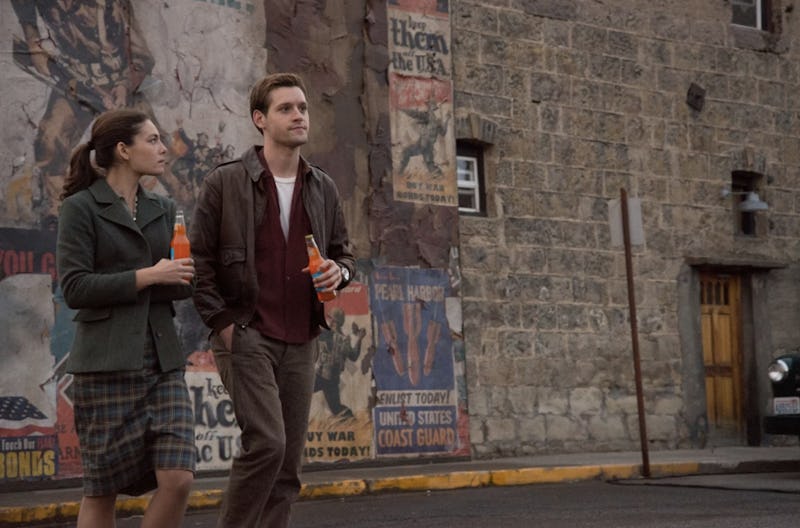 History was revised in the first season of Amazon's alt-universe show Man in the High Castle , which explored a world in which the Axis powers won World War II. In an unrecognizable 1962 America, certain characters fought against the powers that took over the States, while other characters portrayed just how different our history could have been. The series, which left fans with some major questions at the end, was available to stream on Amazon at one time — which is great until you hit the last episode and it's all over. So, will Man in the High Castle return for Season 2? Actor Carsten Norgaard, Rudolph Wegener in High Castle, spoke to Bustle about the series' success and it's future. Update: Amazon has renewed Man in the High Castle for Season 2, according to Deadline.
"It's shaping up very positively," Norgaard says on the potential of a Season 2. Right now, the actor says he is "enjoying people's response to [the show]," but if they are "fortunate enough" for a second season, he sees it as endless opportunities.
"I think the scope of this universe [that Man in the High Castle created] is virtually endless," Norgaard says, and he's right. The show, which has created an entirely different world, can go anywhere in following seasons, since there is no shortage of history for the writers and creators to play around with. As Norgaard points out, the show is only in 1962, which places it at a time of high historic value. The 1962 that the history books describe (the Cuban Missile Crisis and heightened U.S. involvement in the Vietnam War) are things that might not exist in the Man in the High Castle alternate-universe, but it's certainly something the show could explore.
"I don't know where it's going to go," Norgaard says, "It's on a need to know basis." Noorgard says that once the season finishes (and everyone has marathon-watched it), those involved with the project get a feel for the storylines that viewers really responded to. "I think they take that into an overall consideration when writing the new season," he says.
One thing that fans responded to was the Tagomi moment in the finale that appeared to suggest he had meditated into our timeline—the Allies won World War II. Was he in an alternate universe, or was he picturing The Grasshopper Lies Heavy? Norgaard wasn't able to give much away, but if the show does see another season, we might get our answer. "This is a show about ultimate realities," he says, "and I would just leave it there."
"I think it's the scope that going to open up if we're fortunate enough to get a second season — it will take it to another level," he says. If you can't wait that long, Norgaard suggests going back and rewatching the season. "There are little things planted along the road that tell you about it," he says. "If some people go back and watch it, you'll see things..."
As for now, we're left wondering our own "What if..." What if Man in the High Castle doesn't get a second season and we're left wondering what that end meant? Is Hitler the man in the high castle? In this case, someone will have to make their own film reel of what would happen, which would basically be another season of the show, and whoa... things just got very meta.
Images: Amazon Studios (2)