What If 'Full House' Had A 2015 Christmas?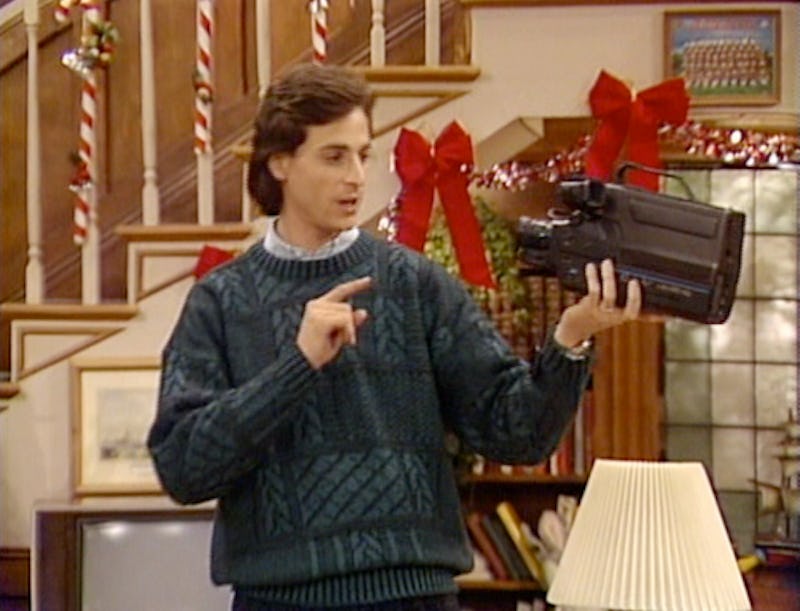 If you still hold the dream of the '90s near and dear to your heart, then Christmas came early this year with the news of Full House's revival Fuller House. In fact, as we live and breathe you're probably re-watching the three grand Full House Christmas specials. And, with the holiday season just around the corner, not to mention the introduction of Netflix's new series Fuller House, it's worth wondering what Christmas would be like for the Full House patriarch now (or lead patriarch, because let's not forget Jesse and Joey helped run the house too). (Hey, if Fuller House doesn't include any Christmas specials, wondering is all we have!)
So what makes up a perfect Danny Tanner Christmas? I mean, despite his best attempts at organization it never goes completely perfectly. But, I ran through all the episodes to compile what makes the season bright for your favorite dorky dad, to best imagine would a 2015 Tanner family Christmas would look like. If only we could be blessed with such a thing.
But since we can't, imagine a modern Tanner Christmas with all of these trimmings... and in an ideal world, at least a cameo from Michelle. SIGH.
1. Aggressively Festive Sweaters... For Everyone Except Him
If you look at the OG Christmas episode, everyone is decked out in knitwear that will inevitably be thrifted and adopted for many Ugly Sweater parties in the future. That is, everyone except Danny, who tends to keep it "classy" with some forest green number that falls under "generically tacky." Oh, the late '80s.
2. Plenty Of Christmas Footage For Wake Up, San Francisco!
There's no doubt he'd want everyone to see what a Tanner Family Christmas is like... again.
3. Colorado, Maybe?
I mean, apparently some of the extended Tanner family lives there, so it's a Yuletide option.
4. Not Getting Stranded In An Airport
I mean, if they go the Colorado route, it would be super cool if they didn't get stuck in the middle of an airport this time around.
5. A Girlfriend
Oh man, remember when Vicky almost didn't make it because she was covering the elections in Sweden?
6. Can O' Christmas
It just smells like a melange of roasted turkey, hot apple cider, and pumpkin pie. Now with extra nog!
7. Joey In A Santa Outfit
As is tradition.
8. An Original Michelle Cereal Creation
As is also tradition. Who couldn't use another Froot Loop sombrero?
9. A Candy Cane Toothbrush
If not a Froot Loop sombrero. And with all the Christmas music that it plays it'll just be so damn practical.
10. Santa Shaped Cookies
To ease Nicky and Alex's fear of Santa Claus, which, um, to be honest they're probably over by now. In their... 20s...
11. Oh, And Most Of All, Cleaning Supplies
It's truly the gift that keeps on giving.
Who else needs a re-watch right about now?
Images: Warner Bros. Television; Giphy (11)