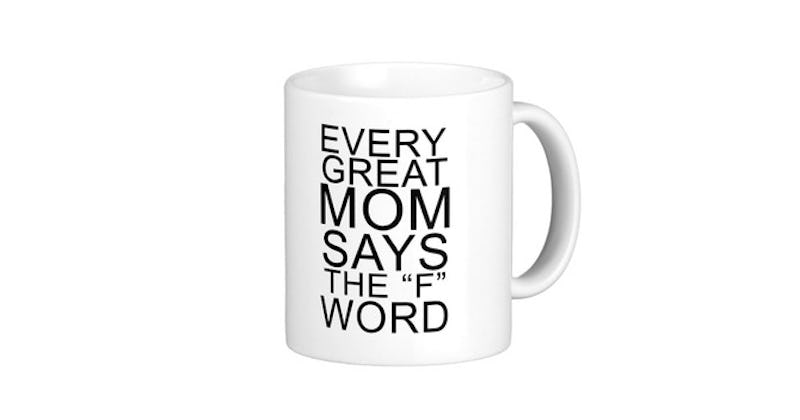 Every holiday season, we generally pick out some pretty sincere gifts for Mom. We go with the earrings we know she'd never buy for herself, or we order a chic monogrammed pepper grinder for the dining room table. Sometimes, we'll even go the sentimental route and give her an embroidered pillow with a photo of the two of us.
Our moms totally love every sincere gift we've ever given here — so it may not really occur to us to throw her a curve ball and give her a present that will have her giggling uncontrollably instead of saying "Awww." When funny gift ideas pop into our heads, most of us are conditioned to think of our dads, not our moms.
Well, the person who brought you into this world could probably use a laugh, too (no matter how much of a tough disciplinarian she was during your adolescence). Plus, because these kinds of gifts are the last thing she would ever expect to get (you know, after a lifetime of unwrapping monogrammed pepper shakers), the funny factor is upped a couple notches. Just picture her face when she unwraps a package that she thought was going to be another package of cute coasters, only to find a book titled Parenting Is Easy: You're Probably Just Doing It Wrong . If anything, these presents will teach you to never underestimate your mom's sense of humor — you don't really think you got it all from your dad, do you?
Here are 15 funny gifts for your one and only mother.
Don't worry, there's no nudity to be found in here — just lots and lots of giggles over photos of gorgeous men getting the domestic job done. With all the beaming online reviews from various women, there's little likelihood that your mom won't get a laugh out of this book.
Porn For Women, $12, Amazon
If she ever felt bad for cursing around you when you were a kid, use this gift to relieve her of any guilt. Because no matter how many times you heard it, you turned out just fine.
Every Great Mom Says the "F" Word Mug, $20, Amazon
She only ever wants one glass, right? Well, this glass holds 750mL, which is, in fact, a full bottle of wine. After dealing with you during your teenage years, I think it's safe to say she has earned this right.
Wine Bottle Wine Glass, $18, Amazon
Written by Sara Given, a hilarious and relatable mother, this book paints the picture of a parenting utopia, where toddlers go to sleep right on time and pregnant women are wearing a constant smile. You might not get every joke, but your mom definitely will.
Parenting Is Easy: You're Probably Just Doing It Wrong, $7, Amazon
This gift somehow pulls off classy and hysterical at the same time. I'm sure the next time her friends come over for a drink they'll find it hilarious too, which will give her yet another reason to brag about her flawless daughter.
Stemless Funny Wine Glass, $10, Amazon
Help your ice cream connoisseur mom protect her assets from midnight grazers (which might include you, come to think of it). For extra brownie points, surprise her with a few pints of her favorite flavor as well.
Ben & Jerry's Euphori-Lock Ice Cream Pint Protector, $82, Amazon
There's never a time of day when she can't benefit from a cup of coffee. Each bag is full of its own special brew, each one as delicious as the next. Just be sure she doesn't get her decaf mixed up with the other two...
Morning, Noon, and Night Coffee, $12, Uncommon Goods
OK, so maybe this gift is meant for a mother with a darker sense of humor. She may be nurturing, but there are some people on her naughty list she would like to let her imagination run wild on. This set will do the trick — it even comes with a knife.
Ouch! Voodoo Cutting Board Knife Set, $22, Amazon
You might wish she had these when you were in middle school, but, hey, better late than never. This is a great stocking stuffer for the kind of mom who isn't afraid to try her hand at the latest "hip" phrases, as she likes to call them.
Slang Flashcards, $66, Amazon
Here's an offbeat way to apologize for not telling her how incredible she is often enough. Have her place it somewhere accessible, like the kitchen; that way, if you're ever at a loss for words, you can just press it when you want to say thank you.
Emergency Affirmation Button, $11, Amazon
Let her creativity run wild with this blank, roll-up table runner. She can either cut it up to use as placemats or uncurl it to cover the whole dining table. It comes with chalk, so she can decorate and label according to whatever mood she's currently in.
Chalkboard Table Runner Set, $34, Uncommon Goods
She can cart this to the grocery store, the beach, or the office, reminding everyone how badass she is. It's made with heavyweight natural canvas fabric and it's machine washable, so it's tough enough to keep up with her.
You Don't Scare Me I'm A Mom Tote Bag, $14, Cafe Press
She's a resilient woman, so she can handle jests about her cooking. Also, this will land especially well if she's a cat person (which she probably is, because she's awesome).
Grumpy Cat Apron, $19, Amazon
This is the perfect accompaniment to the new laptop your dad tucked under the tree. Every one of her friends probably has a Macbook too, so let her stand out in the crowd with this fierce hot pink cover.
Fierce Mom Sleeve for Macbook Pro, $75, Zazzle
Your mom is Wonder Woman in your book, and a superhero of that caliber shouldn't be losing track of her quarters. Now all those loose coins can be tucked away in Wonder Woman's cleavage, exactly where they belong.
Wonderwoman Bust Bank, $21, Amazon