11 Rockin' #FlotusBars Tweets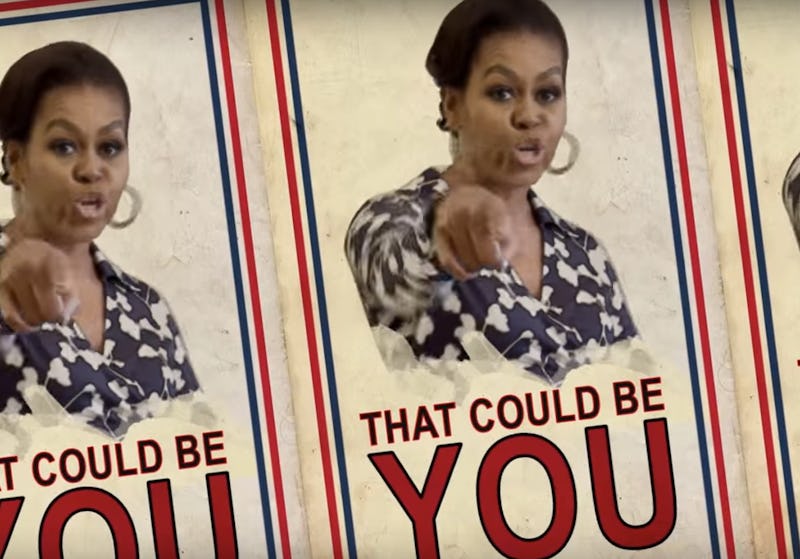 Everyone knows that FLOTUS Michelle Obama has plenty of talents. She knows how to garden and grow her own organic veggies. She's a boss lawyer with a degree from Harvard Law School. She helped raise two daughters. Her fashion choices are always on point. So when Obama showed up with SNL's Jay Pharoah on College Humor's newest rap video, about the importance of going to college, no one was really surprised. Pretty much everyone wanted to show their love for FLOTUS's newly-revealed gift for dropping bars. And the 13 best #FlotusBars tweets take Michelle Obama's rapping to another level entirely.
It's possible that Michelle Obama has been secretly taking lessons from Queen Bey. In the video, FLOTUS drops rhymes like a pro: "And everyone can really make their dream true / Hey kid, listenin', in Michigan, that could be YOU." And Twitter users are so enamored with the idea of this being FLOTUS's next career move post-White-House that they're doing all sorts of imagining about what she should rap next. She's already got the best rapper name in the game, although that could get awkward when the next First Lady rolls in to the White House. Can she get some sort of trademark protection on "FLOTUS?"
1. FLOTUS Calling On The Red Phone
Borrowing from Drake's "Hotline Bling," FLOTUS makes reference to the infamous White House Red Phone in these bars. Though the phone apparently never really existed, it was believed to be a hotline between Washington and Moscow, meant to decrease tensions between the two nations.
2. Flawless FLOTUS
Why didn't someone think to replace all the flawlessness in Beyonce's track with FLOTUS earlier? Genius.
3. Get Out And Play
I can think of literally nothing better than combining super offensive Ludacris lyrics with the FLOTUS Let's Move! / NFL's Play60 campaigns, and making said lyrics no longer offensive.
4. Everybody Wants A Piece Of FLOTUS
FLOTUS is all about that confidence. She knows that the only hater she's got is that sugar / trans fats duo (does that technically even count as a hater?), and she's already all over it.
5. Keepin' Trump Out
All references to burning the White House down aside — since that's totally not okay — a rap about doing anything to keep Trump out of the Oval Office is a rap I like.
6. Ladies First
All that needs to be said here is yes. FLOTUS can bring it back to the Queen Latifah rap era and make another push for female empowerment at the same time with these lines.
7. Your Wife's House
Barack is the president, but Americans know who really owns the White House. In case anyone might be unsure, FLOTUS can make it clear with this rhyme.
8. Passed The Bar, Now I'm Droppin 'Em
This tweet has it all: references to FLOTUS' law degree, her new rapper status, and the Obama Administration's efforts over the years to bring troops home from overseas. How can this NOT go in the next single that Michelle drops?
9. FLOTUS So Fancy
I'm thinking that Comedy Central could have come up with something better for FLOTUS than rhyming "realest" with "meal list," but picturing Michelle in the "Fancy" music video makes it all okay.
10. Gimme A Week
A shoutout to every person in the Obama gang, this tweet gives FLOTUS a more family-friendly option for her next bars. Though Queen Bey would probably say that it's FLOTUS herself who runs the world.
11. I Don't Even Look Their Way
FLOTUS can give U.S. citizens an idea of what that bipartisan battling is really like with this nod to the Chelly song. Doesn't matter what the GOP is saying, Michelle doesn't even look their way.
Image: YouTube/CollegeHumor