What Your Skin Is Doing When You Sleep In Makeup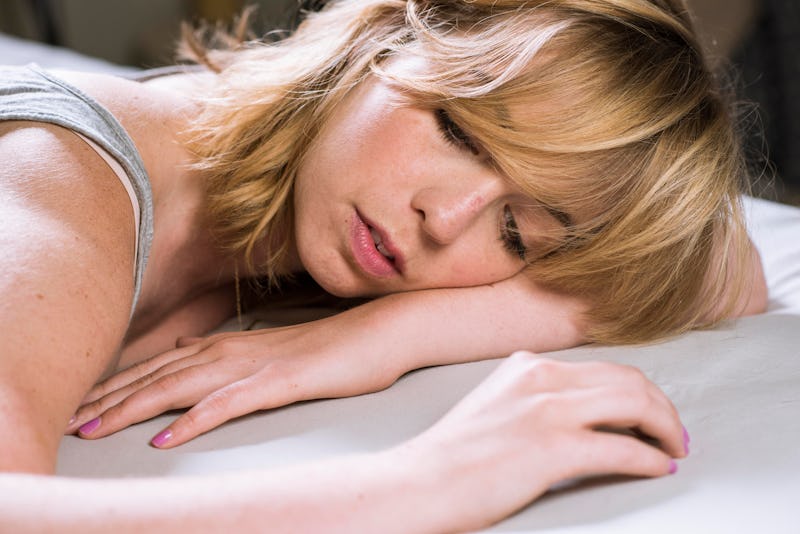 You already know that sleeping in your makeup is a major skincare no-no, but why? Health.com spoke to a dermatologist to get to the bottom of why sleeping in makeup is bad for skin, and there really is science to back it up. Sorry, but this beauty rule definitely isn't a myth.
"At night, your skin cells are trying to regenerate and exfoliate off, so leaving a layer of makeup on creates a barrier that can lead to clogged pores and acne," Dr. Mona Gohara, an associate professor of dermatology at Yale, told the site. Just like the rest of your body, your skin needs shut-eye to renew itself, too (which is also one reason why your skin looks so lackluster after a night spent tossing and turning.)
While those with sensitive skin may suffer the blemish-filled repercussions from just one night of made-up skin (like yours truly), not everyone will have such disastrous results at first. Chances are, one night of forgetfulness won't screw up your skin. "One night of doing this would not be a catastrophe, but it really is a bigger issue if it becomes a habit," says Gohara.
Hear that, Kim Kardashian? She's copped to sleeping in her makeup, and even though the Kardashians have some worthwhile beauty tidbits, this may not be the best one to copy.
Need a little motivation? Go for a wipe – they're easy, low maintenance, and you can stick them on your nightstand. Really, there's no excuse. Here are five options:
Calming Effect
Neutrogena Night Calming Pre-Moistened Towelettes, $6.99, walgreens.com
A calming wipe is the way to go if you've got sensitive skin.
Pretty Packaging
Pacifica Coco Pure Makeup Removing Facial Towelettes, $6.99, target.com
Who wouldn't want to take their makeup off with these?
Oversized Towelettes
MAC Makeup Remover Wipes, $29, nordstrom.com
Sometimes, regular-sized wipes just aren't enough after a heavy makeup day.
Made For Eyes
Sephora Collection Express Eye Makeup Remover Wipes, $9, sephora.com
Not a foundation person? Focus on dissolving stubborn eye makeup.
On-The-Go
LA FRESH Travel Lite Makeup Remover Wipes, $1.99, birchbox.com
These wipes are individually packed, so they're easy to toss in a travel bag or a gym tote.
Want more beauty tips? Check out the video below, and be sure to subscribe to Bustle's YouTube page for more hacks and tricks!
Images: Andrew Zaeh/Bustle; kimkardashian/Instagram; Courtesy of brands