12 Engagement Rings That Stray Away From The Norm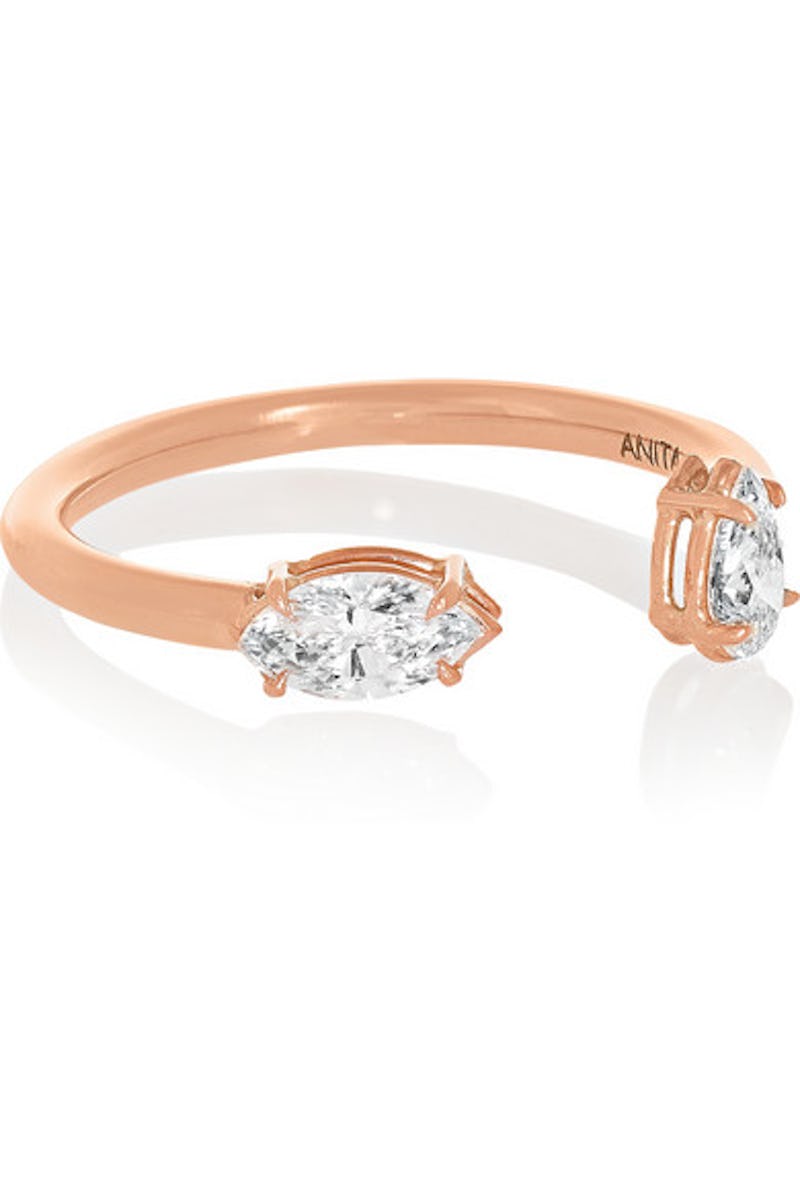 'Tis the season for caroling, gift giving, cookie making, listening to Mariah Carey and Michael Bublé, and drinking hot cocoa. 'Tis also the season for shackin' up and popping the question, and why not do it with a unique engagement ring? Think about it: In a world where individuality is embraced, wouldn't you be into an off-kilter ring that not every single bride (or husband) to be will have?
Did you know that 43 percent of engagements happen between November and January? Yep, we're right in the middle of engagement season, and I myself have walked into work with a few of my coworkers showing off their newly acquired rings. I mean, I watched Cast Away a few weeks ago and felt personally connected to Wilson, but whatever. It's fine.
Makes sense, though, that engagements are at an all-time high this season — what's more romantic than holiday lights, candles, cuddling up together by the fire, and sharing some holiday cookies? And, with the holiday gatherings occurring, it only makes sense that people would propose just in time to announce it to their beloved friends and family.
While a traditional ring is always gorgeous and timeless, it's not for everyone. Some people like one large diamond, others like a bunch of little ones. Some like princess cuts, and others may want a heart-shaped. Bottom line: Everyone has their own taste. For the bride to be that chooses the off-beaten path, these rings are for you.
1. The Cluster
Jennifer Meyer Circle Ring, $500, Barneys
How adorable, right? If you're into a cluster of diamonds and the minimal look, this one's perfect for you.
2. Double Trouble
Anita Ko 18-Karat Rose Gold Diamond Ring, $3,675, Net-A-Porter
Why have one when you can have two?
3. Zig Zag
Suzanne Kalan 18-Karat Rose Gold Diamond Ring, $1,000, Net-A-Porter
*Insert eye-heart emoji here*
4. The Rope
Roberto Coin Primavera 18K Gold GHSI Diamond Triple-Row Ring, $1,420, Nieman Marcus
Love the stacked look of this ring.
5. The Rough Diamond
Rough Diamond Ring, $1,680, Etsy
How pretty and rustic is this ring?
6. The Helix
EF Collection Pave Gold Diamond X Ring, $850, Shopbop
Xs, Os, and all of our love.
7. The Kate Middleton
EFFY Royalty 14K White Gold Sapphire And Diamond Ring, $2,450, Lord and Taylor
Warning: This ring may also come with a royal style wedding.
8. Angle Lovers
Ginette NY Mini Straw Diamond Ring, $765, Nordstrom
If you want to try out a different shape, an angular one is definitely unique.
9. The Colored Stone
Monique Péan Gemstone Ring, $2,320, Barneys
There's fossilized dinosaur bone in this ring. Boom.
10. The Triangle
Grace Lee Rustic-Black-Diamond Ring, $1,590, Barneys
OK, I might actually have to get this for myself.
11. Snowflake Look-Alike
Borgioni 18K Gold Baguette Diamond Cluster Knuckle Ring, $3,480, Nieman Marcus
Why not match the season with your ring?
12. Third Time's A Charm
EF Collection Open Diamond Triple Trio Ring, $1,095, Shopbop
A ring just as beautiful as the stars above in the sky.
Would you really be able to say no with these gorgeous rings? I think not. Sometimes, you gotta stray away from a classic, and these rings do just that.
Want more style tips? Check out the video below, and be sure to subscribe to Bustle's YouTube page for more hacks and tricks!