14 Pairs Of Non-Boring Black Tights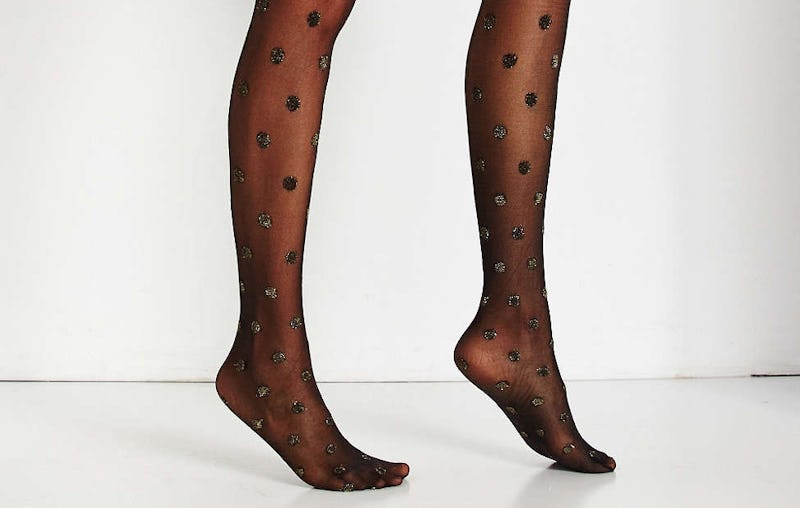 If I had the wardrobe of my dreams, I'd have a different closet for each season. But alas, since reality is very much a thing, my pieces have to be transitional. Enter: the non-boring black tights that not only take my summer dresses into winter, but warm me up in the process, too.
Don't get me wrong — I love me a classic black tight, especially for work or formal events. Nobody got time for goosebumps. While we're at it, can we take a stand against the whole fashion before comfort thing? I've spent way too many miserable nights shivering in the cold, swearing that I'll never go out again. Can we all collectively decide that dressing for practicality trumps all?
Perhaps one of the biggest issues I have with fall/winter is losing practically half my wardrobe. But thanks to layering, big coats, and said black tights, you can pretty much wear any summer item in the fall/winter as well. Except maybe for your bikini (though, if I'm being honest, I've worn bikini bottoms/tops in lieu of underwear/bras when laundry day is way, way overdue).
But when I'm trying to add a lil flavor to my look, I immediately go for an extra detail. And, since wearing black on black on black is pretty much my uniform, different patterns and textures make a world of a difference. When I'm running off to a party (hello, NYE), the first item I form my entire outfit around is a fun pair of tights. If you're with me on this one, check out some of my favorite pairs.
1. The Graphic Print
Jonathan Aston Patterned Tights, $23, us.asos.com
Who would've thought these Lego-looking shapes would work well on tights?
2. The Open Knit
Wolford Adelia Open Knit-Pattern Sheer Tights, $72, niemanmarcus.com
Almost a fishnet, these tights will liven up a faux leather pencil skirt.
3. Starry Eyed
Torrid Star Back Tights, $16.50, torrid.com
Love that you only see this detail while you're walking away...
4. Gettin' Wavy
Wolford Wave-Pattern Sheer Tights, $67, bergdorfgoodman.com
These are perfect if you're into the less-opaque look.
5. Polka Dot
Pretty Polly Plus Size Spotty Mock Suspender Tights, $25, 1.macys.com
For when you're feelin' extra sexy.
6. Light Bondage
Strappy To Be Here Tights, $14.99, modcloth.com
Your tights, like your shoes, can also be super strappy.
7. Victorian-Inspired
Commando Deco Fishnet Tights, $38, shop.nordstrom.com
It's like artwork for your legs!
8. Graphic Print
Oroblu Milena Geometric Sheer Tights, $24, shop.nordstrom.com
Bringing me straight back to my math class days...
9. Animal Print
Plus Size Berkshire Leopard Lace Tights, $14, 1.macys.com
Let your inner roar out.
10. Metallics
ASOS CURVE Metallic Rib Tights, $14.33, asos.com
Add a little sparkle to any look with these metallic tights.
11. Glitter & Polka Dot
Glitter And Polka Dot Tight, $16, urbanoutfitters.com
Is there a better combination? I say no.
12. For Floral Lovers
Spanx Stunning Roses Tights, $32, saksfifthavenue.com
Love how edgy, yet feminine these look.
13. Ice Ice Baby
Plus Size Rhinestone Back Tights, $12.50, lanebryant.com
I love a good bling here and there.
14. Extreme Fishnet
Look From London Rihanna Fishnet Tights, $30, nastygal.com
So obsessed with the crackled look of these fishnet tights.
Always remember: Standing out is in the details. The easiest way to liven up a wardrobe staple (i.e., the LBD) is to add your own edgy touch to it. Avoid freezing your buns off and look like the coolest chick in the room with these statement tights.
Want more style tips? Check out the video below, and be sure to subscribe to Bustle's YouTube page for more hacks and tricks!
Images: Courtesy of brands