6 Sex Toys To Give Yourself This Holiday Season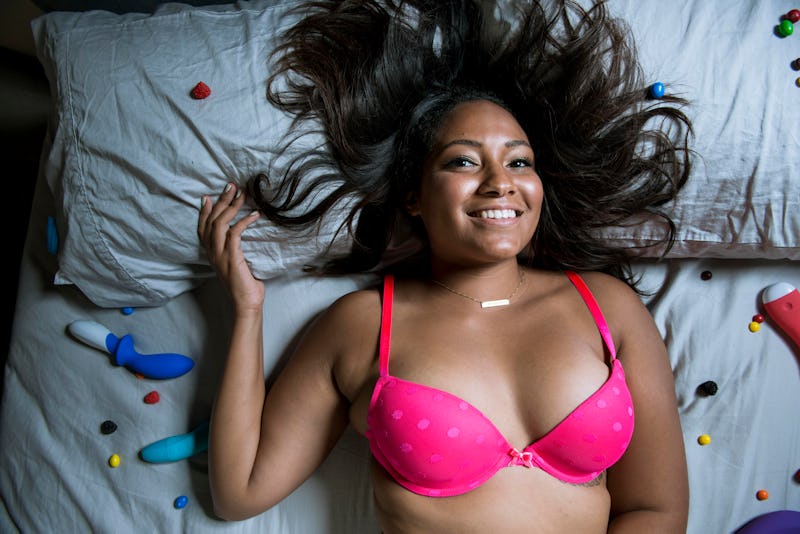 The holidays are a time for giving and receiving, and although a sex toy gift between friends or lovers is a beautiful thing, the joy, relaxation and healing that self-care arouses cannot be denied. There's absolutely no shame in marching into your local feminist sex shop and picking out a few pleasure aids to keep you warm on a wintry night. When the salesperson asks if you're buying a present, nod your head enthusiastically, and when you check out say YES you obviously want that gift wrapped — even though you'll be tearing through the sexy snowman and icicle dildo-covered paper as soon as you get home to try out your new wares.
Truthfully, any incentive to masturbate is beneficial, because you're not only getting off, but you're also boosting your immune system, strengthening your pelvic muscles, and promoting body positivity. That's right, touching yourself while being proud of your body makes you a body positive, sex-positive feminist — OK maybe it's not as simple as all that, but it feels f*cking spectacular so go with it.
Here are six sex toys to give yourself this holiday season, because they are the very definition of the gift that keeps on giving.
The Vesper by Crave is a 4-speed vibrator disguised as a stunning, svelte necklace so you can take care of business on the go. It's USB rechargeable and comes in silver, rose gold, and 24 kt gold plating.
Vesper by Crave , $79, Amazon
Lelo's Ora 2 is not only visually striking, but the award-winning circular toy can actually simulate oral sex effectively. And if you're spending the holidays solo, it also makes for a great date.
The Form2 vibe is a powerful, dual motor, clitoral stimulator with two prongs that can be manipulated to envelop your clit for maximum intensity.
Form2 Vibrator , $132, Babeland
The Club Vibe 2.OH by OhMiBod enhances solo trips to concerts and clubs by pulsing along to the music while discretely tucked away in your thong.
Club Vibe 2.OH Wearable Vibrator , $79, Babeland
Feminist purveyors of pleasure Babeland have called Fun Factory's Stronic Drei "the closest thing to an affordable fucking machine we've come across." If that's not enough to entice you, I don't know what is.
Stronic Drei , $199, Babeland
I just can't get enough of Chakrubs. This woman owned and run company offers a stunning variety of 100 percent crystal dildos and yoni eggs — the latter of which helps you strengthen your pelvic floor muscles while doubling as a cute altar ornament.
Amethyst Crystal , $280, Chakrubs
Rose Bud Yoni Egg, $65, Chakrubs
Want more of Bustle's Sex and Relationships coverage? Watch people try to guess the meaning of these sex toys:
Images: Andrew Zaeh/Bustle; @lovecraveInstagram; @slutist/Instagram; @showtime_studio/Instagram; @therubbertree/Instagram; @taboorva/Instagram; @mapassionparties/Instagram