24 Creative Last-Minute Best Friend Gifts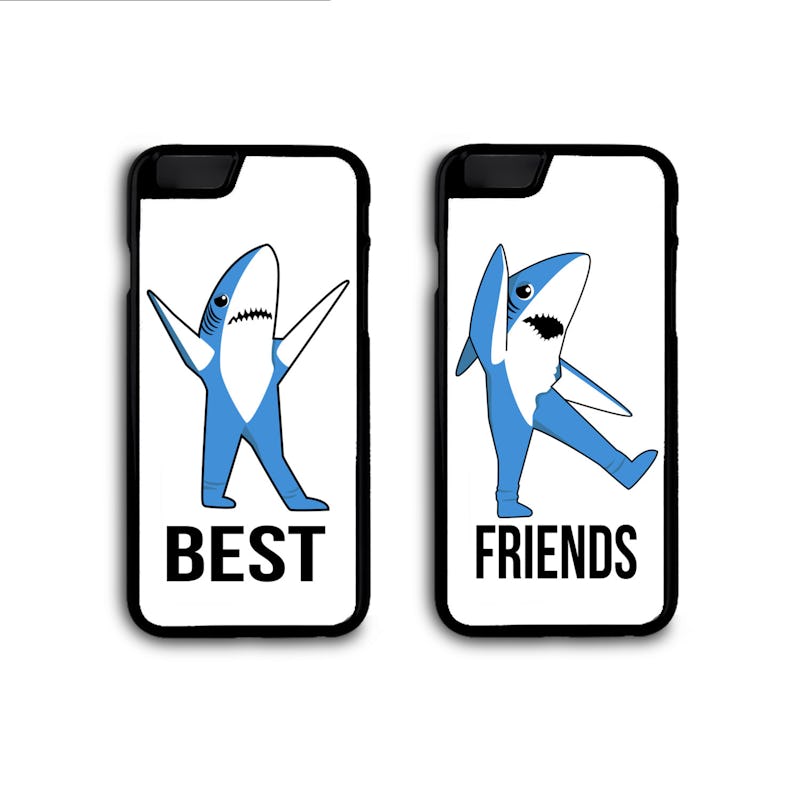 Your bestie is a unique being — that's why they're the perfect BFF for you. And they deserve a gift that's maybe a little more out-of-the-box than normal, since giving your best friend a creative gift means you really just get them. Let these last-minute best friend gifts be your guide.
Most likely, the person or persons you call your best friend will be happy with anything you get them. A cool scarf, a bath set, or the DVD set of their favorite TV guilty pleasure are all solid options. Your best friend is your best friend not for materialistic reasons, of course, but it wouldn't hurt to get them something you put some thought into. It doesn't have to be anything crazy and elaborate — no need to get them specialty soap made from the milk of an albino goat that's only born once in a generation in the Himalayas or something like that — just something she probably won't get from anyone but her best friend.
These gifts can be funny, sentimental, or targeted straight to her interest center. Yes, a lot of these involve alcohol of some kind, but let's be honest — we can all appreciate a creative way to demonstrate how much we enjoy wine/tequila/anything. In any case, your bestie will be delighted to not receive another book on adulting.
1. Fox Sake Mug
Oh for Fox Sake Coffee Mug, $17, etsy
Functional, cute, and with just a hint of inappropriateness — guaranteed to make your BFF smile. I mean, who doesn't love a fox in glasses?
2. Friend Box
Keepsake Box, $27, etsy
Ain't this the truth. Best friends really know all about us, and still choose to be in our lives.
3. Cat Lady Chic
Cat Lady Chic, $12, Amazon
Cat ladies are not frumpy, frizzy haired old ladies. This gorgeous photo book features fashionable, famous, and proud cat ladies like Elizabeth Taylor, Audrey Hepburn, and Joan Jett, among others.
4. Pizza Necklace
Pizza Slice Necklace, $3, etsy
This is perfect for people who happen to have a few best friends, and not just one. Or if your squad is all BFFs with pizza.
5. Best Friend Phone Cases
Superbowl Left Shark Right Shark Friends Custom Phone Cases, $24, etsy
The hardest thing about giving this gift will be determining who is Left Shark and who is Right. We can't all be Right Shark, guys.
6. Bad Idea Shot Glass
The Bad Idea Shot Glass, $12, betches
I'll admit, as I've gotten older, I've started to view doing shots as a bad idea. But there's a time and a place for everything — even if it's still a bad idea.
7. Pretty Mug
You're Like Really Pretty Funny Mug, $15, etsy
Of course, Regina George turned out to be more of a frenemy, but that doesn't mean you can't still compliment your bestie with her quotes. And she can use it to find other Mean Girls lovers in her office.
8. Friendship Plaque
Friendship Plaque, $11, etsy
This is perfect if you happen to share a place with your best friend. And by people, I of course mean specific Real Housewives.
9. Don't Text Him Postcard
Don't Text Him Postcard, $4, bando
This cute little postcard is a handy reminder to your BFF to not give in to her drunk text urges. It'll be like you're with her all the time!
10. Jimmy Fallon and Justin Timberlake Keychains
Jimmy Fallon and Justin Timberlake BFF Keychains, $10, etsy
There are a lot of Hollywood friendships you and your bestie might relate to — but few are funnier than Jimmy Fallon and Justin Timberlake's.
11. Frame
Funny Best Friend Gift, $25, etsy
You'll be best friends forever because of your lasting bond of love and understanding. Also, because you guys know where the bodies are buried, so to speak.
12. Flask
Funny Best Friend Flask, $20, etsy
Drinking, swearing, and getting in trouble are some of my favorite things to do! Lucky you if you also have a beer swigging, cussing, morally ambiguous BFF too.
13. Coffee Travel Mug
Coffee Travel Mug, $20, Starbucks
The only thing your best friend loves more than coffee is you, of course. Get her a super cute tumbler that expresses your affection, like this one from Starbucks.
14. YASSS QUEEN Flowy Tank
YASSS QUEEN Flowy Tank, $44, shopbetches
Whether your bestie is a spin queen, barre queen, or a couch queen, she'll love the heck out of this shirt. It's great for workouts, hangouts, and everything in between.
15. Wine Glass
You Had Me at Merlot Wine Glass, $13, etsy
"You wanna come over? I have wine." Basically the two best sentences your bestie can say to their fellow wine drinking friend.
16. "I Need A Hug" T-Shirt
"I Need A Hug" T-Shirt, $22, etsy
For your best friend who is also a book lover, this Edgar Allan Poe tee is freaking hilarious.
17. Selfie Case
Van Gogh Phone Case, $20, etsy
Taking an outrageous amount of selfies doesn't make your BFF shallow. Especially not with Van Gogh's stamp of approval.
18. Sleep Mask
Sleep Mask, $36, Tempe Rowe
Your best friend needs her beauty sleep, and this mask will help her get just that. Shut-eye is always the best present.
19. BFF Bracelets
The Betches Bracelet — Set of 2, $25, betches
Friendship bracelets might seem a little juvenile, but these are pretty cute. I mean, they basically have curse word on them.
20. Golden Girls Coasters
The Golden Girls Coasters, $12, etsy
The OG best friend squad, these Golden Girl-inspired coasters are a riot. Perfect for girls' night!
21. Crazy Print
Funny Art Print, $5, etsy
Again, best friends are a part of the family you choose. They also choose to go out with your crazy ass.
22. Headphones
Skullcandy Knockout headphones, $60, Skull Candy
Your girl loves her tunes, and she'll love you for getting her these pretty Skullcandy headphones specifically designed to fit women's ears. Perfect, right?
23. Hey, Girl, Hey! Doormat
The Original "Hey Girl Hey!" Doormat, $38, etsy
I probably overuse this phrase, but I bet it'll make your BFF feel really special to see it every day. Not to mention all of her house guests.
24. Grumpy Cat Bookmark
Grumpy Cat Bookmark, $5, etsy
The struggle could not be more real than when you're trying to enjoy your book, and people are bothering you. Get your bestie the bookmark that accurately describes their feelings.
Looking for more holiday cheer? Check out Bustle on YouTube.