Cat Ugly Christmas Sweaters Are Too Cute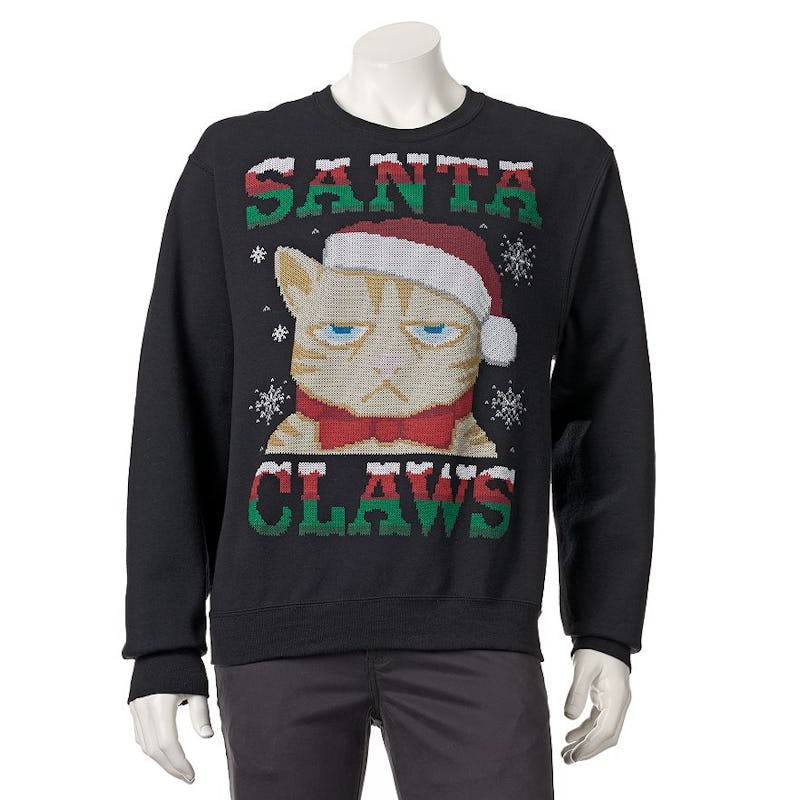 With the start of the holiday season comes a plethora of parties to attend. From family gatherings to office parties, you're sure to need a snazzy ugly Christmas sweater to wear for each occasion. Showing up family and friends with the best (worst?) holiday sweater has become a yearly tradition for many. Instead of sporting a traditional holiday sweater this season, why not try something new — a cat-themed ugly Christmas sweater!
The traditional holiday characters such as reindeer, Santa, and snowmen are cute and all, but they have become a bit over done throughout the years. For 2015, try sporting a holiday sweater with your favorite animal on the front. Whether you're a cat person or a dog person, these ugly sweaters are worth a look. This collection of cat Christmas sweaters are perfect for everyone — and how ugly can they really be with adorable illustrations on them? From bells and pom-poms to puns and bows, you're sure to find the perfect ugly cat sweater for any occasion this holiday season.
Digging through bins at thrift shops on the hunt for the perfect ugly yet cute holiday sweater can become tiring real quick. This year, save yourself the physical labor and try taking a browse online to find the ultimate ugly cat Christmas sweater. Here are eight options.
1. Meowy Christmas
Meowy Ugly Christmas Cat, $35, CGCustomizedGirl
A cute and festive holiday sweater in a beautiful burgundy color.
2. Crazy Cat Lady
Crazy Cat Lady Sweater, $65, Tipsy Elves
The perfect holiday sweater to show your true crazy cat lady colors. You'll be sure to turn heads with every step.
3. Laser Eye Cat
Lazer Cat Eyes Sweater, $33, Tipsy Elves
Some cats are cute — this one not so much. This evil cat with piercing laser eyes is sure to make a statement.
4. I Love Cats
Meowy Ugly Christmas Art, $25, CGCustomizedGirl
This one gets right to the point.
5. Santa Claws
Santa Claws Christmas Sweatshirt, $20, Kohls
It's Scrooge meets Grumpy Cat.
6. Electrocuted Cat
Electrocuted Cat Sweater, $50, Tipsy Elves
Looks like this cat got a little too friendly with the Christmas lights.
7. Sweet Cat Sweater Dress
Meowy Christmas Sweater Dress, $49, Tipsy Elves
Take a precious cat surrounded by candy and pair it with a sweater dress. Perfection!
8. Jingle Bell Cat
Ugly Cat Sweater with Bells, $65, Tipsy Elves
This holiday sweater has everything — a cat wearing a santa hat, pom-poms, and a bell. What else do you need?
Want more holiday tips? Check out the video below, and be sure to subscribe to Bustle's YouTube page for more hacks and tricks!