Where To Get A Cheap Ugly Xmas Sweater This Year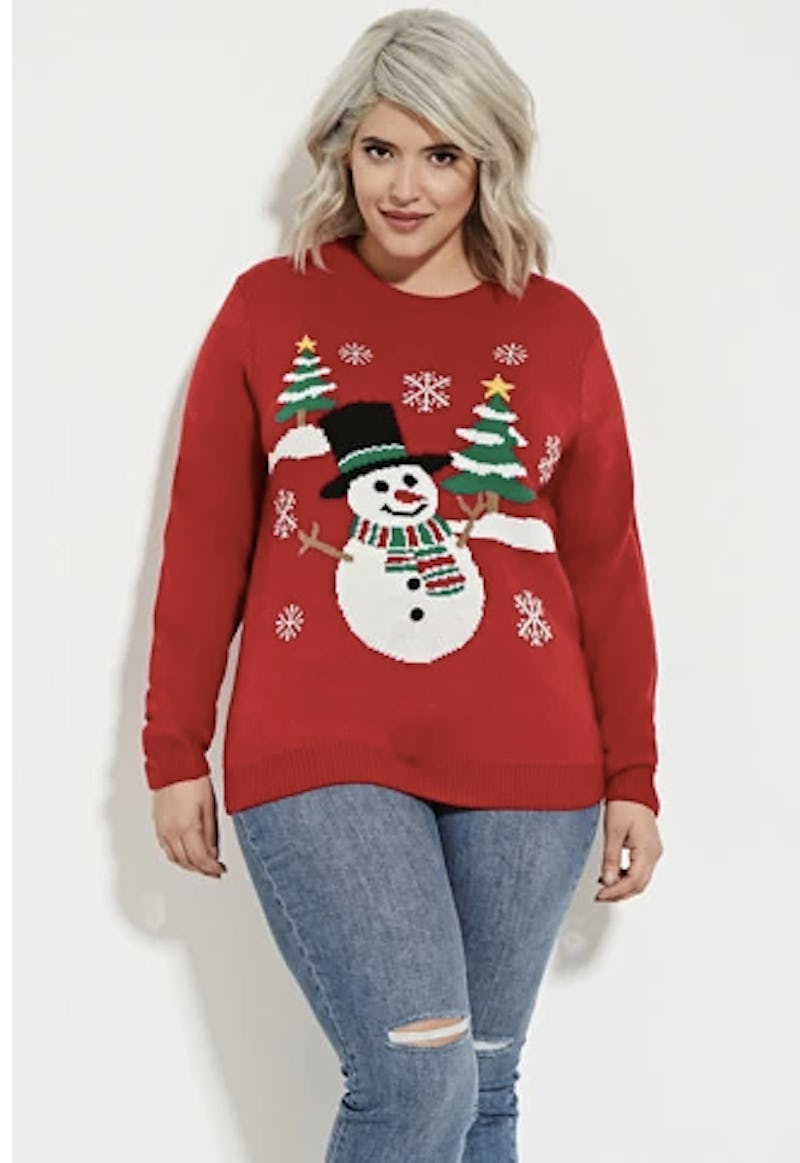 The holidays are quickly approaching, and with that comes all sorts of festivities and traditions. One of my favorites? The ugly Christmas sweater. Sure, you might have a formal or semi-formal family gathering or office holiday party to attend, which means looking your best in a classy LBD and tasteful heels and maybe decorating with a luscious wreath and the best china. That's all very nice; after all, there's something to be said for getting dressed up and wearing something timeless and beautiful at least once a year. However, let's just admit it: One of the best things about the holidays is the opportunity to throw good taste and restraint right out the window. Tacky handmade ornaments from your childhood, garish neon lights, goofy stop-motion cartoons, and yes, ugly holiday sweaters are all part of the most wonderful time of the year.
Ugly holiday sweaters encapsulate the spirit of the season more than you might think. They have the potential to bring people together, through laughter and shared horror at the sheer ugliness. Plus it's easy to find a sweater that embraces your particular holiday, the general winter season, or even your favorite pop culture obsession. Whether you celebrate Christmas, Hanukkah, Kwanzaa, Ramadan, or Festivus, there's an ugly sweater for you.
And, of course, since many of us are on a tight budget around this time of year and it's unlikely you'll get a ton of wears out of it, it's important to find a sweater that won't break the bank. Luckily for you, here's a list of 12 ugly holiday sweaters (for the 12 days of Christmas — get it?) and they're all under $50. Get ready to be the winner at this year's ugly Christmas sweater party.
1. Tis The Season For... Dinosaurs?
Dinosaur Christmas Sweater, $25, uglychristmassweater.com
Hey, who says reindeers get to hog the spotlight? This unisex sweater is genius in its silly randomness.
2. Home Alone Nostalgia
Merry Christmas Ya Filthy Animal Sweater, $27, Etsy
This classic line from Home Alone never gets old. The best part about this sweater is the casual off-the-shoulder cut, which will have you looking effortless sexy while you dance to All I Want For Christmas Is You.
3. A Light-Up Sweater Because It's The Future
Light-Up Reindeer Graphic Sweater, $28, forever21.com
It's 2015, which means that if you don't currently have a holiday sweater that lights up more than your neighbor's over-decorated front yard then you need to get with the times. Embrace the wonders of technology this holiday season. (And if you really want to impress people, albeit go over budget, you can wear a 3-D sweater!)
4. Shoot For Simple And Cute (But Still Kinda Ugly)
Plus Size Snowman Graphic Sweater, $28, forever21.com
Nobody will be able to accuse you of choosing a pretty or tasteful sweater, per se, but you'll definitely feel smug in the knowledge that you look adorable in this cozy snowman sweater.
5. For A Cat-Lover's Christmas
Meowy Christmas Kitty Sweatshirt, $29, uglychristmassweater.com
Oh, you like cats? You like cats giving side-eye? You like cat puns and being warm? Yeah, you need this sweater.
6. Give The Gift Of Profanity...
Merry Christmas Cropped Jumper Red, $30, missguidedus.com
This sweater really lets you get your inner Grinch out. Although maybe don't wear this particular sweater if your relatives are going to be around.
7. ...It's The Gift That Keeps On Giving
Merry Christmas Cropped Jumper Red, $30, missguidedus.com
It's a term of endearment, OK? (Just don't expect that to fly with Grandma.)
8. Blondes Have More Fun AND Get More Presents
Boohoo Santa's Favorite Blonde Christmas Jumper, $34, asos.com
It's true, just ask him.
9. Go Vintage
Urban Renewal Vintage Ugly Holiday Sweater, $34, urbanoutfitters.com
The truth is that the best ugly holiday sweaters are the vintage ones that were painstakingly made in earnest years ago before irony in fashion was a thing. You could go to the local thrift store... Or you could order one from Urban Outfitters' selection of vintage holiday sweaters and cardigans, and be totally surprised because you never know what you're going to get (they'll send you one chosen at random).
10. Merry Pugmas
Merry Pugmas Christmas Jumper, $34, missguidedus.com
True, it doesn't really make much sense, from the Rudolph drag to the awful "pugmas" pun... But that's why it's so awesome. If you love pugs, you need this sweater in your life.
11. Holiday Bling
Christmas Bling Sweater, $30, etsy.com
Everyone loves Hotline Bling, so why not spice up your holiday sweater with a bit of Drake?
12. Goofy Reindeer
Club L Plus Reindeer Holidays Sweater, $45, ASOS
I don't think there's more than one Rudolph, you say to yourself before you realize you're seriously over-thinking an ugly Christmas sweater. Just go with it; they're not supposed to make sense.
Images: Courtesy Brands