The Best Places To Find An Ugly Christmas Sweater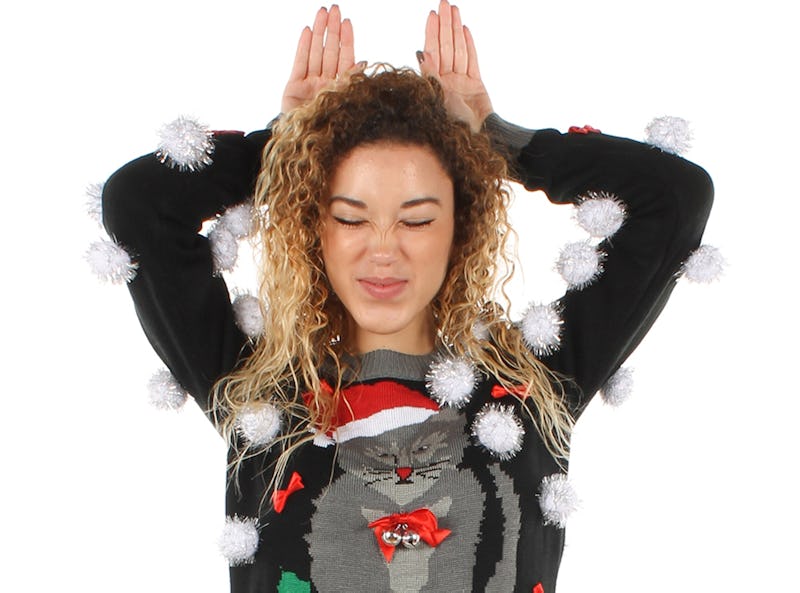 The holidays are in full swing, and that can only mean one thing: ugly Christmas sweater season is upon us! Sure, I enjoy the sound of holiday classics taking over the radio. And what's not to love about eggnog? Then, of course, there's just something magical about seeing an entire neighborhood twinkling in Christmas lights. Yet, none of these holiday traditions warm my heart quite like the thought of seeing tacky, pom pom infested, googly-eyed Rudolph covered Christmas sweaters.
An ugly Christmas sweater is a holiday classic, so it'll never go out of style. You're never too old to wear one, and they throw all of fashion's dos and don'ts out of the window. In fact, the uglier the better! Nothing is off limits. Feeling like a hipster? Go vintage with your ugly sweater by thrifting one from the '80s. Looking to spark conversation with a pop culture reference? Of course, there are sweaters that bring the ugly to our latest obsessions. And you know there's an ugly Christmas sweater for anyone who wants everything but the kitchen sink hanging off of their torso.
By now, you're convinced that you need an ugly sweater in your life, so now you're just stuck wondering where does one buy such a gem ? Whether you're on a strict budget or you're willing to splurge, you want to keep things simple or get incredibly festive, there's a garment for you on this list of ugly Christmas sweater retailers.
'North Pole' Christmas Sweater, $38, Nordstrom
Nordstrom's great selection of ugly sweaters — this sassy Santa is particularly awesome — will surely get you in the holiday mood. Plus, this year, they're selling some of the best DIY sweater kits I've seen all season.
Urban Renewal Vintage Ugly Holiday Sweater, $34, Urbanoutfitters
Hunting down the perfect vintage sweater would ideally be the way to go, especially if you have a mother like mine who saved her prize-worthy collection for all 12 days of Christmas. If you don't have time to sift through thrift store racks to find your perfect pullover, Urban Outfitters will do the work for you and send you a random vintage sweater from their collection.
Christmas Tree Hooded Top, $30, Hm
There aren't too many truly ugly sweaters in H&M's repertoire, but they are selling some pretty unique pullovers that will transform you into a walking Christmas tree or Rudolph. Now that's what I call embodying the Christmas spirit.
Tia Merry Christmas Reindeer Christmas Jumper, $26, Boohoo
Yes to anything with our favorite reindeer Rudolph! Find that and more in Boohoo's wide selection of sweaters.
Women's Ugly Cat Sweater with Bells, $50, Tipsyelves
Shouting out all you cat lovers! Plus, you can never go wrong with pom poms covering your Christmas sweater.
6. Target
Christmas Tree Ugly Sweater, $21, Target
You won't have to worry about breaking the bank when shopping for an ugly sweater at Target. In fact, go crazy! Buy two!
Karen Scott Polar Bear Long-Sleeve Sweater, $25, Macys
Macy's has likely always been a store you immediately associate with the holiday season. You're probably doing most of your holiday shopping there anywhere, so why not pick up an ugly Christmas sweater while you're at it?
Let's Get Elfed Up Drunken Elves Ugly Christmas Sweater, $48, Uglychristmassweater
If ugly Christmas sweater is in the URL, you know this is going to be a go-to destination for your holiday needs/ Ugly sweaters have no gender, and neither does this retailer in their selection of unisex apparel.
Club L Plus Elfie Holidays Sweater, $36, Asos
There's no way you can't take a selfie in this festive little number! I can already see the hashtags scrolling down my Insta feed.
Women's Christmas Crewneck Sweater, $24, Kohls
I definitely feel Rudolph's pain — those Christmas lights can get caught in your hair real quick after a few too many eggnoggs.
Deck the Paws Top, $35, Modcloth
Yet another great source for vintage inspired sweaters!
Grinch Tacky Ugly Christmas Sweater, $68, Etsy
Vintage Ugly Christmas Laura Gayle Cardigan Sweater, $35, Etsy
Drake Ugly Christmas Sleigh Bells Ring Hotline Bling Sweatshirt, $19, Etsy
If you need it, there's probably someone out there making it, and ready to sell it. Etsy is basically a wonderland of ugly Christmas sweaters. You can find custom 3-D pullovers, DIY kits, vintage sweaters, and more from sellers around the world. Happy ugly shopping!
Images: Courtesy of Brands