You Can Now Wrap It Up With Star Wars Condoms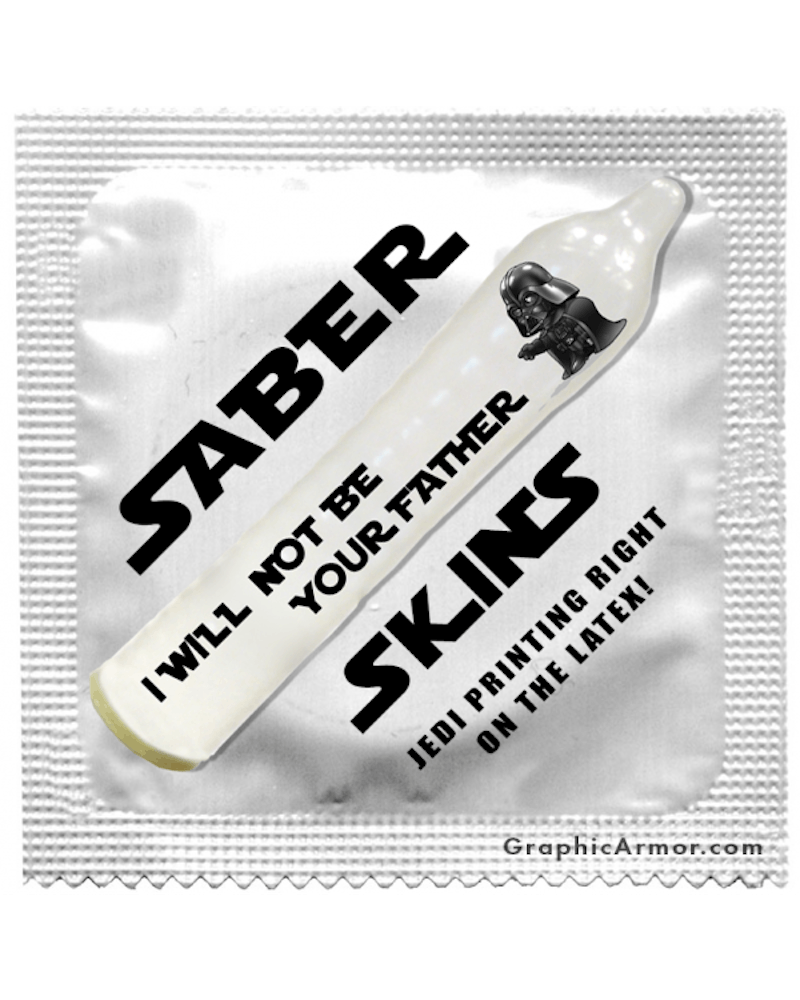 Unless you've been living under a rock for the past six months, you should know by now that Star Wars fever is among us. On Dec. 18, Star Wars: The Force Awakens releases in theaters nationwide, but here's another thing that will have you believing in the power of the Force: Star Wars condoms.
Graphic Armor, a company that specializes in custom-made condoms has created a line of Star Wars-themed condoms called "Saber Skins." Currently, there are two prints you can choose from. Both feature popular lines, or at least a clever variation of it, from the films. For you Jedis out there, Yoda condoms are available with, "Do or do not. There is no try." For those in tune to the Dark Side, Vader-themed condoms say, "I will not be your father."
"We introduced our Star Wars Condoms about nine months ago in anticipation of the Star Wars craziness that was sure to come. The creation of these FDA-approved condoms is part of a greater vision and mission, which is to change the way people look at condoms by changing the way condoms look," Graphic Armor Managing Partner, Adam Glickman tells Bustle.
Saber Skins, $3, Graphic Armour
They've created a platform that enables people to create their very own FDA -approved condoms with full colored prints directly on the latex. Minimums for custom printed condoms start at 33 pieces, and include its own customized label on the foil. In addition to Star Wars, they have others like tie-dye, camouflage, and tattoo prints.
"Take a product riddled with stigma and marry it with pop culture icons, familiar images and a splash of humor, and we believe you have a recipe to change perceptions, attitudes and just maybe, behavior," Glickman says. "We are excited to give people everywhere a reason to look at an old product in a new way, and in the process forever change the bad rap of this very important and necessary little product."
I like seeing condom companies try to keep things fresh, especially during a time when STD levels are reaching record highs. If that means putting out rubbers with Yoda's face on it, then may the force be with them.
If you're a Star Wars fan looking to incorporate that into the bedroom, here are the Star Wars-related sex items you have been looking for:
1. Star Wars Lightsaber Dildo
Star Wars Lightsaber Dildo, $65, Etsy
Sold on Etsy from the DarkSideOfPleasure shop, it's a "clear, antibacterial silica gel anatomical appendage" with a handle made of plastic. You can even choose between Luke (green) or Vader (red) when you make your purchase.
2. Hand Solo
Hand Solo, $33, Rocks Off
OK, maybe it doesn't have Star Wars prints on it, but definitely clever in name. This silicone hand grip, made by Rocks-Off Limited, is an open-sleeve masturbator "guaranteed to send you into orbit."
3. C-3PO G-Spot Vibrator
GIGI 2, $139, Lelo | Alia, $139, Lelo
In 2013, graphic artist Balasz Sarmai took popular products from sex toy company, LELO, and reimagined them as iconic Star Wars characters. Other ones include the R2D2 Personal Massager and the Stormtrooper Couples' Massager. Now, who's going to turn these into reality?
Want more of Bustle's Sex and Relationships coverage? Watch people try to guess the meaning of these sex toys:
Images: Courtsey of Graphic Armor; DarkSideOfPleasure/Etsy;Rocks-Off Ltd;Balasz Sarmai/Tumblr