Who Is Shamea Morton On 'RHOA'?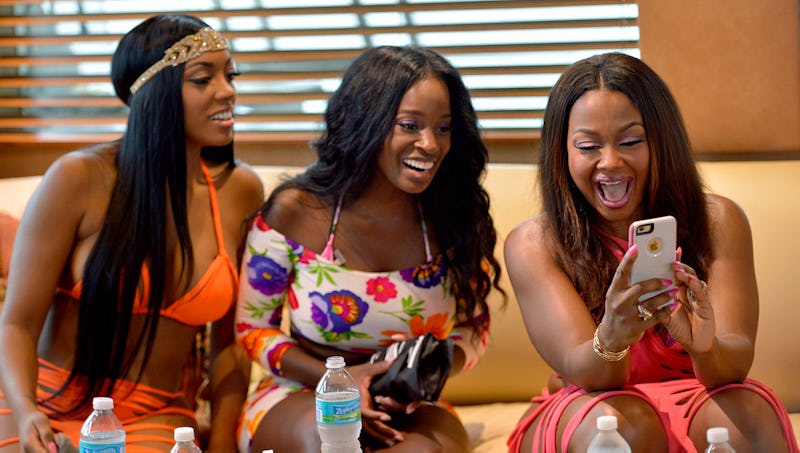 You might have found yourself wondering while watching this season of The Real Housewives of Atlanta just who all of these new people are. Kim Fields is a given, but there are a few other faces that have been hanging around the women that don't seem to be disappearing anytime soon. Shamea Morton, in particular, has been making enormous waves on this season of The Real Housewives of Atlanta. Especially after Morton clashed with Kenya Moore. Something tells me that clashing with Kenya Moore and having a penchant for drama is a surefire way to get yourself solidly on the RHOA cast, because Morton has now appeared in a number of this season's episodes. But who is Shamea Morton?
In fact, Morton was smack dab in the middle of one of the most dramatic episodes so far. When Porsha and Cynthia got into a physical fight over the word "b*tch," Morton was just a few steps away, ready to defend and protect her friend. What exactly is Morton bringing to the show other than a slew of drama and an ability to tell the difference between shampoo and water? It turns out that, like a lot of the ladies, Morton has a long history of in the world of entertainment.
1. She Was A Professional Cheerleader
In 2003, Morton scored a spot on the Atlanta Hawks cheerleading team. In addition to cheering for the Hawks, Morton was also was an Atlanta Falcons cheerleader for five years, including one year as the team's captain. So, clearly, this girl knows how to make friends and impress people.
2. She Knows A Lot About Sports
She ended her cheerleading days recently and became the in-game host for the Atlanta Hawks.
3. She's An Actress
In addition to her time as an NFL cheerleader, Morton has a long list of acting roles in movies, television, and stage performances. Some of her most notable jobs are her roles in Drumline and Tyler Perry's Temptation.
4. She's Totally Taken
Sorry, fellas, this girl is off the market. She's currently dating a man named Gerald who, according to the Bravo website, plans to take her back to his village in Kenya before proposing.
5. She Has A Lot In Common With Porsha
According to her Instagram page, Shamea is an on-air personality just like Porsha is.
With an extensive career as an actor, singer, cheerleader, and host, this girl is more than just Porsha's side kick. She's used to living the public eye, and she most likely loves it. She's definitely a woman who has worked hard for a career, and I, for one, am thrilled to see how her role plays out on this season of RHOA.
Image: NBCUniversal