14 Stunning Christmas Trees – Made Out Of Books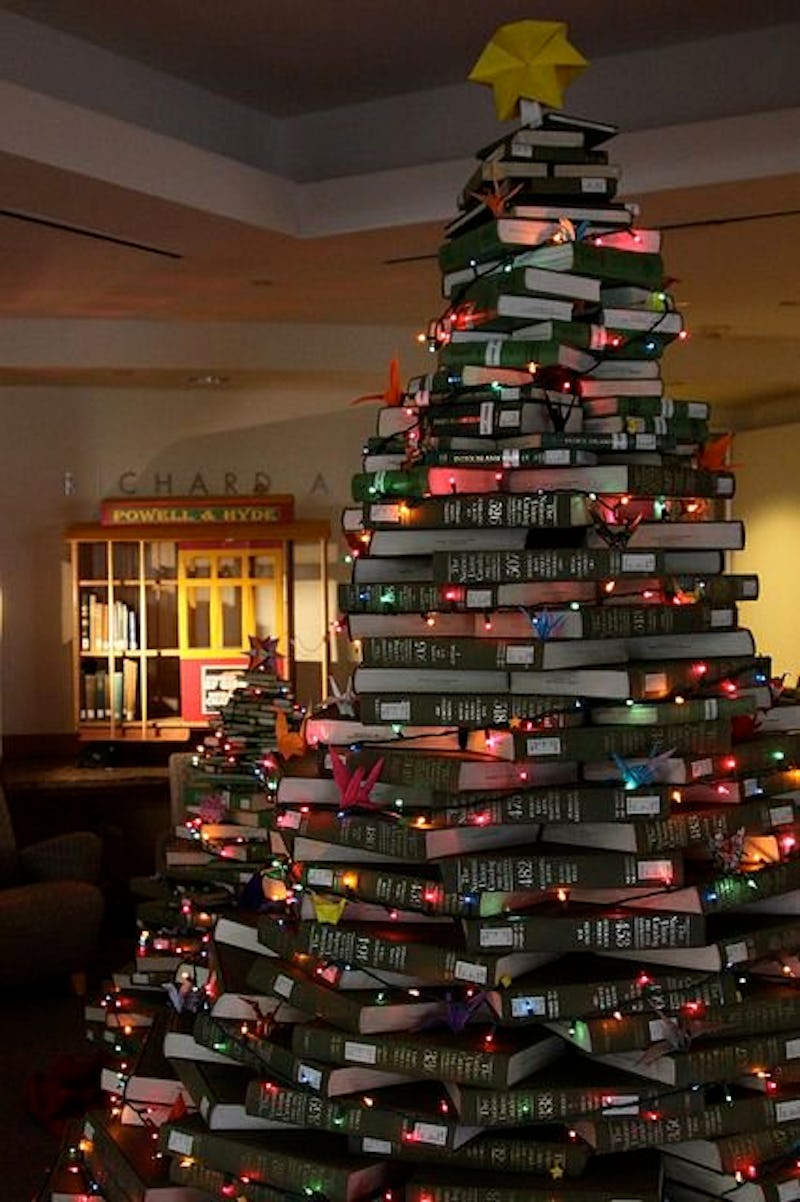 goodreads/Twitter
I've said it before and I will say it again: Christmas should be a book-themed holiday. From books as gifts to literary inspired ornaments and decorations, it's the perfect holiday to celebrate not only family, friends, and the spirit of giving, but reading, too.
Christmas stories and book page decorations are an important part of the celebration, but like a traditional Christmas, the most important part of a bookish holiday is the tree, which, of course, should be made out of books. Nontraditional, I know, but Christmas trees made out of books are economical, environmentally friendly, and absolutely stunning. They showcase your favorite authors and stories, and finally give you a place to put all the books you usually have stacked haphazardly around your already cluttered apartment. Like traditional trees, they can be strung up in lights, wrapped with tinsel, and decorated with ornaments, and they will instantly give your living space a more festive feel, no watering, vacuuming, or tree trimming necessary. Forget the gifts and cards, because who cares what's under a tree when it's made out the very best presents themselves?
Here are 14 of the best Christmas trees made out of books, because honestly, what could be better?
1. Topped with a Pine Cone
It may be a fake tree, but with a pine cone on top? At least it's trying.
2. Stacked Against a Wall
Old books, minimal decorations, and a great color palate, this tree is maybe the most envious of all.
3. Large and In Charge
I don't know about you, but I would be like an actual child on Christmas morning if I found this towering tree of books in place of my living room.
4. It's All About the Spine
Forget the pine, it's all about the spine when it comes to creating the perfect book Christmas tree. With the leather and hints of gold, this one nailed it.
5. The Tiny Tree
Even book trees come in miniature, so for those book lovers who are still jammed in apartments, this is the Christmas tree for you!
6. Using the Bookshelf
Instead of stacking books on the ground, this version of a DIY-book tree relies on a bookcase to help give it its festive look. That is, if you can find a book case in your house that's empty enough.
7. Open Books
This tree only uses a few books, but it's festive look is still a showstopper that would be perfect for an office or small space.
8. When In Doubt, Tinsel It Out
Does the size of your tree really matter when it's this bright and shiny?
9. Color-Coordinating
For the real tree feel, you ca't go wrong with a stack of all green books, especially when they are all part of a set like these. They were practically made to become a bookish Christmas tree.
10. Fits Right In
Amidst a room of bicycles, stacked book shelves, and even a teapot lamp, this bookish Christmas tree looks right at home.
11. All About the Tree Topper
Even when it comes to book trees, they're only as good as their tree toppers, and this one with a recycled paper star on top takes the cake.
12. Christmas Tree Decor
When you want to decorate with book trees, but don't want to dismantle your entire shelf, this small tree made of book pages is the perfect book tree alternative.
13. With an Angel on Top
It's not enough to have a tree made out of books — you need ornaments and a tree topper made out of books, too.
14. Take a Page Out of the Book
Book trees don't all have to be stacked books. This one uses actual book pages to create a readable Christmas tree.