How To Throw A Bookish Holiday Party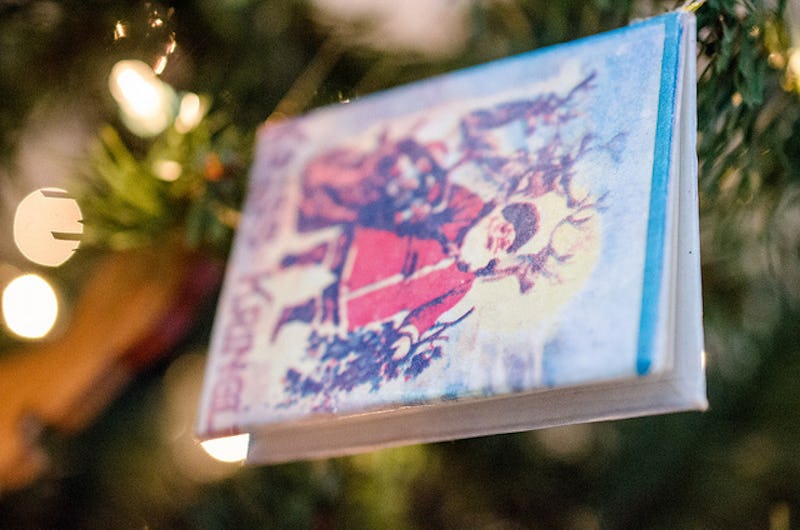 When it comes to planning your annual holiday bash, there are plenty of themes to choose from. You can go with a tried-and-true ugly sweater party, have a fancy black tie soiree, or just embrace your inner book nerd already and throw a literary-themed holiday party. Come on, you know you've always wanted to have an excuse to make a Christmas tree out of books, and a literary holiday party is the perfect excuse.
December brings out the book-lover in everyone. I don't know if it's the cold weather, perfect for curling up on the couch with a book, or all the great holiday scenes from novels, but the holidays seem to have a literary charm to them. Whether it's the rhyming picture books about Santa Clause or the classic Christmas dinners of Charles Dickens and Louisa May Alcott, books and the holidays have always gone well together, and that's why a book-themed party is the perfect kind of get-together for the holiday season. From the invitations to the decorations to the refreshments, there is more than enough inspiration in books to put together the perfect party.
Here is how to throw the perfect bookish holiday party, because you've worn enough ugly sweaters for one lifetime.
1. Pick A Literary Theme
Yes, your holiday party will be bookish, but what kind of bookish do you want it to be? You can go the A Song of Fire and Ice route with Game of Thrones themed decorations, or you can integrate some Harry Potter-inspired holiday traditions into the celebration. And yes, you can even make it a literary ugly sweater party. Your options are limitless.
2. Create a Book Tree
You can't have a proper bookish holiday party without a tree made of books. Whether it's color-coordinated red and green hardcovers or a mishmash of your favorite novels, a book tree is a staple for a literary soiree.
3. Use Books to Decorate
Don't stop at the tree. Use recycled pages of old books to create table centerpieces, hang bookish ornaments, and try your hand at DIY book wreath for your door. Knowing the amount of books in your house, there's no limit to the literary-inspired decor you could create.
4. Create a Bookish Menu
From the appetizers to the themed cocktails, there's nothing on your buffet and drink tables that can't be given a bookish twist. Whether you take a meal straight from a fictional buffet table or an inspired appetizer, your book-loving friends will appreciate your commitment to the theme — and all the delicious food, of course.
5. Hold a Holiday Reading
From A Christmas Carol to How the Grinch Stole Christmas to The Lion, the Witch and the Wardrobe, there are so many great holiday themed books to share with your party guests. Take turns passing your favorite holiday picture book around, or hold a dramatic reading from literary classic.
Image: m01229, Bibliotheek Kortrijk, macinate/flickr; Giphy (9)