6 Beauty Routines From Around The World To Steal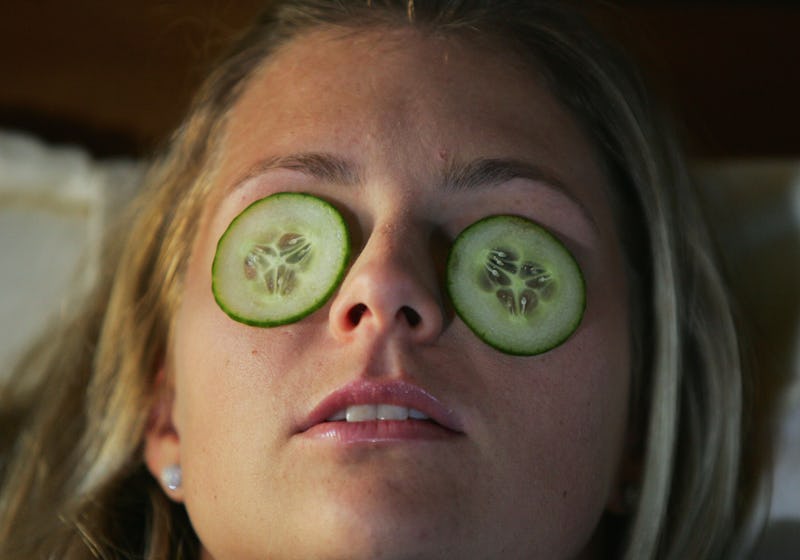 Scott Barbour/Getty Images Sport/Getty Images
Beauty tips and tricks have been passed down for generations, and every culture has its own slew of ancient rituals. Since much of beauty has become so international, there's no reason we shouldn't take a stab at attempting some of these effective beauty routines from other countries. Whether it's as simple as buying an Ayurvedic soap or trying a new Korean skin serum, why not take the best from each country and customize our own beauty routine to make it the most comprehensive as possible?
It might be tempting to dismiss your grandmother's suggestion to rub coconut oil on a dry face, but so much of modern beauty, from skincare, to acne remedies, to makeup, comes from practices passed on between generations. But if you're not spending time traveling the world or having many international encounters, you could be missing out on some key regional beauty tips that could end up brightening your look. Beauty standards may differ across the globe, but there is something to be learned from each culture, and when it comes down to good self-care, some advice is just universal.
If you're looking for some new and interesting beauty tips, you might want to try one of these six effective beauty routines from other countries.
1. Indian Ayurveda
Ayurveda skin care involves a holistic approach to beauty, using natural ingredients to target imbalances in the skin. "Ideally, in Ayurveda you can enjoy a nice facial steam, and then apply a mask," says Kim Rossi, Director of Shankara Ayurveda Spa to Bustle over email. "This will keep the sensitive skin nourished and moisturized." Rossi recommends massaging the skin with sesame oil, moisturizing with ghee butter, and applying a mask of chickpea flour, turmeric, lime juice, and honey.
Sesame Oil, $10, Amazon
Ghee Butter, $16, Amazon
2. Spanish Potatoes Under Eyes
Get rid of dark circles under your eyes by taking a tip from Spain, where they take chilled potato slices and cool water and place the potato over their eyes for 15 to 20 minutes. "The natural bleaching agent of the potato starts to work it's magic," says celebrity makeup artist Julia Dalton-Brush over email. "Do this regularly and you will see your dark circles start to disappear."
3. Korean Layering
Korean women are notorious for having flawlessly smooth skin, likely because they undertake a skincare regimen that involves over 10 steps. "The Korean beauty process is all about layering, taking time to apply multiple products to ensure skin gets the right active ingredients and numerous doses of hydration," says beauty expert Jeanine Morris over email. The multi-step process includes cleansers, toners, essences, serums, masks, eye creams, moisturizers, masks, sun care, mist, and facials. It may sound daunting, but the routine can be relaxing and the results impressive.
Sulwhasoo Refining Skincare Kit, $38, Amazon
4. Traditional Chinese Medicine Yin and Yang
"Traditional Chinese Medicine uses the principle of yin and yang to holistically balance skin conditions and help our skin rejuvenate and maintain balance by boosting blood circulation to nurture and detoxify skin," Chapman Lee, co-founder of Baszicare, a skincare line based on the healing principles of TCM, says to Bustle over email. When it comes to skincare, TCM incorporates a healthy diet of fruits and vegetables, especially the antioxidant wolfberry, Chinese yam, and lotus seed.
Only Natural Wolfberry, $10, Amazon
5. Japanese Persimmons
Persimmon in Japan is used to absorb all kinds of odors. "Generations of Japanese have used the persimmon for antibacterial purposes, particularly among geishas," Koko Hayashi, beauty expert and CEO of Mirai Clinical, a Japanese natural skincare line, says over email. Joelle Polisky. "Geishas put persimmon fruit in baths for its antiseptic and deodorizing benefits."
Persimmon Soap, $19, Amazon
6. Russian Sour Cream Sunburn Soothers
Sour cream is a common Russian ingredient, and they won't hesitate to put it on anything, including the skin. "When I was a child, my grandmother would use sour cream on sunburns or when my skin was irritated," says Angelina Umansky, a fourth-generation aesthetician and co-owner of Spa Radiance, over email. "Apply a thin layer of sour cream to the sunburn to soothe the skin, wait until most of it has absorbed and then rinse — instant relief!"
And there you have it, a brand new beauty routine that your friend's probably haven't heard of yet.