Celebrate Hanukkah All Season With These TV Shows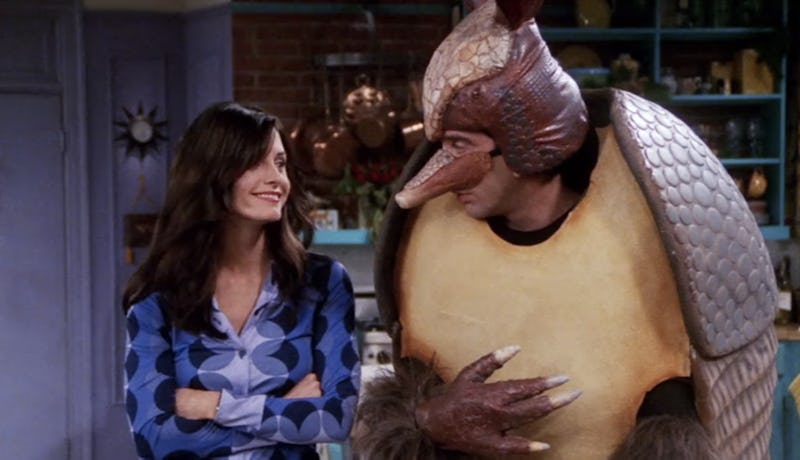 One of the best ways to get into the spirit of the season is, of course, by watching holiday-themed movies and TV shows. In fact, during this time of year, you'd be hard-pressed to find something that has nothing to do with the holidays — if it has to do with Christmas, that is. If you're hoping to turn on your TV and see your favorite characters celebrating Hanukkah, well, that's more challenging. However, it's definitely not impossible, and the best Hanukkah TV episodes that I've rounded up below definitely prove that.
If you celebrate Hanukkah, chances are you know and love or have at least heard of the following TV episodes since there are so few shows that depict this holiday. But even if you're not Jewish, you'll find that they communicate much of the same things that TV episodes about Christmas do: the importance of family and tradition and to never lose faith that miracles can happen.
So even though Hanukkah is over for this year, don't worry. There's always time to take a look at one of these hilarious and heartwarming episodes without having to take out your menorah or dreidel. Check out the following TV episodes below, and you'll be in the holiday spirit all year long.
1. Saturday Night Live - Season 20, Episode 7 (1994)
OK, so this is technically not a Hanukkah-themed episode, but this is the Saturday Night Live episode in which Adam Sandler introduced the "Hanukkah Song" to the world during the "Weekend Update" segment, which I think is significant enough to include here. Hanukkah doesn't have a lot of songs that make it into the popular culture, but this one, which hilariously rattles off names of Jewish celebrities, did, and it has remained a staple of the season ever since. Sandler has even updated the song three times since its debut with the fourth and latest installment premiering at the New York Comedy Festival in November. The "Hanukkah Song" is festive and you learn something. What could be better than that? Available on Hulu .
2. Rugrats - "Hanukkah" (1996)
If I had to choose just one iconic Hanukkah TV episode, it would definitely be Rugrats' "Hanukkah." Maybe it's because this episode was a big part of my childhood, as I'm sure it was for many of you, but even looking back on it today, it's got everything you could ask for in a TV episode about Hanukkah. From the episode, we learn the story of Hanukkah, the correct pronunciation of Chanukah ("You have to 'chhhh' when you say it," as Angelica (Cheryl Chase) puts it.), and that miracles, like getting two childhood rivals to become friends in old age, really can happen. Available on Hulu .
3. The Nanny - "The Hanukkah Story" (1998)
Love her or hate her, Fran Fine (Fran Drescher) is one of the great Jewish TV heroines, so it's no surprise that The Nanny had an episode dedicated to the Festival of Lights called "The Hanukkah Story." The episode depicts yet another Hanukkah miracle on TV. This time, Maxwell's (Charles Shaughnessy) car gets stuck in a snowstorm, and the oil in the car that was supposed to last for only an hour ends up lasting for eight instead. So he, Grace (Madeline Zima), and C.C. (Lauren Lane) don't end up like popsicles and make it home in time to celebrate Hanukkah with Fran, who had been praying for their safe return with a nun. It's not the most creative holiday episode by any stretch of the imagination, but there's something about Fran's flamboyant charm that always livens up even the dullest of situations. Available on YouTube.
4. Even Stevens - "Heck Of A Hanukkah" (2000)
Many people, like myself, come from a mixed faith background, and luckily, there are a few holiday episodes that incorporate both Jewish and Christian traditions. Don't let the title of this episode fool you. Even Stevens' "Heck of a Hanukkah" is one of those episodes that includes a bubbie (Donna Pescow) and a riff on the Christmas movie classic It's a Wonderful Life. That means you can probably guess how this episode is going to end. But then again, you don't watch Even Stevens for the suspense; you watch it for Louis' (Shia LaBeouf) shenanigans, and you'll find plenty of those here. Available on YouTube.
5. Friends - "The One With The Holiday Armadillo" (2000)
Unless you count SNL 's Hanukkah Harry, the Festival of Lights doesn't really have a main figure akin to what Santa Claus is to Christmas. But that was before the 2000 Friends episode "The One with the Holiday Armadillo" premiered. We have Ross (David Schwimmer) to thank for introducing us to Santa's animal friend when he wore an armadillo suit in an effort to explain the story of Hanukkah to his son Ben (Cole Sprouse) and educate him on his Jewish heritage. Ah, the things we do for family during the holidays. Available on Netflix.
6. The O.C. - "The Best Chrismukkah Ever" (2003)
And now to complete this trifecta of Christmas-Hanukkah episodes, we have The O.C.'s "The Best Chrismukkah Ever," which helped give those of us who celebrate Hanukkah and Christmas every year an official title for our holiday. You can thank Seth (Adam Brody), whose dad is Jewish and mom is Catholic, for that one. This episode is packed with all of the drama you'd expect from The O.C., but in the end, it reminds you that the holidays are all about family, no matter what your background is. Available for purchase on Amazon Video and on iTunes.
7. Crazy Ex-Girlfriend - "My Mom, Greg's Mom and Josh's Sweet Dance Moves" (2015)
For some people, the holiday season can be an especially difficult time of year to get through because much of it is spent with family. No TV episode shows that better than Crazy Ex-Girlfriend's holiday episode in which we finally get up close and personal with Rebecca's (Rachel Bloom) mom, who we've heard so much about — and not good things, either. In this episode, Mrs. Bunch (Tovah Feldshuh) pays a visit to Rebecca in West Covina for Hanukkah, and let's just say it doesn't go as planned. Or rather, it goes exactly how Rebecca subconsciously expected it to as she tries to please her mom's every whim, no matter how detrimental it may be to herself. Thankfully, in the end, Rebecca learns that, even though she causes her much distress and self-loathing, her mom really does love her. She just has a weird way of showing it. But all of that also doesn't really matter as much because Rebecca realizes that her new friends in West Covina have become something of the family she's always wanted. Available on Hulu .
After you've heard the story of Hanukkah, lit the menorah, and spun the dreidel, you can now include these seven TV episodes among your annual holiday traditions. Watching them will feel as good as having some potato latkes in your tummy.
Images: NBC; Giphy