12 '90s Movies You're Not Too Young To Watch Now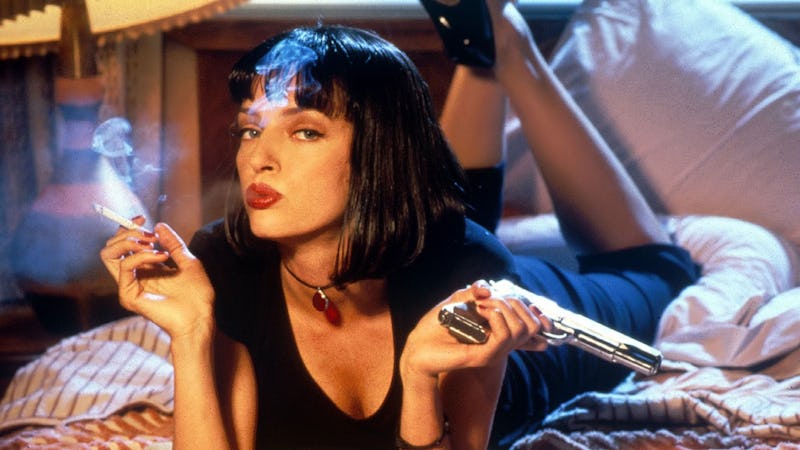 Oh, the '90s. As a certified '90s kid and movie fan, one thing I remember fondly from my childhood was the sheer amount of films I was exposed to that I probably should have not been, as I only later understood why they were adult-oriented in the first place. Granted, my parents always did come in at the last minute to change the channel or scold me when needed, but it was way too easy to stumble upon HBO back then. Now, as an adult, I can do and watch anything I want. With that freedom comes the ability to look back at all the films I've only seen in bits as a child and heard about in pieces as a teen. And trust me, there's nothing more fun than viewing '90s movies you were too young to watch once upon a time.
The following list contains of 12 '90s movies that our parents more than likely shielded us from. The best part about these movies is that they're all also great watches — from the gripping crime dramas to the NSFW comedies. So the next time you find yourself looking for a good throwback, hit up this list and pick out something you haven't seen in full before.
Hopefully your parents didn't let you watch this one before you went to bed (because then you'd never be able to sleep). This psychological horror film is unsettling, as Anthony Hopkins as Hannibal Lecter slowly blossoms to life right before Jodie Foster's FBI student Clarice Starling. As a horror movie fan, I can also tell you that this is hands-down one of the best scary flicks of all time. It was also the first horror film to win an Oscar for Best Picture.
Steven Spielberg's (mostly) black-and-white WWII film, based on the 1982 novel Schindler's Ark by Thomas Keneally, tells the true-life story of a businessman named Oskar Schindler, who saved the lives of hundreds of Jews during the Holocaust by putting them to work in factories. Spielberg's adaption is a sad, yet poignant masterpiece.
Martin Scorsese's famous crime drama (adapted from the book Wiseguy by Nicholas Pileggi) follows the associate of one of the "Five Families" that ruled the New York City mafia scene from the '50s to the '80s. Henry Hill (Ray Liotta) starts off as a big shot, but falls hard and fast (hint: organized crime and drugs play a big part).
What's not to love about Quentin Tarantino's Pulp Fiction? There's pop cultural references everywhere, John Travolta (dancing) and Samuel L. Jackson (cursing profusely), plenty of mobsters, and Uma Thurman's character almost dying but being brought back to life in a hilarious film moment for the ages. This darkly comedic neo-noir movie is a pop cultural film staple anyone and everyone should see at least twice in their lives.
Do you guys remember the moment when, as a kid, you learned that Julia Roberts in Pretty Woman was a sex worker? I, for one, had my mind blown. I still remember how quickly my mom switched the channel when I caught a sneak peek of this mature, yet oddly touching rom-com as a child.
On the one hand, the Tina Turner biopic, starring Angela Bassett as Turner and Laurence Fishburne as her husband Ike, follows Tina's rise to solo fame. On the other, it portrays the domestic abuse Tina was subject to by her husband up until their divorce. It's a difficult but inspirational watch.
Before there was Robert Pattinson as Edward Cullen in Twilight, there was Tom Cruise as the vampire Lestat from Anne Rice's Vampire Chronicles series. Essentially, Cruise turns Louis (Brad Pitt) into a vampire and blood-drinking adventures ensure (they also end up getting a vampire daughter named Claudia, who is some Bad News).
In this noir-esque crime mystery film, Denzel Washington is a WWII vet turned private investigator. And if you're looking for a good Denzel movie to check out before the 2016 Golden Globes (he's receiving a major honor), this is definitely one of many to view.
Despite Jack and Rose having sex in this movie and making the film not-so-kid friendly, at the time I didn't understand as much. Now, however, I get it — and I also understand that Titanic is a classic, tragic romance, hot Leonardo DiCaprio and all.
Ironically enough, I definitely remember watching this one with my parents. Gotta love the combination of Arnold Schwarzenegger and copious amounts of explosives. To this day I'm still not sure what the Terminator movies are about, but they've always seemed very cool.
Because apparently two guys living with one girl has to end in a threesome. But as questionable as the film's premise is, the commentary made on love, friendship, and college life makes it worth the watch.
Stanley Kubrick's last movie was highly controversial for the amount of sexual content present in the film. Starring Tom Cruise and Nicole Kidman as a New York City couple, the two find themselves getting wrapped up in masked orgies and secret societies, among other things. Despite the controversy, the film was well-received by critics.
Growing up has its perks and by far, getting to watch rated R '90s movies with a good glass of wine is one of the many.
Images: Miramax Films, Giphy (11)