11 Indie Jewelry Designers You've Never Heard Of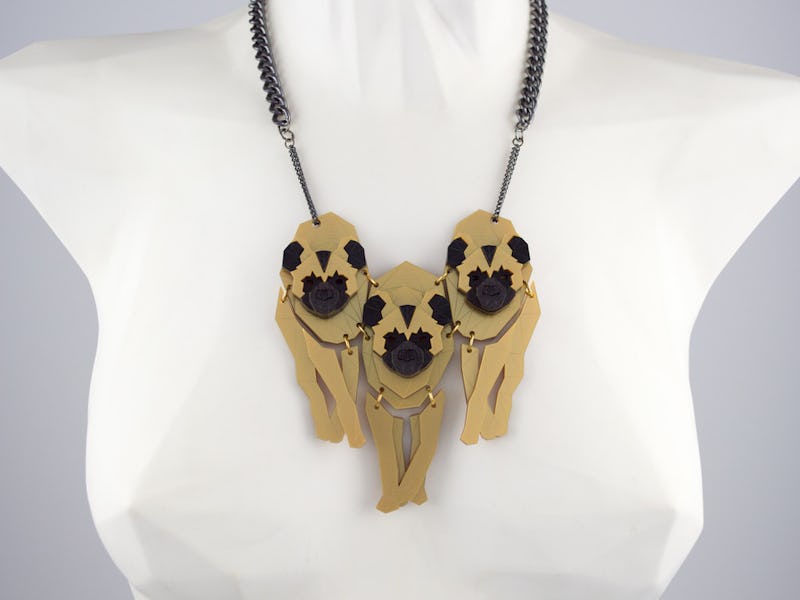 It's hard to tell when my love for unique, indie jewelry began. My mother loves antique jewelry, and I have vivid memories of her jewelry box, filled with pieces that were totally unusual and often had some kind of sentimental value attached.
While shopping at big box jewelry retailers in my younger years, I could never seem to find anything that spoke to me: Sure, that statement necklace from Charlotte Russe was cool, and those oversized earrings were cheap and fun to wear for a night out; but they all felt like they were missing something.
Over the years, I've realized that what was missing was the sentimentality contained in my mother's jewelry box: It might sound crazy, but through the details of their pieces, indie jewelry designers can make you feel closer to their work. The focus on tiny details and materials is arguably what makes indie jewelry gorgeous to look at, and the creative process behind each piece is usually inspiring enough to keep you wanting more.
In truth, there is enough room in my ever-growing jewelry box for pieces from all corners: Indie, antique, fast fashion, and otherwise. But something about today's indie jewelry offerings has me particularly excited, so here are some of my absolute favorite places to shop for it.
1. Karen London
Say My Name Necklace, $50, karenlondon.com
Karen London designs an array of delicate and quirky pieces for her line, but the nameplate jewelry is what really sticks out for me. You just don't find modern, customized jewelry at this price point very often, so when you do, you've got to jump on it. While you're there, check out her femininely charming bolo ties.
2. Morning Mr. Magpie
The Boss Cufflinks, $75, folksy.com
Morning Mr. Magpie has plenty of great pieces, but I'm most taken with its stamped cufflinks. For starters, cufflinks sometimes feel like a lost art of the jewelry world, but they're so awesome I feel like everyone should be wearing them, all the time. Morning Mr. Magpie takes my love for the 'link even further, by updating the look with some fresh words and phrases. The best looks are created with the smallest details, right?
3. Laura Gravestock
Bam! & Pow! Enamel Hoop Earrings, $49.68, lauragravestock.com
For me, Laura Gravestock's jewelry is for a very specific type of person: One who loves kitsch and all things over-the-top, but who also has to maintain a modicum of timelessness for their office job and sensibilities. Gravestock's work is one part wild and one part demure, creating a combination that's both unique and wearable.
4. SSTUTTER
Hyena — Serenghetto Necklace, $112, sstutter.co.uk
By now, many jewelry enthusiasts have heard of Tatty Devine, the UK-based artists who have gifted the world with some wonderfully kitschy and custom acrylic pieces. SSTUTTER is similar, but I think its work stands out for being slightly more detailed and aggressive. Tatty Devine's ultra-feminine collections have the twee game on lock, but SSTUTTER makes the kind of acrylic jewelry that gets right in your face and stays there.
5. No. 3
Gas Bijoux Suede Massalia Bracelet, $175, shopno3.com
I love a bold cuff, and this Massalia bracelet is just one of the unexpected pieces that No. 3 has to offer. Each of its cuffs is unique and would look incredible stacked together (or with some other cuffs from your ever-growing collection); but a piece like this also stands firmly on its own.
6. Erica Weiner
Boozy Wisdom Bracelet, $55, ericaweiner.com
I have been a loyal devotee of Erica Weiner's jewelry since she was singularly selling her own collection. Over the years, she's expanded into antique and vintage jewelry (including some incredible engagement rings) and taken her own line to new places. In my experience, Weiner's work appeals to every style and fashion sensibility — in other words, there's truly a piece for everyone on her site.
7. Acanthus
Acanthus Stellar Ear Jacket, $250, acanthusjewelry.com
Acanthus' use of oxidized silver is one of the most striking features of this line. Rarely do we get a chance to see a collection of dark, moody silvers that still looks fresh and modern. The moonstone studs on these ear jackets, along with the gold-dipped ends, will take your ears up a level.
8. Verameat
The Yogi Ring, $88, verameat.com
Verameat's pieces are a bit of a contradiction: From far away, they appear dainty and feminine, but up close, they depict skulls, bones, body parts, and other surprising curiosities. I like to think of Verameat's work as jewelry I could find in a museum of oddities and morbid anatomies — meaning, the Mütter Museum in jewelry form.
9. Datter
Hand Amulet Necklace, $118.29, etsy.com
Named for the Danish word for "daughter," Datter is an indie jewelry line that's seemingly inspired by otherworldly realms and toe-dipping into mysticism. The line includes etched moons, tiny golden skulls, and surrealist lapel pins, but the real standout is this hand amulet necklace. Smooth on one side, the front of the charm is etched with delicate markings, depicting the lines of the palm. According to the Datter Etsy page, the piece is meant to protect and bring calm to the wearer. I dig the magic of it all, and I also think it would look awesome hanging around my neck.
10. LayeredAndLong
Gold Bar Necklace, Layered Set of 3 Necklaces, $82, etsy.com
I was actually introduced to LayeredAndLong by a friend while I was writing this roundup, and I already have two of its pieces in my shopping cart. For this jewelry designer, the name of the game is delicate chains and tiny charms. The best part is that all of the chains are customizable, meaning that you can tailor your chain length and pendants to your exact liking.
11. Mineralogy
Lemon Chrysoprase Contour Ring, $148, minerologydesign.com
Chicago-based metalsmith Theresa Cowan once took an Earth science class, and the experience inspired her to create a unique line of jewelry to celebrate the unusual beauty of minerals. The combination of the stones in the unusual metal settings is a refreshing take on the traditional. The best part? Each of the stones she uses is unique, and all of the materials are ethically sourced or recycled.
No matter your aesthetic, there's likely an indie jewelry designer out there to meet you right where you're at. Instead of buying your gems, metals, and stones at the mall, think outside the box and explore your indie options once in a while. You never know what kind of awesomeness you might find.
Images: Courtesy Brands