Feminist-Owned Businesses To Holiday Shop At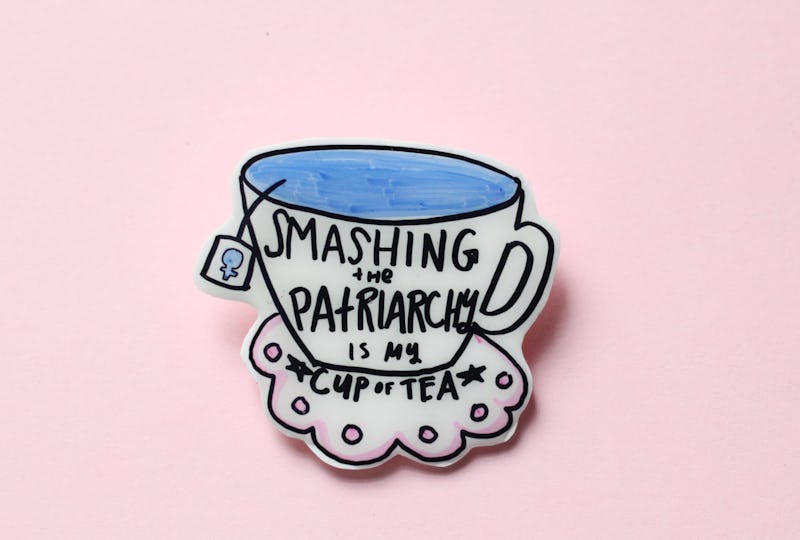 I always love shopping for presents, but when the holidays roll around and I have an opportunity to buy stuff for everyone all at once, I'm in heaven. The spending money part is, admittedly, far from awesome — but at least when I planned to accomplish my holiday shopping at these feminist-owned businesses, I was able to know that I'm spending my literal nickels and dimes in the right place. Oh, and did I mention that the products on offer are also badass and feminist and amazing? Because they are. Everybody wins when you gift from places like these.
Here's a funny little... um... fact, I guess we'll call it: When you type "feminist owned" into Google, "businesses" is not the first word that comes up. In fact, it doesn't come up at all. What does come up is "feminist owned in debate," "feminist owned on tv," and simply, "feminist owned." I am tired today and already feeling a little rundown from simply looking at today's headlines, so I won't go into an extended rant about this. I don't think I have to, to be honest. It's pretty straightforward: Some people are much more interested in embarrassing feminists than supporting them. Also, I'd like to shine a little light, for a moment, specifically on the use of "owned." I'll let you mull that one over.
But actual feminist-owned businesses? Now that's something to celebrate. Owning a business is hard, especially in this economy; furthermore, declaring yourself as a feminist could be considered by some to be a detrimental business move. Me? I think it's brave. I'd like to give them all my money. Maybe you feel the same way. If so, it's worth doing a little research to seek out the local feminist-minded humans in your area.
Also, please consider this entire article as an extended shopping list for me, like, if you've ever considered buying me a present or whatever. XOXO.
1. The Wahl Sisters
Sisters Tobie and Phoebe Wahl from the Pacific Northwest are two of my favorite small-scale artists. Phoebe is an illustrator and multimedia artist whose stunning designs grace t-shirts, tote bags, posters and zines in her Etsy shop. Tobie is a wiz with the sewing machine, and the sisters routinely team up for pop-up shops on Etsy, where they sell bags designed by Phoebe and sewn by Tobie.
2. Bluestockings Boutique
Guys, this place is awesome. Bluestockings Boutique is a Boston-based lingerie and underthings store that self-describes as "founded with intersectional feminist principles and geared to the LGBTQIA community." They seek to empower those who have been marginalized by the lingerie world — people who have been made to feel that they don't deserve to feel sexy. They work with sustainable designers, and on the 18th of every month, 18 percent of their profits are donated to various LGBTQIA+ friendly charities.
3. Modern Girl Blitz
I have very few dollhairs, so most of my presents this year are "stocking-sized" — as in, very small. However, I do not have to sacrifice sassiness or in-your-face feminist ideals with Etsy store Modern Girl Blitz. Owned by Midge Blitz, who is based in Hoboken, NJ, this "lady empowering" store features such gems as Bad Bitch pocket mirrors and Dear Patriarchy pins. I'm delighted. Buy me everything here.
4. Ginger + Liz
Vegan! WoC owned! Toxin-free! Super bright and opaque colors! I'm sorry, but what else were you looking for though? Founded by pals Ginger Johnson and Liz Pickett, Ginger + Liz also happens to have some of my favorite nail color names, like "Unbothered" (a deep fuschia that I need immediately), "Don't Kill My Vibe" (bright coral, also needed by me), and "Boss Lady" (a classic, universally-flattering red, and did I mention I need it?).
5. Women and Children First
Maybe I am biased because this happens to be my local bookstore, but Women and Children First is an awesome place. I spend way too much money here. They have an amazingly diverse children's section, their motto is "Shop as independently as you think," and they have a special Read Local section on their website that spotlights local creators. I love them. You probably will love them, too, but you should also seek out local, independent bookstores in your area.
Images: quattrosagioni/Flickr; Phoebe Wahl, ModernGirllitz (2)/Etsy; Bluestockings Boutique; Ginger + Liz