Some Throwbacks Are Cool. These Ones Aren't.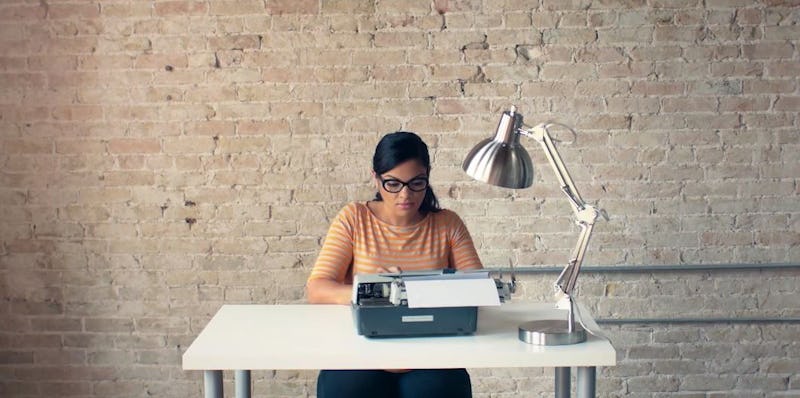 You know what can be fun? Throwback parties. You know what's not fun? When our whole lives feel like throwbacks because our laws and workplaces are not keeping up with the times (or were never even acceptable to begin with). The Make It Work campaign's "Throwbacks Are In" videos juxtapose the fun and not-so-fun varieties of throwbacks by mixing people in retro attire with facts about outdated American workplace policies.
Make It Work, a national campaign for economic equality, created the three-video series to educate U.S. citizens in time for the next election about laws that need to change. Its website lists policy proposals for economic fairness that presidential candidates are urged to adopt.
Make It Work's polls have found that 81 percent of Millennials consider workplace laws outdated, and more awareness might very well make that number higher. "So often people think America's retrograde workplace policies are just the status quo, and they wind up grappling with challenges like child care expenses or lack of paid sick days in isolation, without realizing that millions of people across America are dealing with the exact same issues," said Tracy Sturdivant, co-founder and co-director of Make It Work, in a statement provided to Bustle. The organization also had children explain the wage gap using a lemonade stand in a previous video that's worth a watch as well, because who doesn't enjoy hearing kids discuss social justice?
Each video in Make It Work's "Throwbacks Are In" series features fun period-specific touches like record players, gelled mustaches, typewriters, floral shirts, and clunky cameras and ends with the slogan, "Let's bring the workplace into the 21st century." But under the retro exteriors, there are a lot of not-so-fun facts to learn. Here are a few the videos teach us.
1. Childcare Is More Expensive Than Most States' College Tuitions
According to the Economic Policy Institute, it is more expensive to send a one-year-old to daycare for a year than it is to send a college student to a state school in 30 states. Furthermore, the Economic Policy Institute's analysis also shows that childcare costs over 30 percent of a minimum-wage income in every single state. This partially explains why the number of women in the American workforce has fallen from 74 percent in 1999 to 69 percent in 2014. Despite this, Make It Work has found that 87 percent of Millennials support quality and affordable childcare options.
2. Women Make About $11,000 Less Per Year Than Men
The 77-cent-to-the-dollar wage gap means that women with full-time jobs make $10,762 less per year than men on average. According to the National Partnership for Women and Families, this amounts to about an average year's rent. I repeat: being a man gives you the economic advantage equivalent to moving in with your parents. Fortunately, 95 percent of Millennials surveyed by Make It Work believe in equal pay.
3. Nearly 43 Million U.S. Employees Have No Sick Leave
According to the Bureau of Labor Statistics, only 74 percent of full-time employees and 24 percent of part-time workers get paid sick days. President Obama is pushing for Congress to pass the Healthy Families Act, which would give millions of Americans the right to paid sick days. 90 percent of Millennials think all workers should have paid sick days, according to Make It Work's surveys, so there's clearly a huge gap between what the public wants and what the government is providing. When we head to the ballots for the 2016 election, we might want to ask ourselves who will help narrow this gap and bring our workplaces up to date.
Image: Pexels