The Most Googled Beauty Qs of 2015, Answered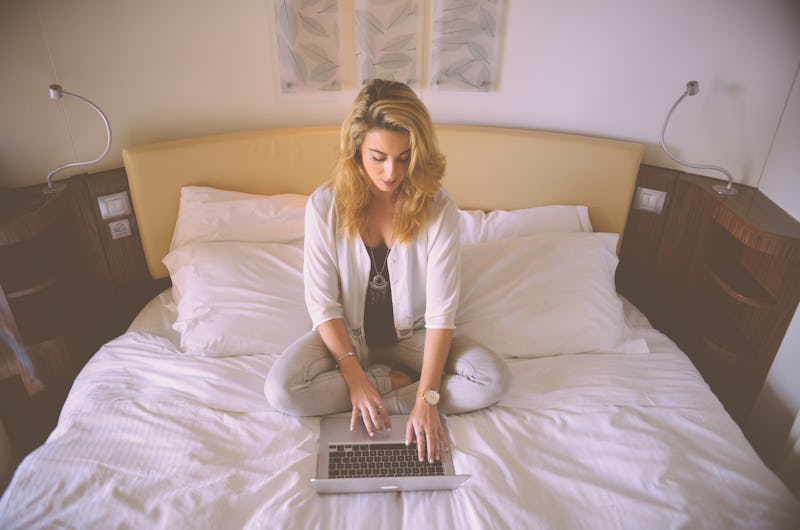 You can't hide your search history from everyone. Google's 2015 Year in Search has been revealed, and we've looked up some pretty interesting stuff this year. The most Googled beauty questions of 2015 give us a peek of what beauty trends were popular this year, but Google no more — I've got answers.
Although these aren't necessarily the most Googled beauty questions of the year, they were the searches that saw the most growth in traffic in 2015 compared to 2014. So you can bet there were quite a few people turning to the good ol' Internet to fulfill their curiosities on these topics.
One recurring trend in this year's searches? The youngest of the Kardashian-Jenner clan. "How to do the Kylie Jenner lip challenge" was the number one trending beauty question, and "What are lip fillers" took the second place spot. In case you needed proof of the 18-year-old reality star's skyrocketing popularity this year, there you have it. Google knows all.
Nail-related topics took two more of the top spots, and hair questions surpassed skin care questions in the 10 trending queries. Thank goodness for YouTube tutorials, am I right?
Here are all of Google's top 10 trending beauty questions from the 2015 Year in Search, answered just for you.
1. How To Do The Kylie Jenner Lip Challenge
OK, I'll fess up — I did not Google the Kylie Jenner Lip Challenge this year (until now), so I didn't really understand the whole hype. Apparently, you put a shot glass around your lips and create suction for plumped up lips. As you can imagine, this isn't exactly comfortable (or safe), so let's hope this trend stays in 2015.
2. What Are Lip Fillers?
I did, in fact, Google "what are lip fillers" this year. All in the interest of research, guys! Lip fillers are a temporary alternative to implants (which can last for years). Lips like Kylie Jenner's are done by injecting a filler, such as collagen or hyaluronic acid, into the lips. They last around six months before they naturally fade away, according to WebMD.
For a few days, you may experience bleeding, swelling, bruising, and redness, and a sore wallet — procedures can run anywhere from $500 to $2,000.
3. How To Remove Gel Nail Polish
Rule #1 to removing gel nail polish: Do not peel it off (as tempting as it is.) Allure breaks down the best method for us: First, grab a nail file and sand down the shiny part of the gel polish, manicurist Jenna Hipp told the site.
After protecting the outsides of your nails with cuticle oil or a cream, douse cotton balls in a lot of acetone polish remover and place them on each, nail, securing them with aluminum foil. Let them soak for 10 to 15 minutes, then use a little pressure to pull the foil and cotton ball off each nail. Give your nails a little TLC after the process by soaking them in coconut oil for five to seven minutes, recommends manicurist Jin Soon Choi.
4. How To Remove Acrylic Nails At Home
Removing your acrylic nails at home is actually fairly similar to the process of removing gel polish at home. It requires both a lot of acetone, and a lot of patience. After trimming them down, soak your nails in acetone for 20 to 25 minutes (it's a great idea to protect the skin around your nails with petroleum jelly first so your fingers don't dry out.)
The acrylics will start to dissolve, and a tweezer should easily be able to finish the job pain-free, according to StyleCraze. Finish off with cuticle oil and hand cream to restore moisture.
5. How To Use Beard Balm
Looks like a guy beauty question made it on the list this year! Beard balm is essentially a mixture of wax, oil, and butters designed to both soften and style your beard, according to The Beard Baron (what a nickname.) As demonstrated in his YouTube video, you simply warm a bit of the balm between your fingers and then apply it to your beard, massaging the product in. Follow up with a comb to distribute the balm.
6. How To Do A French Braid
Oh, crap — I just remembered that my 2015 New Year's Resolution was to learn how to French braid, so I better get to it. Only two weeks to go! Essentially, you begin the braid at the top of your head (or wherever you want to start it), incorporating more hair into your three strands as you continue down the braid. This is one of those things where practice really does make perfect (at least, I hope so.)
7. How To Pop A Deep Zit
Renée Rouleau Anti-Cyst Treatment, $42.50, reneerouleau.com
The short answer: Don't. The long answer: Deep, underground zits are known as cysts, and trying to pop them can push them deeper into the skin and cause lasting damage (oh hey, acne scars.) According to Teen Vogue, you can't treat a cyst the same way you would regular acne. So, seriously, don't touch.
Many acne products don't work on cysts because the blemish is too far under the skin, so prevention is the best treatment. Steer clear of known lifestyle triggers (like stress and poor diet), avoid touching your face, and use a cleansing brush to deep clean and stimulate circulation, says Teen Vogue. If all else fails, one rare cyst-fighting product is Renée Rouleau's Anti-Cyst Treatment (I'll vouch for this one myself. It's great.)
8. How To Get Glowing Skin
Clarisonic Mia 2 Sonic Skin Cleansing System, $134.10, nordstrom.com
Natural, glowing skin has been a major trend of 2015, and luckily, it's relatively simple to boost your skin's glow factor (or at least fake it.) According to Glamour, using toner, working out to increase blood flow, and gently exfoliating are all ways to get a little extra healthy shine. If you haven't already invested in a skin brush, now's the time!
RealSimple recommends using antioxidant moisturizers and OTC retinol to encourage cell turnover, revealing healthy, supple skin. For a quick fix, mix a bit of liquid highlighter into your foundation for a faux glow (that's still totally gorgeous.)
9. How To Put Braids In A Bun
I don't have natural hair, but girls with box braids have fully embraced putting their lovely locks into big, high buns this year. That texture — so gorg. To get the look, pull the braids into a high ponytail, securing with a thick rubber band. Twist your hair around the base and tuck the ends back into the bun, says YouTuber Mia Ray.
10. How To Make Your Hair Not "Staticy"
Alterna Bamboo Smooth Kendi Oil Dry Oil Mist, $25, ulta.com
Aside from spritzing it with water or hairspray or resorting to running a dryer sheet over your locks, the best way to keep static hair at bay is to keep is moisturized. Cold, dry winter air causes your hair to build a positive charge, which causes your strands to literally repel away from each other, according to The Cut. (Science!) Try using a moisturizing hair cream on your ends to prevent it from looking greasy while keeping static away (or try The Cut's number one static-fighting fave, Alterna's Dry Oil Mist.)
Want more beauty tips? Check out the video below, and be sure to subscribe to Bustle's YouTube page for more hacks and tricks!
Images: Ed Gregory/Stokpic; _AshleyStarr, TheBeautyPlace/Twitter; Courtesy of brands