12 Reasons 'Jingle All The Way' Is Actually A Holiday Classic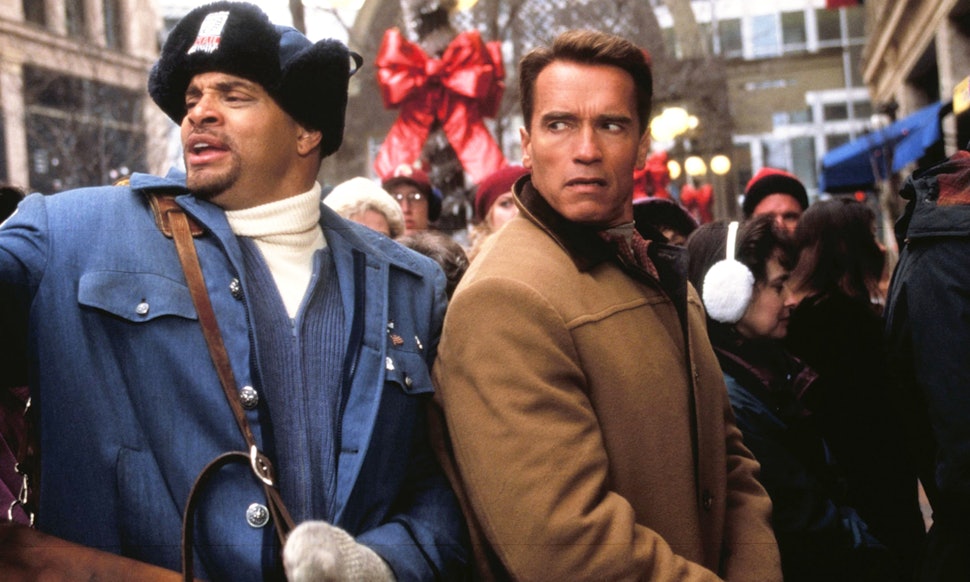 Out of all the holidays out there, Christmas easily has the most movies made about it. Most are of the forgettable, Hallmark Channel variety, but there are a healthy number of classics like It's a Wonderful Life , Miracle on 34th Street, and Jingle All the Way. That's right, Jingle All the Way is a holiday classic, and I don't care who knows it. The movie has never really been taken seriously, thanks to weak reviews upon its release and a much lesser legacy than most of its peers. It gets zero respect compared to the Home Alones and Christmas Vacations of the world, but in my opinion, it shouldn't.
As far as I'm concerned, Jingle All the Way is required holiday viewing every year. It's funny, has lots of quotable lines, and is full of holiday cheer... or more accurately, the occasional misery of the holiday shopping season. If I do have one gripe, it's that the film's sci-fi climax is pretty detached from the rest of the film, but I would still argue that it doesn't diminish the quality of the rest of the movie. That's how great it is on the whole. Still not convinced that Jingle All the Way is prime holiday fare? Then take a look at the proof with these 12 reasons why it's a Christmas classic.
1. Arnold As The Everyman
Can you imagine a more insane casting than Austrian Mr. Universe Arnold Schwarzenegger as the average, midwestern, mattress salesman father, Howard Langston? It makes zero sense, but it works! The movie just wouldn't be as fun with say, Tim Allen, because Arnold brings his own bizarre brand of comedy to the role.
2. Those Lines
This movie has so many quotable lines, most likely due to Home Alone director Chris Columbus' uncredited rewrite of the script, and they're mostly spoken by Schwarzenegger. "Put that cookie down! Now!" and "I'm not a pervert!" are two standouts, but there are loads here.
3. Everything About Phil Hartman
The late Phil Hartman was one of the most talented comedic actors ever, and his performance in this movie as the sleazy next door neighbor Ted, who's trying to seduce Howard's wife, Liz, is quite possibly the most underrated aspect of the whole movie. His orgasmic eating of her cookies while talking to Howard on the phone is particularly great.
4. Sinbad Was Never Better
Sinbad had a bit of a moment in the mid-'90s with starring roles in films like First Kid and House Guest (the latter with Hartman), but his turn as psychotic mailman Myron in Jingle All the Way remains his best and funniest work.
5. That Poor Cop
In a very old-fashioned running gag, the same cop falls victim to escalating mishaps throughout the film as he goes after Howard and Myron. Pay attention, kids, this is how you do comedy.
6. The Hatred For Booster
It's never explained why everyone despises Turboman's fluffy pink sidekick. They just do, and that's the best part.
7. The Soundtrack
mjm1799 on YouTube
It's impossible for me to hear Frank Sinatra sing "I'll Be Home For Christmas" without picturing Howard pushing his car down a bridge. Throw in Darlene Love's "Sleigh Ride", Chuck Berry's "Run Rudolph Run", and Clarence Carter's "Backdoor Santa", and you easily have one of the best Christmas movie soundtracks you'll ever hear.
8. The Terrified DJ
The look on the face of Martin Mull's ponytailed DJ says it all as Howard smashes through the glass door of his recording studio while screaming the names of Santa's reindeer, finally acknowledging that Howard is no mere mortal.
9. Liz's Eggnog Assault
It's so satisfying when Liz finally rebuffs Ted's creepy advances, literally, as he gets doused with the holiday drink.
10. The Drunk Reindeer
After Howard nearly burns down his neighbor's house while trying to steal his son's Turboman figure, he gets drunk with a reindeer. Has there ever been a more Christamasy seen on film? I think not.
11. Jamie Drinking
There's a surprising amount of drinking in this movie, but the best instance is when Howard imagines Myron as his son after hearing the mailman blame his father not getting him the present he wanted as a kid for the way his life turned out. "Here's to you, Dad."
12. The Consumerism Commentary
At its heart, Jingle All the Way is about the over-commercialization of Christmas and the extreme lengths people go to in order to buy the gift they feel they have to have. People still get trampled every year on Black Friday, but maybe if more people watched Jingle All the Way they wouldn't. And yes, I just implied that Jingle All the Way has the potential to change the world.
The evidence is abundant, and the results are obvious: Jingle All the Way is one of the greatest Christmas movies ever made. And if you still don't agree with me, then you're probably the type of person who likes Booster.
Images: 20th Century Fox; giphy; fionagoddess/Tumblr; spobysextapes/Tumblr; storyobesessed/Tumblr; scottjacksonx/Tumblr; ghostofcheney/Tumblr