Here Are The Last 100 Years Of Children's Toys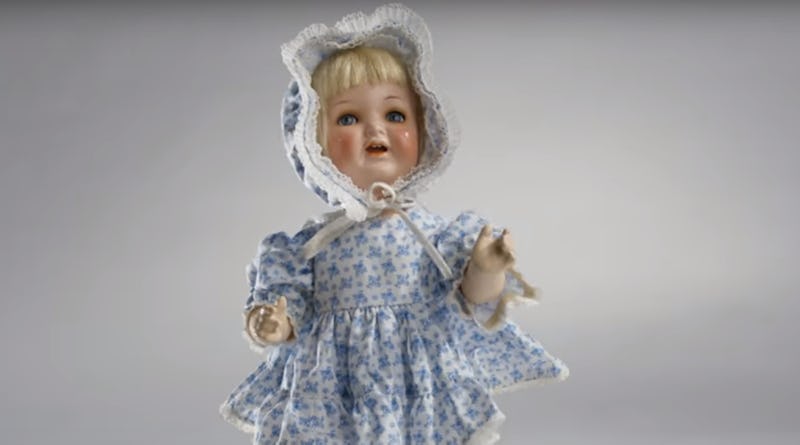 Although Mode's recent video of "100 Years Of Children's Toys" probably gives most people with beating hearts some long dormant feels, I have to confess that as a former toy store worker, I have the slightest bit of PTSD. The video itself is gorgeous, traveling up through the decades and featuring the popular toys Santa brought the kiddies those years. You see the evolution of a simple, hand-painted doll and marbles transition into the first toy robots and into the Cabbage Patch dolls that defined your youth. You watch the transition of carefully-crafted, lovingly-made toys morph into the sleek and mass-produced versions we see today, and reflect the crazy strides we have made in technology in that time.
But you also see ... Elmo. That might not strike fear in the heart of the average citizen, but for an ex-toy store sales associate, I still shudder from the aftershocks of my very first month on the job. I was 14, and it was Christmas Eve — I was too young to legally work the register, so I was tasked with gift wrapping and helping customers shop. When the boss trusted me to answer the phones for the first time, I was so pleased with myself that I did my whole little rehearsed script for phone answering and thumbs upped my older coworker, feeling like a tiny boss.
"Hi, do you have Tickle-Me-Elmo?"
I knew we didn't have it. It was Christmas Eve, and the 2007 was the year of height Tickle-Me-Elmo insanity; they were selling for hundreds of dollars online, and most stores had been sold out of them for weeks. I very feebly told the woman, "No, ma'am, I'm sorry, we don't have any in stock."
A beat of silence, and then: "HOW THE BLEEP DO YOU NOT HAVE TICKLE-ME-ELMO?! WHAT THE BLEEP KIND OF BLEEPING STORE IS THIS?!?!? BLEEP YOU AND YOUR — "
Brace-faced, pimply, and panicked, I slammed down the phone and stared at it in horror. I have never looked at Elmo the same way since.
So let this video not just be a trip down memory lane, my friends, but also your last warning: CHRISTMAS IS IN NINE DAYS. If you are planning to shop for small critters, do it now. Preferably online, so you can't scar any prepubescent toy store workers for life. For inspiration on your shopping adventures, look no further than the most popular toys of Christmases past:
1930s
There was a lot more fascination with how things worked and hands-on toys in the decades surrounding this one.
1960s
GUMBY!!! I didn't have to live in the '60s to feel nostalgic for that green goober.
1990s
NOPE, it's been ten years since #ElmoGate and I still live in fear of his adorable red shadow. As a '90s baby, though, this is the realest of the decades for me. How I lusted after those Beanie Babies. Also, the year of the pink Gameboy was the best darn year of my life.
For the rest of the decades, check out the video here:
Images: YouTube (4)