Is Lando Calrissian In 'The Force Awakens'?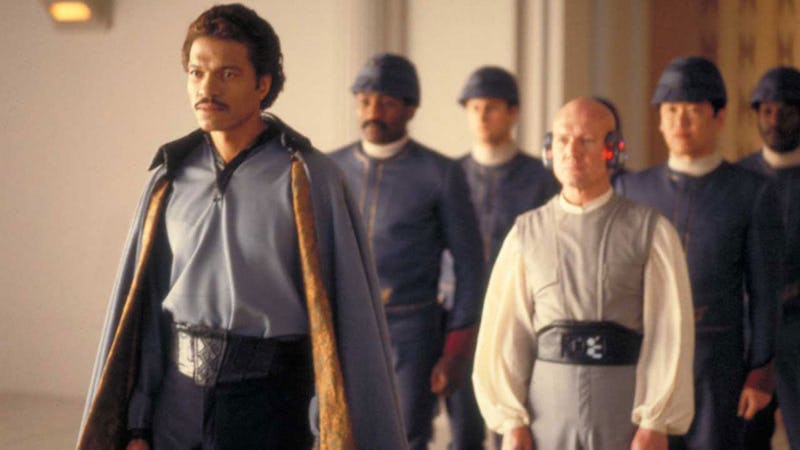 It's the weekend Star Wars fans have been waiting for. Not only is there a new Star Wars movie out, but it features many beloved characters from the original trilogy. We know Princess Leia and Han Solo have returned, but will other characters like Billy Dee Williams' Lando Calrissian appear in Star Wars: The Force Awakens ? He was in The Empire Strikes Back and Return of the Jedi, so it seemed likely that the iconic and beloved character would return in Episode VII. However, fans were deterred by the fact that Williams did not appear in the many Star Wars promotions his fellow stars participated in. Now that the movie has come out, the reason is clear: Lando Calrissian is not in The Force Awakens.
In some ways, this makes sense. Calrissian is not quite as classic as characters like Leia, and even Chewbacca, as he didn't appear in the original film. Instead, he made his first appearance in The Empire Strikes Back. If you need a refresher, Calrissian is a bit of a scoundrel, a gambler, and smuggler who originally appears to be in business with Darth Vader, but later joins forces with the Rebels, fighting with them at the Battle of Endor.
Billy Dee Williams, the 78-year-old actor who played Calrissian, has reprised the role quite often in various Star Wars spin-offs. He's also worked steadily as a TV actor for decades, as well as appearing as Harvey Dent in the 1989 Batman and starring in soaps like Guiding Light and General Hospital. In a recent interview with Cinelinx, Williams hinted that he might appear in future films — Lucasfilm is making a sequel trilogy, the first of which is The Force Awakens — despite his exclusion from the first film.
Yeah, people were pretty upset about it. But I uh...I may very well...I have a feeling I'm going to show up. There's nothing I can really discuss about it at this stage. People think of me as the original cast, but I didn't come in until the second movie. I did Empire and then I did Return of the Jedi, but I came in after everyone else was introduced...So I think they're probably proceeding in that way. I can't imagine them not bringing Lando back. But we'll see, I don't know.
It seems a likely possibility that Calrissian, who is definitely a beloved part of the original trilogy, could return in the second film, just as he appeared in the second original film. Williams certainly seems to love the character; he still voices him in the animated series Star Wars Rebels. Episode VII doesn't come out until May 2017, so there's lots of time left to speculate.
Image: Giphy; Lucasfilm