Will Kylo Ren Be In 'Rogue One'?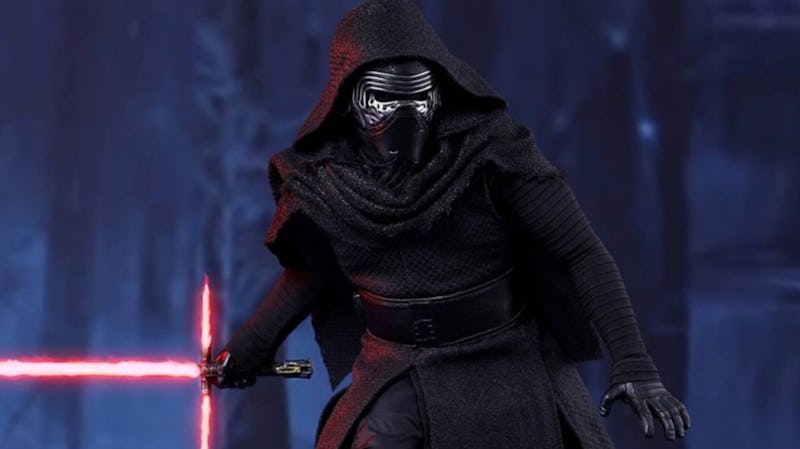 Did you walk out of Star Wars: The Force Awakens wanting more of Darth Vader-obsessed villain Kylo Ren (Adam Driver)? Or maybe you haven't seen the movie yet, but you are intrigued by the three-pronged lightsaber-wielding villain? Perhaps you want to know if he'll be in 2016 flick Rogue One: A Star Wars Story , and you want to know now? You say you don't have the patience you must have? OK, then. Here is your answer, young Padawan: Kylo Ren probably won't be in Rogue One, the to-be-released Star Wars offshoot. And why is that? The vague answer: It would not be consistent with the franchise's timeline.
The specific, spoilerific answer: Kylo Ren can't be in Rogue One because *SPOILER ALERT. CLICK THE BACK BUTTON ON YOUR BROWSER RIGHT THIS SECOND IF YOU DO NOT WANT TO READ ANY FORCE AWAKENS SPOILERS. I'M NOT TRYING TO BE BOSSY. I'M JUST LOOKING OUT FOR YOU, PAL. SORRY FOR THE CAPS LOCK ATTACK, BUT I TAKE THIS SORT OF THING SERIOUSLY. THE LAST THING I WANT TO DO IS RUIN SOMEONE'S STAR WARS EXPERIENCE. MY CONSCIENCE CAN'T HANDLE THAT.* Kylo Ren is Ben Solo, aka the son of Han Solo (Harrison Ford) and Leia Organa (Carrie Fisher).
What do Kylo Ren's parents have to do with whether or not he'll be in Rogue One? Don't worry, I'm getting there. Given that the first movie of the Star Wars Anthology takes place some time after the prequel trilogy and before the original trilogy (i.e., before Han and Leia met), it'd be a head-scratcher of a twist if Kylo Ren was a Rogue One character. Because Kylo Ren didn't exist yet. (I am going to go out on a Dagobah swamp tree limb and say it is safe to assume Han and Leia did not conceive a child together before their first interaction.)
Clamoring for more Kylo Ren? Perhaps the sequel to The Force Awakens will be the droid you're looking for.
Image: Walt Disney Studios