Tips And Tricks For How To Wrap Anything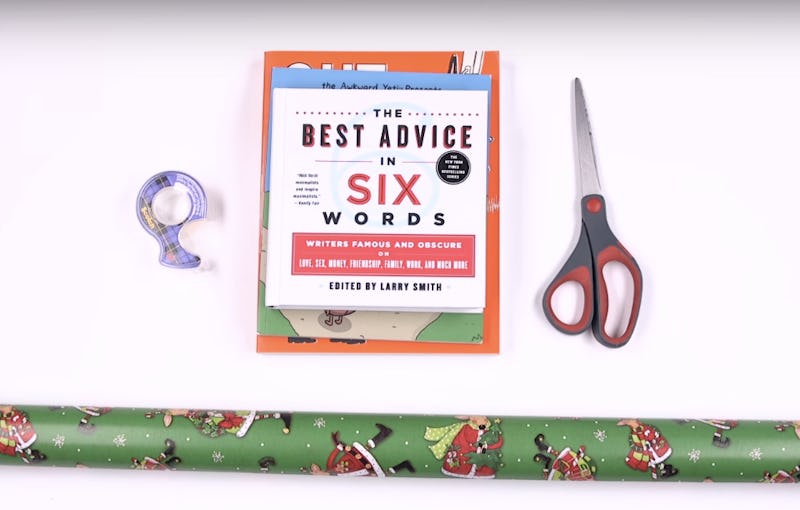 There is perhaps no feeling on this earth more extreme than the smugness you feel finishing all of your holiday shopping right under the wire — except, of course, the panic that comes crashing down when you realize you still have to wrap all bajillion of those suckers before you hand 'em off. Fortunately, Bustle is here to save the day with tips and tricks for gift-wrapping in our latest video, "How To Gift Wrap Anything." Now your train of holiday smugness never has to end!
That, and nothing screams "Look, Ma, I'm a grown-up!" quite like the adulthood merit badge of coming home this year with the most slammin' gift wrap under the tree. (Aunt Susan and her handmade confetti can suck it.) You really don't need anything more than tape, scissors, and paper to wrap even the strangest shapes of presents — heck, sometimes you need even less. Don't be gift-timidated this year, my friends. The solution is at your fingertips.
In this video you'll learn the basics of wrapping a typical square shaped presents, how to wrap a cylindrical object, a quick way to wrap a wine bottle (which, let's be real, isn't going to stay wrapped for long), a basic method for how to curl ribbon, and even how to curl it with your thumbnail if you're really one with the gift-wrapping Force this year. Here is everything you need to know to be a crafty champion:
Images: YouTube